Could 'The Martian' Earn Matt Damon An Oscar?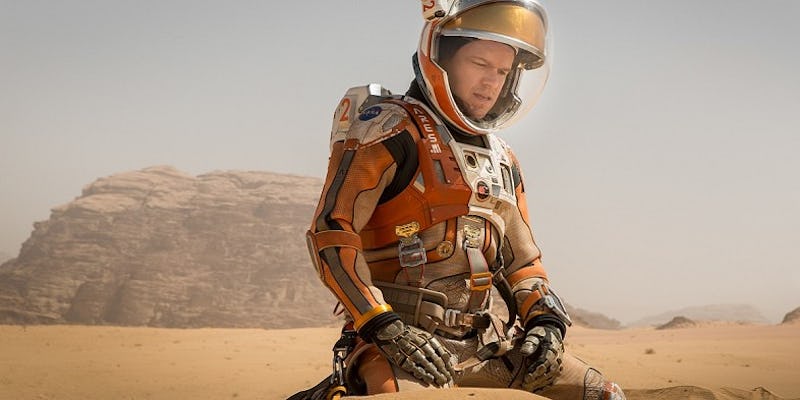 In The Martian, Matt Damon gives a powerhouse performance as Mark Watney, an astronaut on a manned mission to Mars who is presumed dead and left behind on the red planet. Looking at the prospect of facing years in isolation before any form of rescue can reach him, Watney is forced to rely on his wits and drive to survive in a place with no food, water, or breathable oxygen. It's quite the spectacle, as Damon is by himself for much of the movie, calling to mind Tom Hanks' Oscar-nominated turn in Cast Away . Hanks didn't win for his performance, but he also wasn't in outer space. So with that factor on his side, could Matt Damon win an Oscar for The Martian ?
He very well might. Damon is no stranger to the Academy Awards, having won one for writing back in 1997 for Good Will Hunting when he was just 26. He was also nominated for Best Actor that same year. He picked up another nomination, this time for Best Supporting Actor, in 2009 for Invictus. So Damon certainly has the chops to win an Oscar, but with The Martian, he has another added benefit: Outer space.
Just like everyone else, The Academy loves space movies. They're almost always at least nominated for special effects, with Interstellar winning last year for Best Visual Effects. And several have been nominated for Best Picture, like Avatar, or Best Director, like 2001: A Space Odyssey. A bit rarer are acting nominations for space-set movies, but they are by no means unheard of. Here are five out of this world films whose actors received Oscar nominations, perhaps blazing a trail for a Damon win.
Star Wars
That's right, the original Star Wars was nominated for a bunch of Oscars, including Best Picture, and won a total of six. Among the nominees was Alec Guinness, who picked up a Best Supporting Actor nomination for his role as Obi-Wan Kenobi.
The Right Stuff
Another Best Picture nominee, The Right Stuff took home four statues, but unfortunately Best Supporting Actor was not among them. Sam Shepard was nominated for portraying test pilot Chuck Yeager.
Aliens
Sigourney Weaver earned a Best Actress nomination for her iconic role of Ripley in this 1986 film. The movie is a rare example of a sequel that was better received than its predecessor, and though Weaver went home empty-handed, the movie did win for both Visual Effects and Sound Effects.
Apollo 13
This true story about a failed moon mission picked up nine Oscar nominations including Best Picture, but won only two technical awards. Two actors were nominated for their performances: Ed Harris for Best Supporting Actor and Kathleen Quinlan for Best Supporting Actress. Tom Hanks, surprisingly, was not nominated.
Gravity
Gravity cleaned up at the Oscars two years ago, winning seven awards and tying the record for most Oscars won without winning Best Picture. Star Sandra Bullock, who also spends much of the movie alone, was nominated for Best Actress but did not win despite a memorable performance.
Although no actor has yet won for acting in a space-set movie, enough have been nominated for me to think that Matt Damon has a good chance of winning for The Martian. But even if he doesn't, Mars is so hot right now!
Images: 20th Century Fox