The First Ever 'Voice' Marriage Proposal!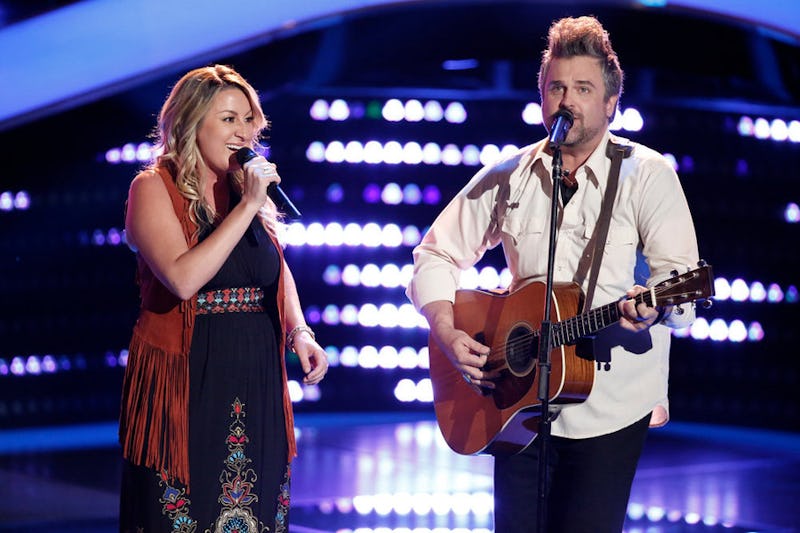 Well, I thought I'd seen it all on The Voice, but clearly I was wrong. Jubal Lee Young proposed to Amanda Preslar after their Blind Audition — and she said yes! After a solid duet performance to The Eagles' "Seven Bridges Road," Young took Preslar — and the coaches — by surprise by dropping to one knee in the middle of the stage during the deliberation. She said yes, of course, but that still left one big question unanswered. Who's team would they join? In their first big decision as an engaged couple, the two chose Team Pharrell — and definitely chose right.
As someone who's day job is in weddings, I have to admit that I completely forgot I was watching The Voice at this point and let myself got swept up in their story. The audience KNEW this was happening thanks to the previews — do the producers let anything be a surprise anymore?! — so I made sure to pay extra attention to these two. Their chemistry both onstage and in their interviews was so clear — it was obvious that they were made for each other. It just makes it so much more perfect that they're both extremely talented musicians who make just as great of a pair onstage as they do off.
The duo is certainly talented, but how will their relationship fare in the competition? It's hard to tell. Couples don't have a great track record on The Voice, but that doesn't mean that Young and Preslar can't break the mold. Their style is different which makes them perfect for Team Pharrell. If he's able to bring their unique, classic rock sound to a more mainstream level, the lovebirds may be able to remain in the game for a few weeks — though probably not much longer than that. Their style, plus the fact that they're performing as a pair and not as individuals, will hurt them once the competition gets more fierce. Whether they're here for a week or until the end, though, one thing's for sure, these two will definitely be remembered for seasons to come.
Image: Tyler Golden/NBC