Recreate Your Favorite Emojis With Makeup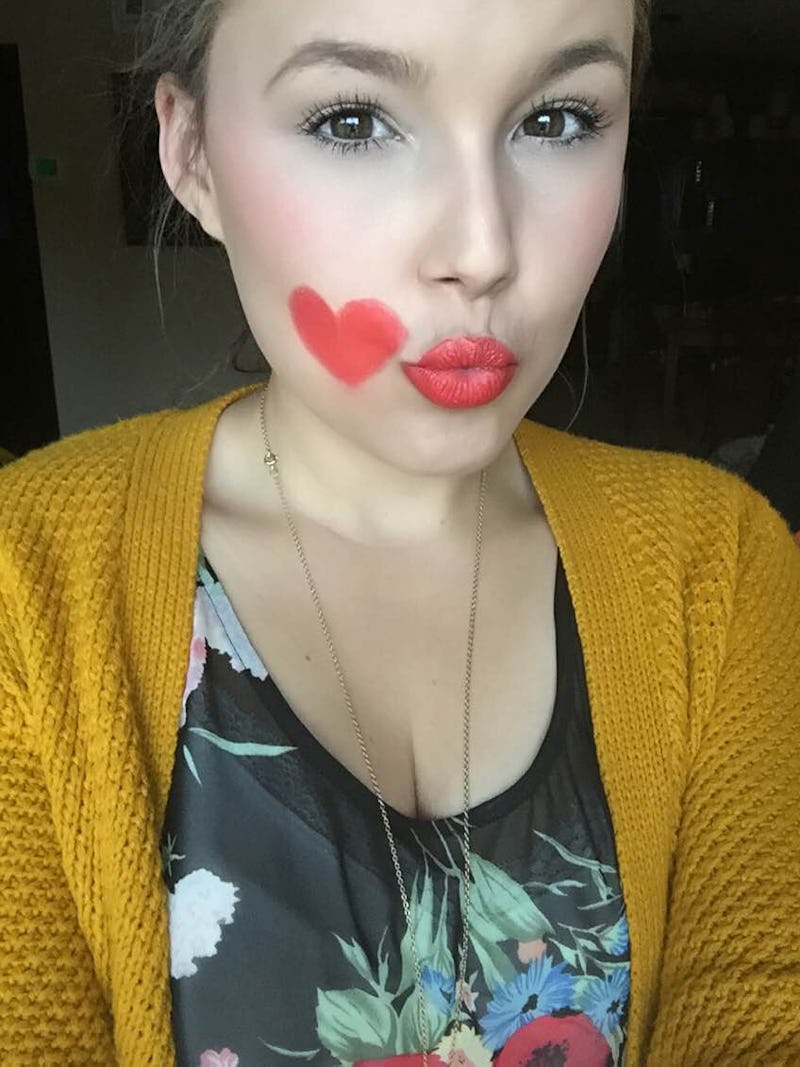 Some people are die hard Halloween fans. They plan their costume weeks in advance while some of us don't plan at all. If you are in the latter camp, this one is for you. Easy emoji Halloween costumes with makeup is simple with the right products, and no real skill is needed. Trust me, I know, because I tried recreating all my favorite emojis with makeup.
Going to the party as an adorable little emoji is about as on trend as you can get. While everyone else will show up as Donald Trump or Kim Kardashian's PAPER magazine cover, you'll go as that signature emoji you're always sending your friends. Everyone will "get" it, and you won't have to go out of your way to buy a costume or spend tons of money (and time!) creating one.
I created these popular emojis with makeup I already had, and with skills of your average basic woman. I am no artist — I simply used products I already had at my disposal with easy application techniques to make my eyes look cartoon-like or my cheeks embarrassingly flushed. If I can do it, anyone can!
Below are some of my favorite emojis, and how I achieved the look with makeup. You can be as literal as you want, so have fun!
1. Laughing/Crying Emoji
This one was crazy easy. You can always go the extra step by drawing little tear drops to the side of your eyes, but I love the interpretation so much, I just left it at that. I dusted a neon yellow matte shade all over my eye, and concentrated teal and blue shimmer shades in the center of my lid. I buffed those same blues along the water line and finished it off with a pink blush and nude lips.
e.l.f Essential Little Black Beauty Book, $8.00, eyeslipsface.com
2. Angry Emoji
This was the most fun. I skipped the blush and went HAM with a cool toned, sharp contour. I used a poppy-colored red to dust all over the lid with a fluffy brush, and brought it all the way around the eye. I concentrated orange shades in the center of the lid, and then topped it off with a little warm-toned highlighter in the middle. Throw a red lip and some bold brows in there and you have one angry look.
Morphe 350 Palette, morphebrushes.com
3. Heart Eyes Emoji
I used a dense, thin eyeshadow brush to apply blush in the shape of a heart around my eye, filling it in with lighter shadow and dusting highlighter right in the center of my lid. I kept it soft, so you don't have to be perfect with the lines for it to look pretty and like hearts. I used light blush and highlight across my cheeks, and applied hot pink lipstick to the center of my lips. I topped nude gloss over it and blended it all with my fingers for an ultra cartoon feel.
e.l.f Studio Blush Palette in Dark, $6.00, eyeslipsface.com
4. Kissy Face Emoji
Simple, easy to achieve, and so literal that anyone will get it. I kept my eyes neutral but upped the mascara so the black lashes really popped. I drew the heart with lipstick. Ta da!
Revlon ColorBurst Matte Lip Balm in Striking, revlon.com
5. Sleepy Emoji
Too tired to party? You can write it on your forehead. Keep the rest of your face minimal with nude eyes, barely there mascara and nude lips. Draw those unmistakeable Zzzs in blue.
Sephora Collection Retractable Waterproof Eyeliner in Shimmering Dark Gray Blue, $13.00, sephora.com
6. Embarrassed Emoji
I swept white, shimmer shades all around the eye and lined the waterline with a white, kohl pencil to make my eyes look as wide open as possible. Then I created high-pigmented, super blushed cheeks with my e.l.f blush palette. Done! Now you have a super embarrassed, "oh snap" face on all night.
Revlon PhotoReady Kajal Matte Eye Pencil, revlon.com
7. Kitty Kissy Face Emjoi
For whatever reason, I always express my feelings in cat emoji form. Here, I drew an ultra black winged liner with gel liner (and also made my whiskers using gel liner and a tiny liner brush). I dusted pink blush on my cheeks and nose, and kept my bottom lid and lashes and lips neutral.
Maybelline Eye Studio Lasting Drama Gel Eyeliner, maybelline.com
Images: Jessica Willingham; Courtesy of Brands