7 Ways To Reuse Your Coffee Grounds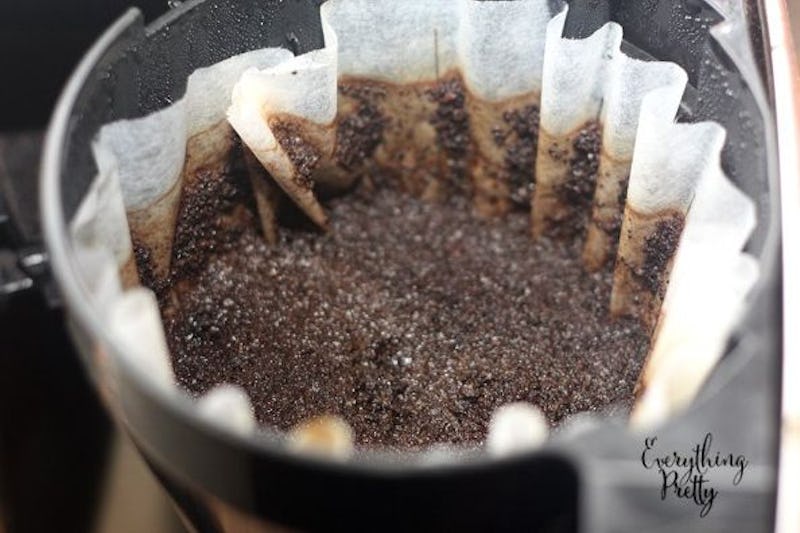 Mark your calendars, caffeine enthusiasts — Sept. 29 is National Coffee Day, aka one of the best days of the entire year. To celebrate, you could (and should) whip up a cup of your favorite brew and get to sippin,' but once you're all fueled up put that coffee buzz to good use. Hometalk has compiled seven different ways to reuse coffee grounds that guarantee your leftover coffee filter goes to good use — because you don't want to waste a single ounce of precious java. Use them in your garden as compost, or use them in your bathroom as part of your beauty routine. There is an upcycle project here for everybody.
Hello, coffee-lovers! Today is the day we get to hug our mugs close and celebrate that rich aroma, and we can't wait to start. But even after you've drained it, there's more to be had from your morning cup of Jo! As if you needed another reason to celebrate on National Coffee Day, it turns out there are some awesome things that you can do with your used coffee grounds. If you've always just tossed your muddy, used filter in the trash, here are seven fabulous reasons to hold on to it from now on.
1. Add Them To Your Compost Bin
Add your leftover coffee to the compost bin to get the perfect rich mixture your garden will love! Not only will this add some key ingredients to your mix, it will help mask some of that organic breakdown stink.
Project via Jim and Mary @Old World Garden Farms
2. Use Them To Clean Smelly Hands
Have you ever noticed how after you're done prepping dinner, some scents tend to stick to your finger tips, no matter how much soap you use? Get rid of strong cooking smells, like garlic or onions, with a quick scrub of used coffee grounds.
Project via Lela @Trash Find Redesigned
3. Use Them As A Natural Wood Stain
Want to give a rich coat to a tired piece of wooden furniture? Make a natural stain solution using coffee grounds, and avoid the strong odors and sticky messes caused by store-bought stains.
Project via Ananda @A Piece of Rainbow
4. Mix Them Into Your Own Heavy Duty Scrubbing Soap
The gritty texture of coffee grounds makes them just right for scrubbing. When paired with a gentler ingredient in a DIY soap, they can be just the thing to get the dirt off your green thumbs, scrub away flecks of paint, or clean any lasting grime.
Project via Cari @Everything Pretty
5. Make Your Own Coffee Body Scrub With Them
Just like they can clean your hands, coffee grounds are ideal for refreshing your body and getting rid of any dry or dead skin. Mix up a jar of sugar, mint, and coffee scrub for your shower, and get ready for a new level of luxury.
Project via Heather @Spunky Real Deals, LLC
6. Add Them To A Mason Jar Centerpiece For Your Fall Table
This secret decor surprise might look like a tabletop container garden, but it smells like a charming cafe! Add coffee grounds to mason jars, and then stick a couple of fresh cut flowers (or some red foliage-fringed branches) in each one to make this bright and aromatic table decoration.
Project via Kristen @ReThink Simple
7. Turn Them Into Your Own DIY Air Freshener
Using cheap spice shakers from the Dollar Store, make your own coffee-scented air fresheners to banish those stale scents from you home. All you need to do is decorate the shaker to you liking, and then fill it with coffee grounds and watch (smell?) it work its magic!
Project via Erin @The Organized Life
For more great coffee upcycle ideas, check out these brilliant coffee repurposes on Hometalk!