13 TV Shows From 2013 You Must Finish In Order to Graduate to 2014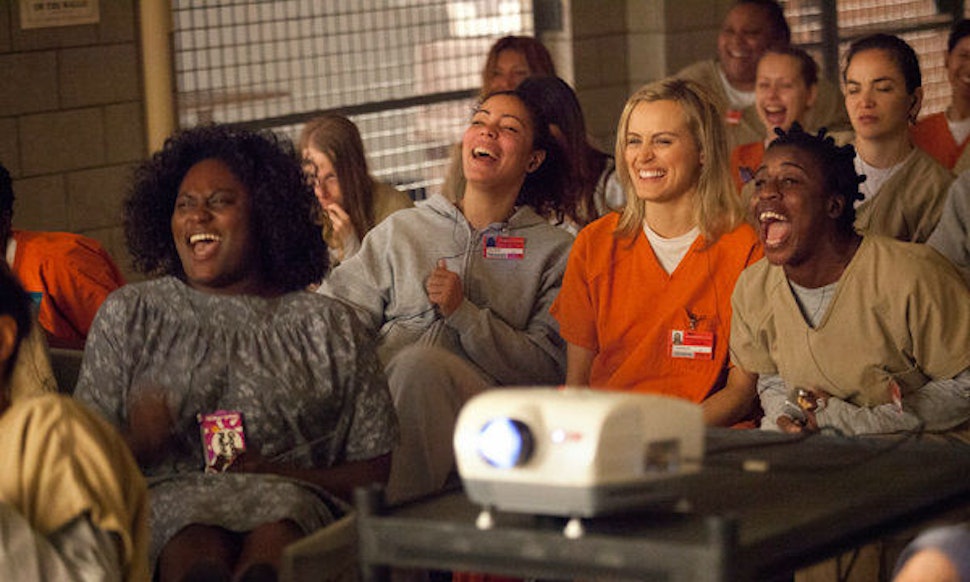 For most of us, the New Year is all about resolutions — how we'll be better in the coming months. We sign up for gyms, order torture devices disguised as juice cleanses, and spend our holiday gift cards on organizational tools we'll stop using in February. But when it comes to really great television, the only resolution you need to make is to be caught up by Jan. 1.
This year, the medium offered some seriously delicious dishes and folks who fell behind are going to have a seriously difficult time keeping up in 2014 — keeping up with the TV schedule, Twitter, and general water cooler chatter.
Here lie the 13 most important TV series of 2013. If you've seen them all, congratulations, you're ready for 2014. If you haven't, cue up the Netflix and iTunes season passes, grab some coffee and snacks. You've got five more days to graduate from 2013 TV with flying colors.
'Orange Is the New Black'
There is no 2013 without Taystee, one of the most universally-praised ensemble members from Netflix's privileged-lady-goes-to-prison saga. The series, which finds overly educated Brooklynite Piper Chapman entering a women's prison after being convicted for helping her ex girlfriend smuggle drugs once 10 years ago, explores not only the depths of the new inmate's mind, but the politics of a prison eco-system as well as the ethics of the U.S. prison system itself. Plus, the cherry on top is that it's got the classic Jenji Kohan swath of humor — you know, like Weeds before Agrestic burned down.
Image: Netflix
'Orphan Black'
True television aficionados know that one of the most under-appreciated new series of 2013 is BBC's Orphan Black. While the series' description includes the terms "science fiction" and "cloning" it's not nearly as alienating as it sounds. Thanks to the work of actress Tatiana Maslany, who plays a host of characters who are identical thanks to cloning, the series is more than just a what-if romp.
And, if you can remember the name long enough to stop confusing it with Orange is the New Black, you just might discover something awesome before 2014 begins.
Image: BBC
'Top of the Lake'
For many, this Sundance channel mini-series proved that the so-called attention span issue is by no means ubiquitous. Jane Campion's methodical mystery starring Mad Men's Elisabeth Olsen served as an antidote to the continually disappointing AMC series The Killing, by serving up seven episodes that prove when it's done right, a "cop show" can still be entirely riveting.
Image: Sundance
'Scandal'
In 2013, the Scandal nation truly came into its own and while the direction the series has been going in its last few episodes is questionable, it's undeniable that the series was an integral part of pop culture (and Twitter) in the 12 months before 2014. The series may lose its mojo in the coming seasons, but its hold on us this year is completely undeniable and that pull will remain noteworthy as other addictive dramas emerge.
Image: ABC
'Veep'
For some, Veep has been must-see TV since Vice President Selina Myer's first televised faux-pas, for others, the series took on new life when star Julia Louis-Dreyfus won the Emmy for Best Actress in a Comedy while co-star Tony Hale acted out his Veep duty as her purse handler. But while the series flew under the radar in its first season, 2013 was the year in which the rest of the world started to take notice.
And if that's not enough of a reason to watch the series, there's this: you may just laugh so hard you cry very real tears of joy.
Image: HBO
Duh, 'Breaking Bad'
If you're one of the folks who insists you'll watch Breaking Bad "someday," you've officially signed up to be spoiled at will for the next three years – at least. The impact of Breaking Bad is so great that I will personally guarantee its appearance in nearly every grand TV think piece written in 2014, 2015, 2016, and probably beyond.
So, if you'd like to be a part of almost any in-depth TV conversation in the future, catch up. There's even a schedule out there that will help you get it done in two emotionally-draining days.
Image: AMC
'House of Cards'
Before there was Orange Is the New Black, there was House of Cards, Netflix's political drama about the underhanded schemes that serve as the foundation of our entire nation. In February 2013, Netflix released the episodes all at once — as they've done with all of their other original programming — and captured a nation, prompting suggestions that the Kevin Spacey series could eventually take Breaking Bad's crown as the must-see series.
While you have until Feb. 14 to catch up, what better way to cap off 2013 than to watch the series that ignited the web series game this year?
Image: Netflix
'Inside Amy Schumer'
It's not often that a Comedy Central show that doesn't involve Jon Stewart reaches the "Best TV of the Year" level, but Inside Amy Schumer was a series that broke the old Comedy Central mold in more ways than one. Joining fellow top-notch sketch comedy series Key & Peele, Schumer's series was something of a Liz Lemon to the comedy network's boy's club, rejecting the notion that "women's comedy" needs to be a separate genre by playing into those stereotypes and producing something that is truly and universally funny.
Congrats, Amy Schumer, you won 2013.
'Sherlock'
While 2013 was certainly not the year of new Sherlock episodes, it was the year of catching up on Sherlock on Netflix. Thanks in great part to the Benedict Cumberbatch explosion that rocked pop culture in 2013 (and a wee bit to The Hobbit giving fellow Sherlock star Martin Freeman a tiny boost), Sherlock has gained significant ground in 2013, just in time for its 2014 premiere: Jan. 19 in the U.S.
Image: BBC
'Masters of Sex'
It's a fantastic series starring Lizzy Caplan in a role finally worthy of her talent (and well-known enough to keep her on the small screen) as one of the best, most intriguing female characters on TV in 2013. Do you need more of a reason? Martin Sheen's pretty great too.
Image: Showtime
'Game of Thrones'
Don't worry about the fact that you forget half of the characters' names after each episode and worry about the fact that thanks to 2013's Red Wedding episode, the series has proved that we're completely unable to watch this show without talking about it. If you want to remain unspoiled on all the sure-fire incredible and unbelievable plot twists in 2014, do yourself a favor and make sure you're caught up so you can watch the carnage and Daenerys' rise to power along with the rest of us.
Image: HBO
'Mad Men'
Not only is the series ramping up to its final season (split in two parts over two years, thanks to greedy AMC), its 2013 season delivered a bevy of pop culture necessities. From Don Draper hooking up with Lindsay Weir (or Linda Cardellini to non-TV dorks), to the enigma that was Bob Benson, to Pete Campbell falling down stairs and Ken Cosgrove dancing like a maniac while on an unidentified stimulant, Mad Men managed to hold our attention – even when we realized we'd grown weary of Don's ever-present journey to humanhood.
Image: AMC
'Girls,' Of Course
Whether you're a Girls hater or a staunch fan of Lena Dunham's opus, you were talking about Girls in 2013 and you will be talking about in 2014 when its third season premieres on HBO. Season 2 was an excuse for the series to spread its wings without abandon, and while it occasionally fell out of its critically-beloved tree, the series was consistently worth talking about.
Just know that Twitter and general conversation in 2014 will not be kind to you if you know not of Girls' second season.
Image: HBO