20 Tacos You Should Eat On National Taco Day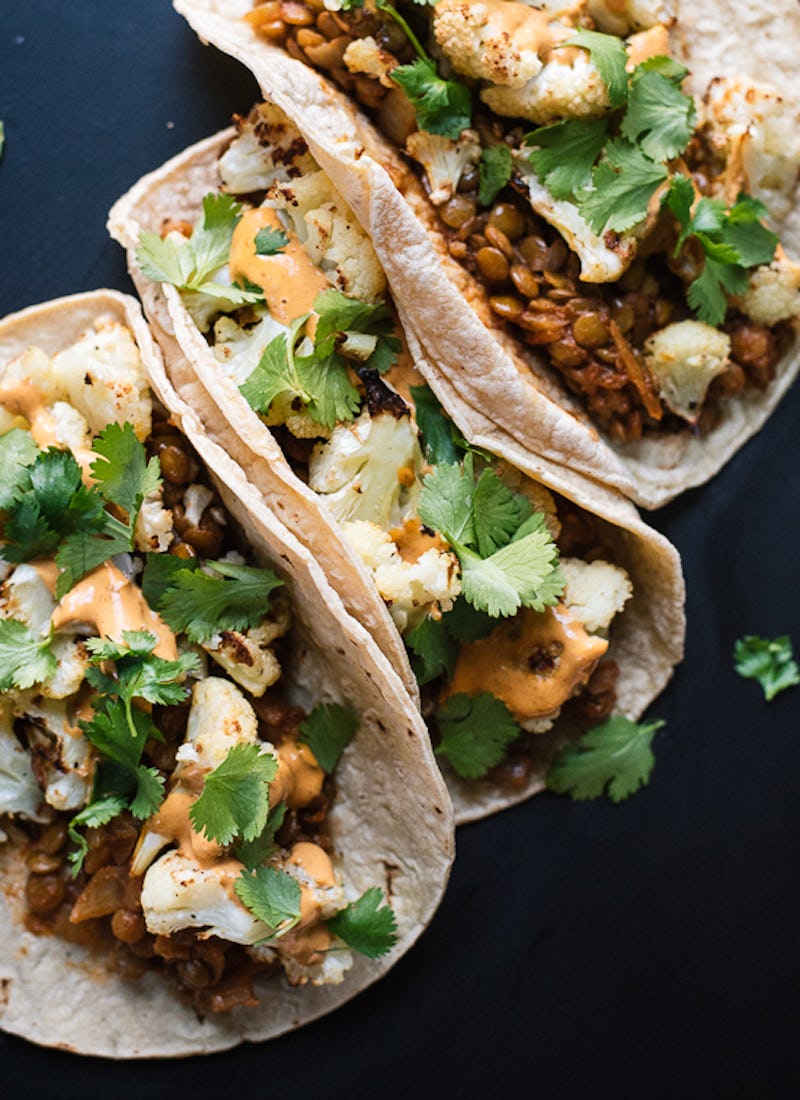 Are your stomachs rumbling? They should be — Oct. 4 is National Taco Day! Whether you like to eat yours with grilled veggies, fried chicken, fish, or chocolate (hey, this is a judgement-free zone, and also Choco Tacos are the bomb), this is the day for you my friends. If you aren't celebrating with some amazing taco recipes, it's time you straightened out your priorities. Like, stat.
Think about it — have you ever had a bad taco? Because I haven't. I am a pretty firm believer that you can put any combination of things in a taco shell, and it will end up being delicious. I don't know what kind of black magic tortillas possess, but it's a thing, and I respect it, and so should you.
Another great thing about tacos? They are so, so versatile. Whether you are a carbivore, carnivore, vegetarian, or lover of all foods (aka me), you can make tacos fit your lifestyle in a delicious and nutritious way.
While there is definitely no wrong way to eat a taco, there are definitely right ways to eat them. In honor of National Taco Day, here are 20 delicious tacos you should totally be eating. Like, right now.
1. Quinoa And Black Bean Tacos
Pack in some protein with this recipe from Cookie and Kate.
2. Beef And Pickle Tacos
Does this recipe from Joy the Baker sound a little weird? Yes. Delicious? Also yes.
3. Fish Tacos With Cabbage Slaw
This fish taco recipe from The Kitchn is light and refreshing, and perfect for any day of the week.
4. Veggie Tacos With Avocado Cream
With all of this flavor, you won't even miss the meat in Naturally Ella's roasted veggie tacos.
5. Vietnamese Braised Beef Tacos
I Am a Food Blog hits it out of the park with these Vietnamese-inspired tacos.
6. Sweet Potato And Avocado Tacos
This recipe from Love and Lemons is super creamy and decadent.
7. Roasted Cauliflower And Lentil Tacos
Can we just talk about the chipotle sauce on these tacos from Cookie and Kate for a second?
8. Caramelized Pork Tacos
Bring some tropical flavors to your tacos with this recipe from I Am a Food Blog.
9. Grilled Corn, Mushroom, And Roasted Poblano Tacos
Spicy veggies wrapped in a tortilla shell? Sign me up. How Sweet It Is has the recipe.
10. Deep-Fried Avocado Tacos
Like guacamole, but a million times better. Get the recipe from Foodie Crush.
11. Black Bean Tacos With Zucchini Salsa
Get your green on with these tacos from Love and Lemons.
12. Banh Mi Tacos
Vietnamese food + tacos = a match made in heaven. You've gotta try this recipe from I Am a Food Blog.
13. Taco Grilled Cheese Sandwich (It Counts)
Closet Cooking has created my new favorite hangover food.
14. Korean BBQ Tacos
These Korean tacos with BBQ sauce from Steamy Kitchen are clutch.
15. Barbacoa Tacos
Tender, citrusy meat is the star of these tacos from Closet Cooking.
16. Cuban Fish Tacos With Mango
Are these tacos from Half Baked Harvest not the most beautiful thing you've ever seen?
17. Sweet Potato Tacos
These tacos from Mel's Kitchen Cafe are perfect for fall.
18. Shrimp Tacos With Corn And Cotija Salsa
Anything with cheese in it is good in my book — these tacos from Half Baked Harvest are no exception.
19. Roasted Chicken Tacos
This recipe from How Sweet It Is is taken to the next level with spicy goat cheese queso.
20. Beef And Chorizo Chili Cheese Tacos
Double meat and cheese? Climbing Grier Mountain is after my own heart with these tacos.
Looking for more amazing food ideas? Check out Bustle on YouTube!
Images: Cookie and Kate (2); Joy the Baker; The Kitchn; Naturally Ella; Love and Lemons (2); I am a Food Blog (2); How Sweet Eats (2); Foodie Crush; Steamy Kitchen; Closet Cooking; Half Baked Harvest (2); Mel's Kitchen Cafe; Climbing Grier Mountain