Whitney Wolfe's Best 'Daily Show' Moment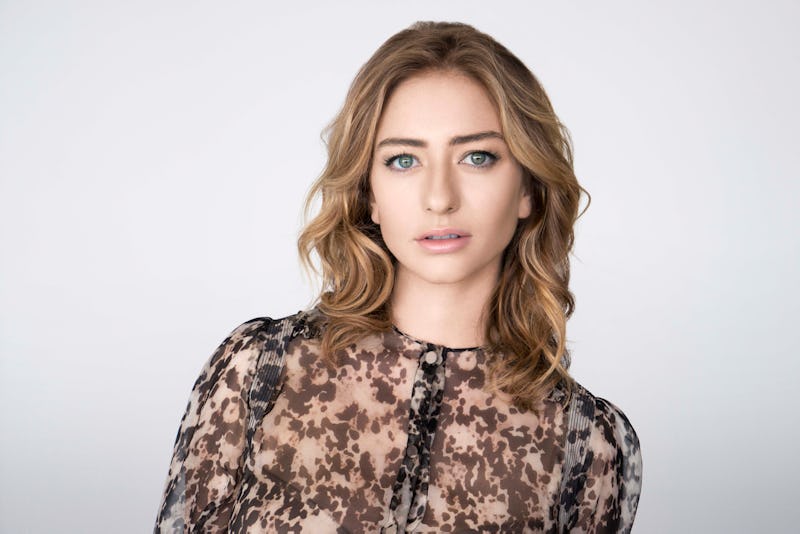 On Tuesday night, Bumble CEO and founder Whitney Wolfe sat down with The Daily Show's Trevor Noah for a conversation about her game-changing dating app, and it was a pretty lighthearted affair, just like you'd expect from a comedy show. And while the interview was shorter than fans of feminist-modeled online dating might have wanted — The Daily Show always operates under a major time crunch with interviews — it did have one standout exchange. Here's the best moment from Whitney Wolfe's Daily Show interview, because she summed up the point of Bumble perfectly.
For those of you who aren't familiar with the app, it might be worth giving it a look. Here's the basic idea: Wolfe, a co-founder and former of Tinder, launched a new dating app this year that crucially alters the usual formula. Basically, Bumble is a lot like Tinder, but with one major difference — women have to make the first move. Both men and women can like one another's profiles, but when a mutual match is made, it's up to the woman to send the first message, a drastically different system than how countless other online dating apps do things. This way, the risk of women getting unsolicited, creepy messages is mitigated, and it also shakes up some time-worn, tired societal assumptions about gender roles in dating.
In fact, that was the best moment of her entire interview with Noah — when he asked her ("playing devil's advocate," as he described it) why she decided to only allow women to send the first message, she made it clear that it wasn't about privileging women, so much as leveling the field. And to be clear, it's not just for heterosexual couples — as Wolfe noted, people seeking same-sex connections can do so with no restriction on who sends the first message.
It'll empower the woman, it'll take the pressure off the man, and it'll really create a significant shift that we're waiting for. ... We're all about equality, of course. We're not trying to put women above men, and we're not trying to put men below women, or vice versa. Really, we're looking at real life scenarios right now. Right now, the real life world does not say men and women are equal in dating, they're just not. So by giving the women a boost up — a slight boost up — saying "Hey, just be confident, make the first move," and taking the pressure away from the man just for that first step, we feel like it's evening it out a bit.
This is an excellent explanation, one that effortlessly cuts through the arguments of any men who might feel that the app is unfair to them. The patriarchal societal standards that cause many women to shy away from reaching out first are problematic for men, too. The more free and empowered women feel to make connections with men they're interested in, rather than sifting through boatloads of hapless messages (some of which could be pretty gross, scary or unwanted), the better it is for everyone involved — less pressure on the guy, more liberating for the lady. In fact, that was one of Wolfe's key pitches in describing the app: "Be confident."
Image: Jordan Doner, courtesy of Bumble