This New App Is Snapchat + Dating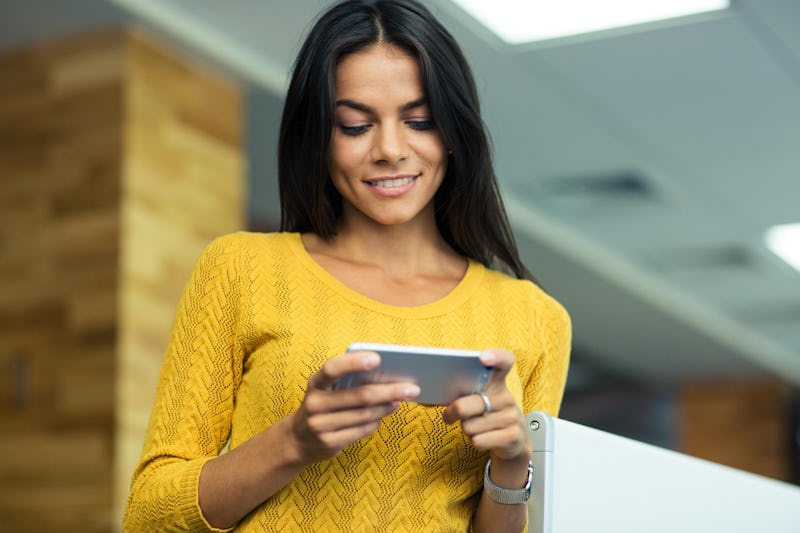 While the frequent releases of new dating apps can be overwhelming, Heartbeat is a dating app that's trying something different. Launching on November 20, 2015, it will be the first of these services to incorporate video messaging into the online dating/dating app format. Heartbeat was founded by Brian Freeman, who also founded Wyldfire, another dating app known for its focus on women's safety and control, and Heartbeat utilizes the same safety precautions. The use of video messaging would already allow you to have a better idea of whether or not the person you've been talking to is a "real" person, and men interested in using the app also have to be pre-approved by a team of women before they can sign up.
Similar to Bumble and Wyldfire (which also require screenings), women have to initiate the first communication, though this time it's through live video chatting (imagine something like FaceTime) rather than through texts or selfies that might not even be images of the person to whom you think you're talking. Heartbeat is less hookup-focused and more about creating a real human connection. The video feature will give you the opportunity to read body language and interpret tone in a way that text messages can't achieve.
Knowing how much social media apps build off each other, it feels almost obvious that dating apps would incorporate social media platforms like Vines, Snapchat stories, and Instagram videos — but then you realize that it has never happened before.
Freeman spoke to Bustle about the app's conception, mission, and logistics, and explains that Heartbeat officially began development only four months ago and expanded upon the screening and safety features already existent in Wyldfire: "Once we took care of safety [in Wyldfire], there was a measure of accountability that made [men] feel like they couldn't behave badly because they would be removed from the community." Despite that success, Freeman says, "we found that there were some key issues that still needed to be addressed," namely a more meaningful way to make connections.
Here are seven things you need to know about the newest dating app:
1. Having Video Chat People More Accountable
"[Video] makes people more raw, more real, more accountable, and it really eliminates the whole idea of having a profile that's actually of you from four years ago. So we wanted to maintain the accountability of Wyldfire, and take our experience there and bring that into a new product."
2. It's A More Organic Experience
Freeman compares the existing online dating world to Linkedin, which makes sense. Typically, when you first meet someone off the Internet or an app IRL, it often feels like a very formal sit-down interview. You might be checking the person out to make sure they aren't a catfish, etc., instead of having an organic experience. Freeman's hope is that by first connecting through real time video chats, "when you do get together, it feels like you've been friends for at least a few hours." This is aided by the fact that while you can come across a disingenuous character in a video chat, it will be much more obvious thanks to body language and oral communication.
3. There's A Timeline — And It Automatically Erases In 36 Hours
Heartbeat is marketed as "Snapchat meets dating." When you download the app, you will see what is called a Heartbeat timeline, which Freeman describes as a combination of Snapchat stories and an Instagram feed. Because they don't want the timeline to become oversaturated with content, each uploaded story or "Heartbeat" will be automatically erased in 36 hours.
The kind of content that Freeman wants to see uploaded in each Heartbeat is the normal, everyday activities. that people already share in their Snapchat stories — what they are eating for breakfast, their walk to work, etc. Because, as Freeman says, "That is the kinda stuff you're gonna get when you are actually dating somebody," not overly-filtered still images of nightclubs and concerts.
4, There Are Different Ways To Match With People
Female users then have the option of either actively or passively matching with another person. She can scroll through the timeline, 'like' a Heartbeat video that grabs her attention, and discover another person's profile that way, which will show the person's most recent heartbeats as well as some biographical information. If she is still interested, she can then send a chat request to begin a real time video conversation, like a FaceTime call.
5. You Also Get A Daily Match Suggestion
Freeman explains that not everybody is going to feel comfortable interacting with the Heartbeats right away, which is why the app also provides one daily match suggestion, selected through an algorithm called "BAE Watch." She can then choose to connect with or not connect with the match suggested to her.
6. How The Screening Process For Men Works
Wyldfire's safety screenings by their all-women team largely depend on the prospective male users' social media accounts.They have not yet received any complaints, so they are using a similar process for Heartbeat. First, a man interested in using the app has to submit a video stating his name and location (in order to prove he isn't a spambot), and the team will then review his Facebook accounts and Instagram accounts. If the team is still uncertain about whether he is real or if they simply need more information, they will reach out to him. If everything checks out in the team's opinion, he will be granted access to the app. If he is flagged for inappropriate behavior, he will lose access.
In Wyldfire, as Freeman says, the application process, combined with the threat of removal, creates a sense of accountability and required effort which seems to eliminate creepy behavior, especially compared to other apps. Another big reason for the screening process is merely to make sure that people are real and will be actively engaged. Says Freeman, "We'd rather have less members who are active than millions who don't do anything."
7. What About Heartbeat's Queer Users?
While Freeman thinks that the focus on women's safety and men's screenings will result in Heartbeat "naturally appealing to people interested in heterosexual relationships," the app is meant for users of any sexuality. You can identify which gender(s) you want to see in your timeline and, says Freeman, "We want the LGBTQ community to use Heartbeat."
Heartbeat's target demographic is people in their twenties "because they grew up with smartphones in their hands. That's the audience that's naturally going to be drawn to this." Freeman and the Heartbeat team also consulted with young women at numerous colleges in order to create an app that would actually resonate with and be efficient for young women. The goal of Heartbeat, says Freeman, isn't finding marriage, but finding someone who you want to spend time with and get to know in a real way.
You can experience Heartbeat when it launches on November 20, but you can sign up early at www.getheartbeat.co
Want more of Bustle's Sex and Relationships coverage? Check out our new podcast, I Want It That Way, which delves into the difficult and downright dirty parts of a relationship, and find more on our Soundcloud page.
Images: Heartbeat/YouTube