Amanda Brings Humor To 'Are You The One?'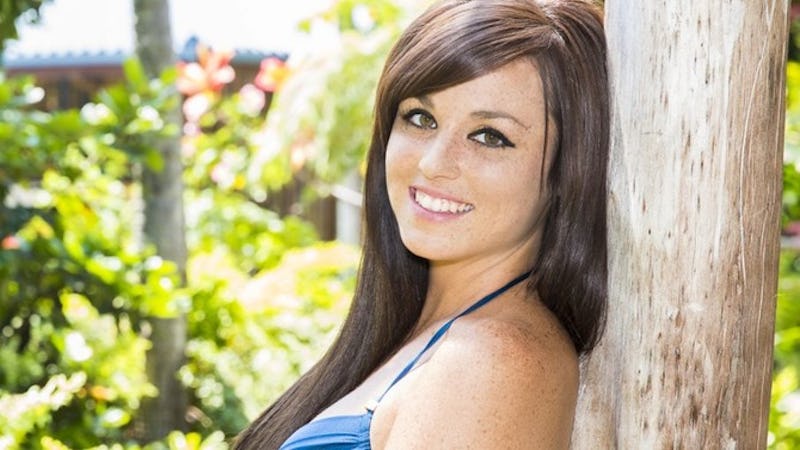 If you thought the first two seasons of MTV's reality dating show Are You The One? were dramatic, Season 3 is going to blow you away — and only the premiere episode has aired so far. This time around, the catch is that the cast loses $250,000 off the top of their prize every time they come up with zero perfect matches at a match ceremony... and emotions are already running high. Fortunately, some of the singles in the house are already beginning to pair off, including Colorado native Amanda Garcia. In fact, at this point, I think one of my favorite Are You The One cast members is Amanda, and as far as she's concerned Mike is her match — and she might be right.
Why do I like Amanda so much? Maybe it's because of her sense of humor. She seems pretty funny and easy-going so far, especially after she told MTV in her interviews that all she's looking for is a "fat wallet and a fat schlong." Girl, I hear you. The 22-year-old's candor reminds me a lot of last season's Ellie Puckett, who was super sweet and made everyone laugh with her crude sense of humor.
And after stalking Amanda a bit on Instagram — which she created just for the show — I'm pretty sure you'll like her too. Here's everything you need to know.
She Hugged A Tiger
This is definitely on my bucket list, so I'm jealous that Amanda got to live it. How adorable is this?
Her & Her Friends Are #SquadGoals
Can we talk about this? They've almost reached the level of Taylor Swift's squad of BFFs. And since much of Amanda's Instagram is made up of photos of her with her pals, I think it's safe to say they're important to her — a quality I admire in a person.
She's Into Working Out
And brings her friends along for that too.
She Has An Interesting Job
Amanda works at Generation Health, a (legal) weed dispensary in Denver. She definitely loves her job (and her co-workers), because she constantly shares photos and videos from work.
She's Excited For AYTO?
Well, duh. Wouldn't you be excited if you were on an MTV show? That's what I thought.
I'm looking forward to seeing more of Amanda on Are You The One? this season — and I'm dying to know if Mike really is her match. Send them to the truth booth, guys!
Image: MTV