Meet Rashida From 'Are You The One?'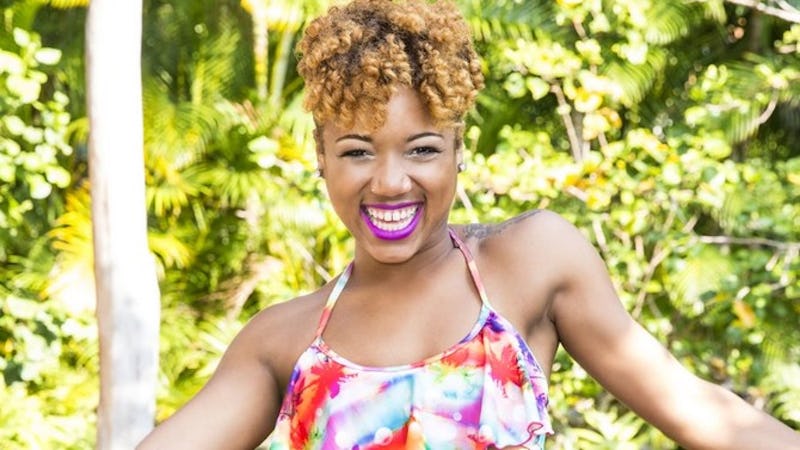 Is MTV's reality dating series Are You The One considered a guilty pleasure if I still want to talk to everyone I know about it? No? OK, good. Because Season 3 is here, and I have a feeling it's definitely going to be one of the most fun to watch yet. Last Monday, the season premiere aired — revealing a major plot twist that takes away the contestants' prize money every week they don't match — and although we're still getting to know the Are You The One? Season 3 cast, I've already picked out my favorites. This time around, I'm loving Rashida Beach. Every time she's on screen, she's laughing and generally having an awesome time, even though her original connection with Alec didn't exactly pan out by the time the match ceremony came around. So what do you need to know about Rashida from Are You The One?
The 23-year-old is from Charleston, and she's a musician. According to her MTV profile, she's "smart and ambitious," and from what we've seen so far, I'd say that's accurate. She's the kind of person who embraces life wholeheartedly — aka the best kind of person. And judging by her MTV profile photo, her style is on point. Here's what else you should know.
She's A Budding Musician
Rashida has a Soundcloud page under the name RashidaZakiya, and she's actually really, really talented. That voice! And also, if that cover photo is really her as a kid, she was adorable!
She's Very Determined
If you follow Rashida on Twitter, you already know she's always talking about how important achieving her dreams is to her. And being on AYTO? That's definitely not going to hurt if she's trying to get her name out there.
She's Already Friends With Her Castmates
As evidenced by this video of Kiki, who she hung out with during her recent trip to New York to promote the show. And being that she and Kiki chat on Twitter a lot, it seems like they're pretty close.
She Loves A Good Cosplay
Which isn't surprising, since she loves to perform. Rashida recently attended Atlanta's yearly con, DragonCon, dressed as Storm from X-Men... and clearly, she totally rocked it.
I can't wait to see what Rashida gets into this season, especially since I have a hunch she'll be one of the most entertaining cast members to watch. Maybe she'll break out into song and blow everyone away? I hope so!
Image: MTV