Your Snapchat Rainbow Puke Lens Costume Is Sorted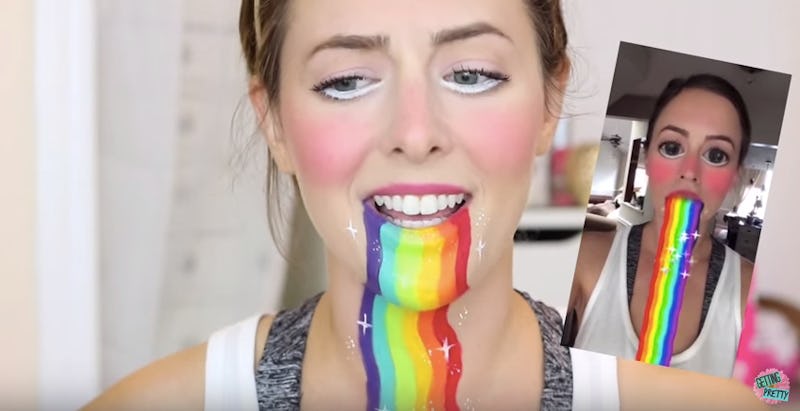 If you're one of those people who *literally can't* with Halloween costumes, a quick face painting is probably for you. YouTube vlogger GettingPretty got creative this year with a Snapchat rainbow puke makeup tutorial, and it's a lot easier to do than you would expect. Consider your costume party look sorted this year.
Snapchat briefly pulled the filter after introducing it with the update, but rainbow puke is back, baby! These fun new filters on the app are definitely one of the highlights of 2015, so chances are this look will seem a little dated next year. You better hop on it, ASAP. Even if you don't happen to have an array of rainbow eyeshadows at home, this vlogger suggests picking up one of the face painting palettes they sell at the Halloween store.
For the rest of her face, she really just used a white eyeliner from NYX, her routine foundation/concealer, and a bright pink blush. In short, you probably have most of what you need for this rainbow puke filter makeup at home. You might have to buy the white eyeliner and some face paint, but it's definitely going to be a whole lot cheaper than dropping $70 on a fancy costume. As GettingPretty points out in the video, you don't have to wear any specific clothes to complete the look since it's all about the face. Anything in your closet will work, so you're free to wear a cute outfit on Halloween if you want to.
If you're ready to try out this uber millenial Halloween "costume," read on for a play by play of her tutorial.
1. Line Your Eyes With White Liner
She thickly traced her waterline and under eye area with a white eyeliner to create the illusion of big eyes.
2. Trace Over With Brown Shadow
Adding this extra definition makes your eyes pop even more.
3. Apply Face Makeup As Usual
Foundation, concealer, bronzer — whatever you normally do! Just make sure to leave the chin bare since you will be covering it with rainbow paint.
4. Apply Bright Pink Blush
Add a neon pink blush all over the apples of your cheeks. It should look cartoonish, so don't blend it too much.
5. Add Color To Your Lips
She used a rose colored lippie and smudged it with her fingers. It shouldn't look like lipstick, just soft color.
6. Draw Rainbow Stripes
Starting with red paint, draw wavy lines from your bottom lip down your entire neck.
7. Repeat With All Colors
This tutorial only used the classic rainbow combo of red, orange, yellow, green, blue, and purple. Try matching the colors as closely to the ones used in the actual filter.
8. Define The Bottom
Make the edges a little rough and speckled to create the illusion of movement. Use a white eyeliner or body paint to add a few "clouds" to top it off.
9. Add Sparkles
Using the same white eyeliner or paint, add sparkles dispersed throughout the rainbow.
10. Finally...
So realistic, right? Watch the complete video below and get ready to have the coolest costume in the room.
Want more beauty tips? Check out the video below, and be sure to subscribe to Bustle's YouTube page for more hacks and tricks!
Images: YouTube/GettingPretty (11)