7 Easy Ways Look Stylish When It's Cold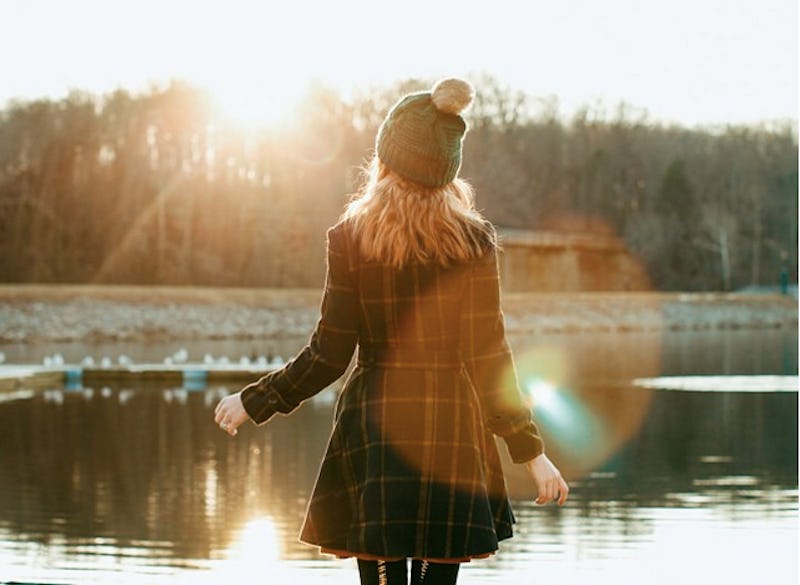 With the last of those sweet summer days clinging to the end of September, we've got a whole new season to look forward to. But with the cozy feels of fisherman sweaters and hot chocolates that come with fall, the predicament of how to look stylish when it's cold is right on its heels. It's not just all infinity scarves and watching leaves turn red; autumn also brings along mean winds and icy evenings with teeth. You can't really run around with bare legs anymore, let alone leaving the house without a jacket. During moments like those, it can be instinctual to dive head-first into a parka and be content with giving off marshmallow vibes as long as you're warm.
And while I can totally agree with that, I'm here to let you know there is a way to feel cozy and toasty and stylish, all at once. It doesn't involve sacrificing comfort, or shivering at the bus stop because your outfit calls for it. With a few clever styling tips, you can be bundled up but not look like the Michelin Man. Here are seven easy ways to look stylish when it's cold — follow along and you just might see your Fall closet differently!
1. Invest In A Statement Coat
When winter hits, 80 percent of the time your outfit is covered up by a big cozy coat. So it makes sense to invest some dollars towards a fashion-forward one, right? You can have the most amazing dress underneath, but you're the only one that knows that until you get indoors. So break up the monotony of the black-coat-brigade we all seem to join come October and choose something with a little more personality. According to style writer Kat Collings at WhoWhatWear, "Everybody owns a black coat, so why not stand out with an unexpected outerwear color?" Choose an interesting cut or a coat with exaggerated features, like a higher neck or a bell-shaped hem. Or go for a piece with a bold pattern or unexpected shade to make you pop against the rest of the commuters on the train.
2. If You Have A Boring Coat, Focus On The Hat
I get it; coats are expensive. It's not that easy to just walk into a department store and drop a nice amount of cash on a gorgeous piece of outerwear. But that doesn't mean you have to feel drab once the colder months hit. Instead, focus on adding some oomph with your accessories.
According to style writer Leah Bourne at StyleCaster, "Your first instinct in the winter is to splurge on a pair of boots or a coat, but we're here to advise you to hunt high and low for the winter hat of your dreams. You're going to be in that thing for a solid two months from here on out (not to mention it'll be the first thing people will notice about you), so it should be something you love."
A colorful pom pom beanie or cozy fur hat can go a long, long way.
3. Buy A Statement Scarf
Sort of like with the hat, a cozy enveloping statement scarf can go the distance when it comes to upping your cold-weather game. It adds personality, interest, and breaks up the boring line of a winter coat.
According to Jessica Bumpus at Vogue , "Hulk up, bulk up. This winter, scarves have become a statement accessory in their own right...As soon as New York Fashion Week got under way last season, there was a renewed focus on the scarf — but as its own piece, less an accessory and more a fashion garment in its own right. Styled up to statement effect, wrapped tight, straight and just so, they were central to looks; completed them; made them different and moved them on from seasons before."
So go for oversized infinity scarves, giant blanket scarves, or long knit numbers. Just make sure it's big, patterned, and colorful and your outerwear style will be amazing.
4. Learn The Art Of Layering
Just because you layer doesn't mean you have to be bulky; there's a certain art to it. According to style writer Leah Bourne at StyleCaster "There is a reason layering is such a big trend this season: it's a massively practical way to dress when it's really cold. So don't be afraid to pile on the layers. A turtleneck, under a sweater, under a jacket, under a coat, for instance, will definitely keep you warm. So will a dress or skirt over a pair of pants (much warmer than a pair of tights)."
Or if you're not a fan of the wearing-four-sweaters-at-the-same-time look, go a subtler route. Layer fleace-lined tights underneath your jeans. Wear a thermal underneath your dress or sweater. Layer a summer frock over a button-down or underneath a cozy knit. Experiment and see what you like best.
5. Don't Be Scared Of Socks
Don't be scared of the exposed sock — not only does it add an interesting line to your look and drags the eye downward towards your shoes, but it could be a chance to add in an extra color or a subtle splash of pattern. According to Kat Collings of WhoWhatWear, "If it's still warm enough to sport a bare leg, add socks to your favorite pair of oxfords." This not only lets you wear your favorite warm-season shoes a little bit longer, but it adds a touch of quirkiness to your look.
5. Turn Boots Into Leggings
Over-the-knee boots aren't just stylish, they're also a smart winter move in terms of layering. The taller the boot, the more legging-like vibes it gives off. Is it fifty degrees but you have a yen to wear your mini dress? No problem — just reach for those tall boots and your summer hemlines are now anchored in fall. According to Elana Fishman, style writer at Lucky, "Want to keep your favorite shorts in rotation well into winter? Pull on some sky-high boots, and you're there." It forces the eye to be dragged downward, which gives the short frock balance. And if your boots are tall enough and disappear into the hemline? That's when you really pull off the legging vibe.
6. Invest In Faux Fur
Not only does it add show-stopping texture and detail to a look, but fur-anything keeps you as snug as a bug in a rug. And the best part? There are so many ways you can play with it! Choose a fur infinity scarf to add just a splash of texture to your coats or dresses. Or invest in a fur collar to do the same. You can get a fur coat and make an entrance where ever you go (bonus points if you get it in a fun color!) or go the subtler route and just get a vest to pop on top of dresses or underneath trench coats.
According to Tara Blumenthal at Shape, "As much as I love a fabulous faux fur statement coat, the trend does not stop there! From fuzzy vests to poofy purses, luxe collars to plush hats, faux fur can instantly update your outfit with a posh, playful edge." See? So many options.
7. Double Down On Shirts
Who says you have to wear one shirt at a time? Take your favorite button-ups and match them together for a cozy and interesting look. For example, take a polka dot top and pop it underneath a chambray shirt, leaving the chambray buttoned only half way. The result? A splash of pattern underneath the denim that makes for an inspired look. According to Kat Collings of WhoWhatWear, "The old J.Crew styling trick of doubling up your button-downs looks especially fresh with two shades of denim." When has J.Crew ever steered us wrong?
Cozy, stylish, and comfortable. Best season ever.
Image: aclotheshorse/Instagram