Viola Davis Absolutely Cannot Leave 'HTGAWM'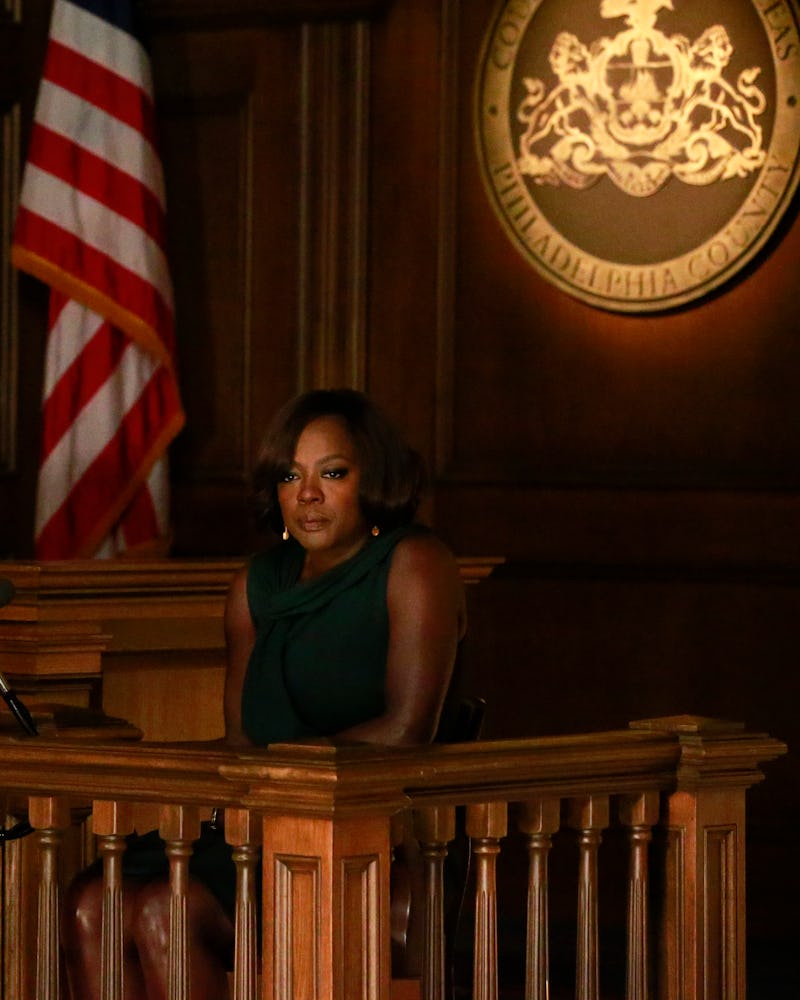 I was worried that How To Get Away With Murder would ditch the nonlinear way of telling a murder mystery story in Season 2, so I was as thrilled at the premiere's cliffhanger. However, now that I've had time to process what happened, I'm a little worried. Will Viola Davis leave How To Get Away With Murder? Presumably, the arc for the season was written before Davis won her Emmy Award, so I really hope that her character's fate hasn't already been sealed.
I know that it has been rumored before that Viola Davis was quitting her own show. However, they could not have been more unfounded, and Viola Davis herself was enthusiastic about returning for Season 2. Beyond that, we don't know, but I think it's safe to say that not a lot has changed for the worse. I also know that nothing seems sacred after the death of McDreamy on Grey's Anatomy, but just like Meredith Grey is the only true star of Grey's with her name in the title and all, How To Get Away With Murder is a class taught by Annalise Keating. Still think it's possible that we're about to see the end of Viola Davis on How To Get Away With Murder? Let's get into it.
But A.K. Was Bleeding Real Bad
Look, there have already been three major murders on this show. They have to mix it up at least once. Somebody has to get away with attempted murder from time to time, or the show will start to look suspiciously like Murder She Wrote — in which one sleepy town in Maine has far too many people getting killed to ever be believable. That cliffhanger at the end of the Season 2 premiere set the stakes high enough without Annalise Keating having to die in that hazy haunted mansion.
But Viola Davis Has A Film Career
Trust me, it's going to be OK. She filmed Suicide Squad in the break between Season 1 and Season 2 of HTGAWM. The ABC series has relatively short seasons with only 15 episodes apiece. That gives the actors plenty of time to work on other projects during the year. This is actually part of Viola Davis' contract. I don't think the show would boot her in order to make seven more episodes a year, not with the gravitas and acclaim that she has brought to the series. On her side of things, would you leave a job that got you a major award and national platform? Television is leaps and bounds ahead of Hollywood films thanks to shows like How To Get Away With Murder. If Viola Davis has anything to say about it, I don't think Annalise Keating is going anywhere. I mean, she's the center of the show! Proof:
Images: Mitchell Haaseth/ABC; Giphy (2)