Lifetime's '90210' Movie Makes Luke Perry A Badass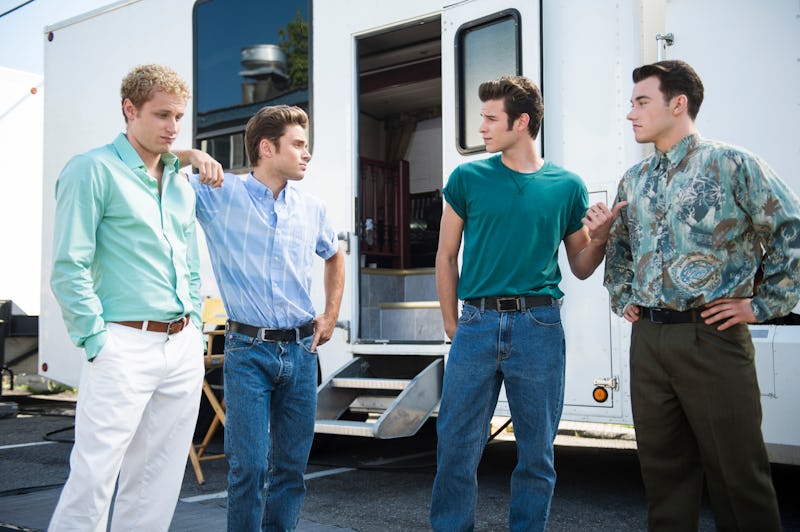 For fans of the original teen drama, Lifetime's new movie The Unauthorized Beverly Hills, 90210 Story is quite entertaining. The film is about the inception of the series, its ensuing struggles, and eventual phenomenon status, and is actually very true to life. Besides giving viewers a look into the ratings spike of the show and the drama happening behind the scenes, it also reveals what much of the cast was doing before landing their now iconic roles. After seeing his backstory, I had to wonder, what was Luke Perry really doing before Beverly Hills, 90210 ? Was he actually the "bad boy" the film seems to suggest he was when he first auditioned?
You may be doubtful because in recent interviews with Luke Perry, he doesn't want seem to want to discuss 90210 at all. When asked at the TCA summer press tour what he thought about Lifetime making the biopic, he said, "I don't think about it," according to The Wrap. He then likened the original series to third grade and said, "How much does that matter to you? Exactly. It's just not relevant to anything I'm doing."
Despite his reluctance to discuss Beverly Hills, 90210, however, it seems The Unauthorized Beverly Hills, 90210 Story got much of his background right. In the 1993 interview below, Perry himself reveals that he did in fact audition for hundreds of roles in film, TV, and commercials before finally landing a commercial. And just like in the Lifetime film, he was indeed working in construction and laying down asphalt before getting his big break.
From there he auditioned for Beverly Hills, 90210, and just like the movie shows, he originally auditioned for the role of Steve Sanders, which later went to Ian Ziering (yes, the same one who later went on to star in all three Sharknado films, aka masterpieces), according to Biography. Later, Perry was called back in for the role of Dylan and landed it, though it was originally only supposed to be a few-episode arc. Of course, he eventually became a full-fledged series regular, after Aaron Spelling had to convince the network. Whether Spelling actually offered to pay Perry from his own pocket as depicted in The Unauthorized Beverly Hills, 90210 Story has never been confirmed, but the actor spoke about how Spelling fought for his casting to The Hollywood Reporter recently.
I was a guest star, and Aaron wanted to make me a regular. The studio didn't want to pick up the deal, and he used that instance to illustrate an important principle: He gets to pick who's on the show. He didn't want me to have to go in the room with the network, but he calmly looked at me and said, "Go get 'em, kid."
As for Perry's badass audition, there's no official record about how that went down, but I really hope it's true. That was the kind of move that would make Dylan proud.
Image: Sergei Bachlakov/Lifetime