How To Channel Tina Belcher This Halloween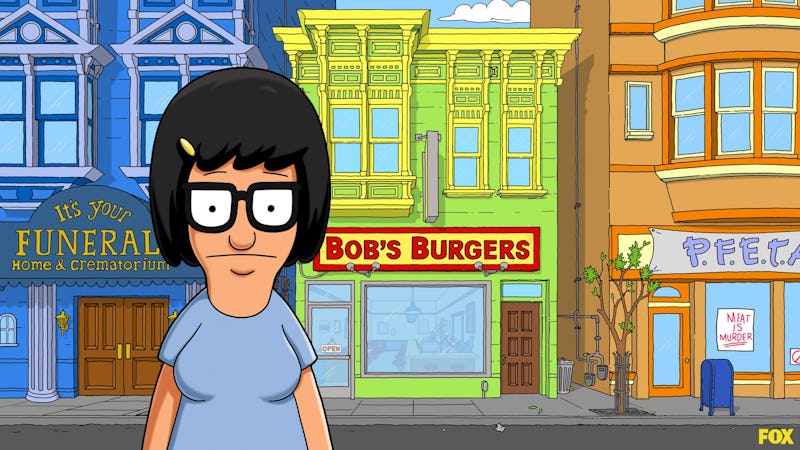 Admittedly, I'm kind of over the phrase "role model"; it's overused and just annoying. That being said, I will still tell anyone who will listen to that awkward pre-teen Tina Belcher is my role model. The middle daughter of Bob and Linda Belcher on Bob's Burgers, who loves writing erotica and looking at Jimmy Pesto's butt, is so endearing, so hilarious, and so much fun to watch that you can't not love her (though truly, I feel that way about pretty much every character on the show). Tina holds a special place in my heart because she's like so many of us were at her age (and perhaps even now), and she's gloriously unaware of just how awkward she is. In other words, she's amazing and I can think of no more fitting tribute than dressing up as Tina Belcher for Halloween.
Whether or not you're past your prime trick-or-treating age, there's bound to be a Halloween parade or party that you can rock your Tina costume to, if you really think about it. The extra great thing about it — aside from the fact that you're dressing up as one of the best characters currently on TV — is that Tina's look is simple and therefore easy to put together. You ready? Uhhhhhh...
The Hair
One of Tina's most recognizable traits is her black bob haircut. It's basic and easy to care for, and also easy to get in wig form if you don't already have the same color/length as Tina. To really get the Tina Belcher look, you might want to take a pair of scissors and make things look a little less put together, but it's certainly not necessary and you could wear as-is.
Short Bob Wig, $16, Amazon
You'll also need to get styled up with Tina's trademark yellow barrette, too, if you want to complete the look. Pop those in your cart at check-out and prepare to get stylish!
Goody Stay-Tight Barrettes, $8, Amazon
The T-Shirt
Tina's ensemble is super basic, which makes it simple to source. You'll need a boxy t-shirt in a light blue shade, and it shouldn't be too fitted, so order a size up for maximum effect. This thing is really coming together, right?!
Light Blue Shirt, $2, Jiffy Shirts
The Skirt
Again, Tina keeps it classy with a basic navy blue skirt to go with her light blue t-shirt. It's an effective statement that says "I'm a no nonsense woman who knows what she likes and has more to her than fancy clothes!" Or, you know, something like that.
The Socks & Shoes
You'll need some striped varsity socks to match Tina, and again, they're basic and easy to come by, which makes this whole process that much more enjoyable, doesn't it? The socks are not only cute, they're practical, given that it's Halloween and it'll likely be cold outside — you need to keep those legs warm!
Knee High Socks (12-pack), $25, Amazon
As for footwear, just grab those old, comfy Converse Chuck Taylor All-Stars out of the back of your closet or grab a new pair to complete the look. Comfort AND style? Who knew you could have both at once?
Chuck Taylor All Star, $50, Zappos
The Final Accessory
You've gotta have the classic Tina Belcher wayfarer glasses, right? If you already wear glasses and happen to have these, you're in luck; you can get them prescription-free and pretty cheap, so it's about to go down.
You're gonna look so good out there. Make it happen!
Images: Fox; Amazon; Jiffyshirts; OldNavy; Amazon; Amazon; Giphy (5)