Baby Meets Great-Grandma, Melts Hearts Everywhere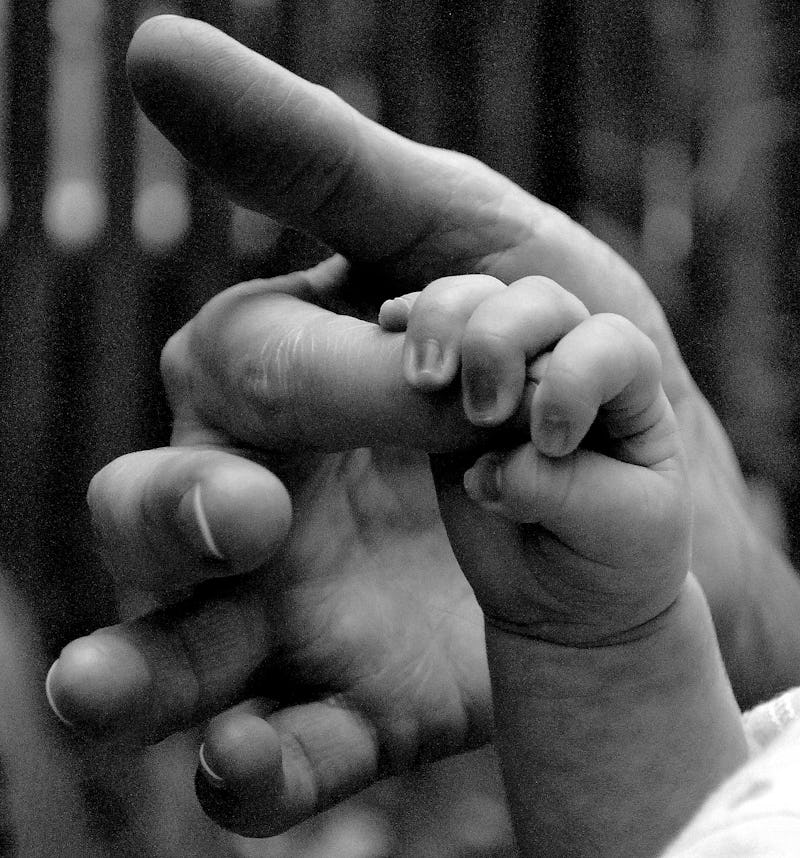 Scott Martin of Tumwater, Washington may have just caused the "aww" heard round the world. The new father posted a picture of his newborn daughter meeting her grandmother for the first time on Reddit this past Sunday, and it seems to have struck an emotional chord in all four corners of the Internet. "Life comes and goes, but it's always beautiful," he captioned the photo. Just four days later, the post has already racked up closed to two million views. Martin and his wife, Jennifer, welcomed daughter Penelope into the world this past Friday. After bringing Penelope home, the first order of business was to introduce her to her great-grandmother, 92-year-old Millie Martin, to whom Scott is very close.
Penelope, or Pip for short, is the couple's first child. Martin told ABC News that they spent three years trying to conceive. She is Millie's fifth great-grandchild. "We'd been sitting talking with Millie and finally Penelope woke up," Jennifer told ABC. "They just sat and talked and looked at each other for a few minutes. It was a really special moment. She kept her in her lap for close to an hour."
Millie, who is bedridden with congestive heart failure, just lost her husband, a World War II veteran, this past August. Pip's visit was extra special because it came one day before what would have been the couple's 71st wedding anniversary.
You know you've hit a nerve when even the people of Reddit get struck with a case of the feels. "This is one of the most beautiful and moving pictures I've seen on Reddit," wrote one anonymous user. "I'm going to remember this one." Another sums up the amazing age gap bridged by the pair in the photo: "Think about it. This lady saw the stock market crash, both world wars, the world being electrified, filled with automobiles and other amazing machinery. Saw a man put on the moon. The list goes on. Just imagine what this kids gonna see."
It seems that grandmas and babies cause everyone to soften up. "This hit me hard," another user commented. "About five years ago I asked my grandmother for two baby blankets because I knew she wouldn't be around for my first child. She passed away last year at 95. At least I have something from her for my future child. Cherish this moment. The meeting of past and future, you lucky human."
As for Pip, you'd think that achieving Internet fame at only two days old would be the biggest accomplishment she's ever had, but you'd be mistaken. The little one has been a bona fide Internet star since she was a fetus! This past March, her mother uploaded a video to YouTube showing Penelope clapping her hands during her 14-week ultrasound. The video became an instant classic, and now has 8.5 million views.
Millie and Pip aren't the only great-grandma/newborn pair to go viral this year. Back in March, the Internet was buzzing over a photo of 101-year-old Rosa Camfield holding her two-week-old great-granddaughter, Kaylee, after Kaylee's mom, Sarah Hamm, shared the picture on the popular social network Life of Dad. Sadly, Camfield passed away soon after the photo was taken.
More and more, it seems the Internet is making Andy Warhol's prophecy possible — that "In the future, everyone will be world-famous for 15 minutes." At least when it comes to photos of adorable babies (and their equally adorable great-grandmothers), I am all for it. Can't wait to see what Pip does next.
Image: Scott/Flickr