Miley and Cara Sitting In a Tree, K-I-S-S-I-N-G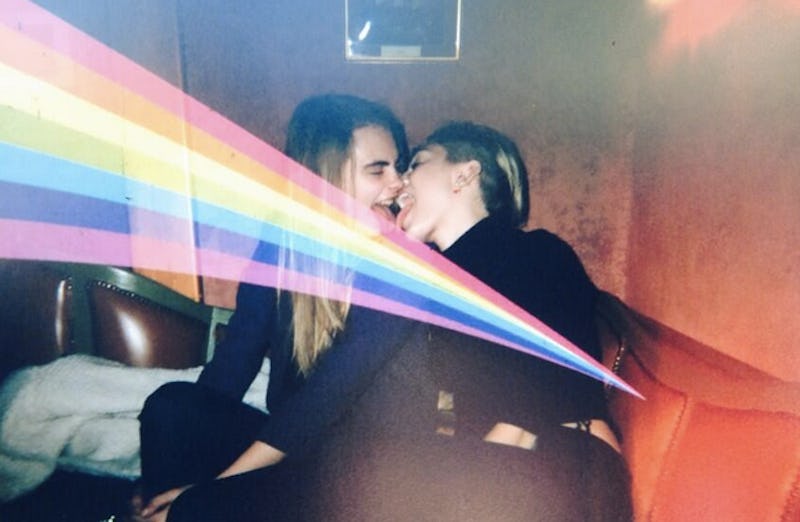 Only one day after releasing her racy new music video for "Adore You" — which, if you haven't yet seen it, mostly consists of her rolling around on a bed and simulating masturbation in a way that might have made The Divinyls blush — Miley is continuing her attempts to shock the world. This time: On her Twitter last night, there was a picture shared of Miley Cyrus and model Cara Delevingne making out alongside the caption, "LOVE!!!!! We finally got the filmed developed Mush."
OK, so in all actually, it's not that shocking. But considering all of the stunts Miley has pulled recently — the music video, lighting a blunt on stage at the MTV EMAs, twerking on Robin Thicke at the MTV VMAs, etc. etc. — it's clear that the intention behind this picture is to get people talking. And hey, it worked! Who wouldn't want to talk about a picture of two hot young starlets french kissing at a bar, with a rainbow filter Instagram could only dream of? Exactly.
For the record, Cyrus and Delevingne are actually good friends: As E! Online points out, the two hit up an Amsterdam coffee shop last month.
Check out the tweet below.
Image: MileyCyrus/Twitter