Alicia Is Getting A 'Good Wife' "Frenemy"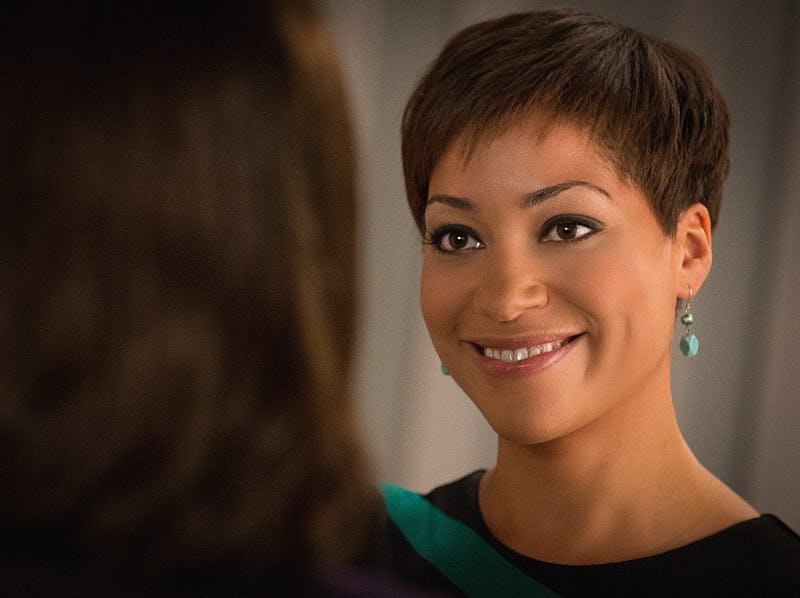 Things are going to be quite different for Alicia Florrick when The Good Wife Season 7 premieres. Without a law firm, Alicia heads to Bond Court, where according to Deadline's casting news she'll meet Luca Quinn, played by Cush Jumbo. This new character will be a "frenemy" to Alicia, according to Yahoo TV, one who helps her out in court once she realizes Alicia is struggling, though they'll maintain a competitive relationship. "There's a lot about Alicia that Luca can identify with," Jumbo told Yahoo in an interview. "I don't think their enemies, maybe their frenemies."
However, Julianna Margulies did hint in the same interview that there is potential for a great friendship in the future. "They don't trust each other at first, there's going to be some ups and downs," she said. "She has an incredible ease about her that I think Alicia wishes she had. They bond pretty quickly and it's quite a lovely relationship. Luca gets a little starry eyed in realizing this woman could actually mentor her." I think this new relationship is going to be great for Alicia. It's been a while since someone has challenged her, especially when she's so out of her element.
As excited as I am to see this new dynamic on The Good Wife, there are a few other things I'd like to see in Season 7 that would make it even better.
A New Love Interest
No one can ever replace Will, but Alicia hasn't had a real relationship since him. Johnny was only there for a few episodes and nothing ever panned out with Finn. Now, there is a new investigator named Jason joining this season, played by Jeffrey Dean Morgan, and according to TVLine, there will "be heat between" him and Alicia. I fully support this heat and whatever comes of it.
More Eli Gold
I just want full episodes dedicated to Eli Gold yelling at people for being idiots. We know at this point that Margo Martingale is playing a campaign manager in Season 7, which has me worried about Eli.
A Kalinda-Like Character
Alicia needs someone to take shots with. Who else is going to throw back tequila with her? Before Alicia and Diane separated on bad terms, I thought a close friendship might be a possibility, but now I need someone else to step up and be Alicia's friend. Maybe Luca can be that person when they aren't busy competing.
A Peter Florrick Election
Peter is batting in the big leagues now running for president, but what does that mean for Alicia? Will she have to go back to standing by his side? I think the balance between work and being Peter's wife may be more of a struggle than ever this season.
The New State's Attorney
After Alicia was forced to step down as State's Attorney, someone had to take over, and I'm very intrigued as to who that could be.
A Canning-Florrick Partnership
Every other variation of partnerships has existed, so why not give this one a shot?
A Lady For Cary
Cary loved Kalinda and it was hard because she didn't feel the same way. Besides, good things never happen to Cary, so he just needs a win this season.
Elsbeth & Josh Get Married
Elsbeth Tascioni and Josh Perotti had a very... interesting relationship, but somehow it worked, and was cute in its own weird way. I'd love to see these two make an appearance and have a surprise wedding full of lawyers.
Colin Sweeney
It just wouldn't be a season of The Good Wife without Colin Sweeney.
Images: Paul Sarkis/CBS; Giphy (7); thegoodwifefans, Diicaprios, Runwiththem/Tumblr