7 Looks Inspired By '90s Nickelodeon Shows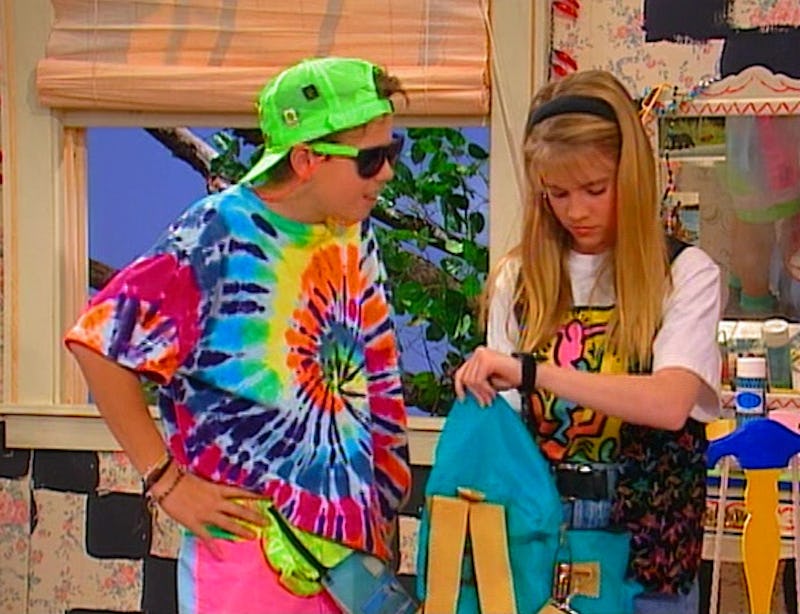 Generation Y kids are finally getting the lucky chance to re-live their childhoods thanks to Nickelodeon launching The Splat on Oct. 5. ICYMI, the new channel will be dedicated to playing favorite '90s television shows (aka: It's going to be heaven). Short of finally finding a piece of the GUTS aggro crag on eBay, this is the best '90s Nickelodeon news I could ever hear.
Unlike the channel Nick Gas (Nickelodeon Games And Sports For Kids), which kept certain '90s Nick faves alive until the late '00s, The Splat will feature a range of programming beyond the sport and competition shows. Although one of my personal favorites, GUTS, will not be included, shows such as All That, Hey Arnold!, Ren & Stimpy, and Are You Afraid Of The Dark? will finally be making a much needed comeback.
To prepare for the binge watching I know I'll be doing when The Splat launches, I wanted to re-live some of the fashion moments from these '90s shows that influenced the personal style of so many 20-somethings.
Personally, I can't wait for Clarissa Explains It All, just for the fashion inspiration alone. With so much of '90s inspired fashion making a return to the mainstream, it shouldn't be too hard to tie your flannel around your waist and get ready for splat and chill. Here's how to draw sartorial inspiration from these seven Nick favorites.
1. All That
For many kids, All That was beloved because of the comedy. For me, however, it was all about the fashion. Lori Beth Denberg was one of the few people I saw on TV at that age who looked like me. She wasn't just fat and funny, either. She was dressed just like the other girls on the show. As a young kid, the message that size is not a limitation was an important one. Plus size individuals then and now can wear oversized and baggy clothes and still look cute.
Can You Not Flannel Women's Plaid Shirt, $25.99, etsy.com/shop/RawDesignCo
Denim A-line Button Through Mini Skirt in Mid Wash Blue, $46.58, asos.com
Women Laceup Floral Print Midcalf Combat Boot, $25, ebay.com
2. Clarissa Explains It All
If there was one thing I didn't need Clarissa to explain to me, it was how flawlessly wacky her personal style was. For a teen, Clarissa just got it. Her influence (chock full of that bright '90s aesthetic) can be seen all over shops like Tunnel Vision these days. She wore crazy colors and mixed patterns with ease all while trying to get her younger brother Ferguson off her back. She even sported a Keith Haring shirt on the show, and a lot of the imagery was inspired by his work. Given the social message of Haring's career, this makes her style feel all the more important.
See No Evil T-Shirt, $29, pop-shop.com
Gold Dust Holographic Shorts, $55, shoptunnelvision.com
Splash Colored Knee Highs, $5.50, welovecolors.com
3. Hey Dude
Though I was only two years old when Hey Dude first came on the air, I definitely remember catching reruns and even begging my mom for a pair of white cowboy boots. Their style is part Western-wear, part '90s camp counselor, and part Canadian tuxedo, but it's not without its relevance today. Denim (and specifically chambray) is more popular than ever, so modernizing this look in a bold way is certainly possible.
Set Sail Chambray Cape, $99.95, 17sundays.com
High Waist Mini Slouch Denim Pants, $130, jibrionline.com
Alexis Lace Up Peep Toe Block Heel, $52, boohoo.com
4. Legends Of The Hidden Temple
Because I watched Nick Gas for so many years after Nickelodeon stopped airing the rest of these gems, my memory of Legends Of The Hidden Temple is much stronger than a few of the others on the list — probably to the point where I'll be screaming at the TV when they can't assemble the shrine of the silver monkey correctly. Since Halloween is around the corner, I took a literal approach to the fashion here, including finding bright yellow lipstick similar to their signature yellow mouth-guards and exact replicas of their team tees. You're welcome.
Banana Milkshake, $17.95, kaoir.com
Purple Parrots Legends Of The Hidden Temple Shirt, $14.95, oddcostume.com
Vero Moda, $60, yoox.com
5. Rugrats
Rugrats is the one cartoon every '90s kid seems to know, and future generations will finally have it at their disposal soon too. It's actually pretty difficult to find looks that fit the Rugrats gals, maybe because they never changed outfits. I started looking for a fresh take on the pinafore dresses that they are known for, though, and I couldn't leave out a little tribute to Reptar.
Cold Shoulder Ribbed Jumper Yellow, $30.60, missguidedus.com
JOA Sophomore Sweetheart Black Pinafore Dress, $87, lulus.com
Dinosaur earrings, $9, etsy.com/shop/readytostare
6. Salute Your Shorts
You have to raise a glass to Nickelodeon for having some of the catchiest theme songs of the '90s. I wasn't at all surprised to learn that I still knew all the words to the Salute Your Shorts theme song. I even remember telling my sister, "Get it right or pay the price," for years after it stopped airing. I decided to take a '90s sweetheart style approach to this one and incorporate some of the girls' looks from the opening rather than go the route of bad boy Bobby's graphic tees.
Nylon Tricot Scrunchie, $6, americanapparel.net
Whole Wide World, $15, etsy.com/shop/ bloomyjewelry
Striped Daisy Trim Tee, $45, topshop.com
7. Kenan & Kel
Post Kenan & Kel, Kenan Thompson would go on to become the third longest running Saturday Night Live cast member, while Kel Mitchell would put his Good Burger days to use as the owner of multiple Wendy's franchises. The pair is sadly no longer the comedic duo we grew up loving, but now that The Splat is putting them back on the air, we can take inspiration from their sporty looks. Not to mention Kel's love for orange soda.
Style Stalker Cape Net Sweatshirt, $128, nastygal.com
Michel Studio Faux Leather Jogger Pant, $70, additionelle.com
Orange Soda Pop Earrings, $14.50, etsy.com/shop/junquejules
So get ready to cultivate an addiction to The Splat, and an even more intense love of all things kitsch and '90s.
Images: Nickelodeon (8); Courtesy Brands (21)