The Legacy Of Rob Hall Is Bigger Than 'Everest'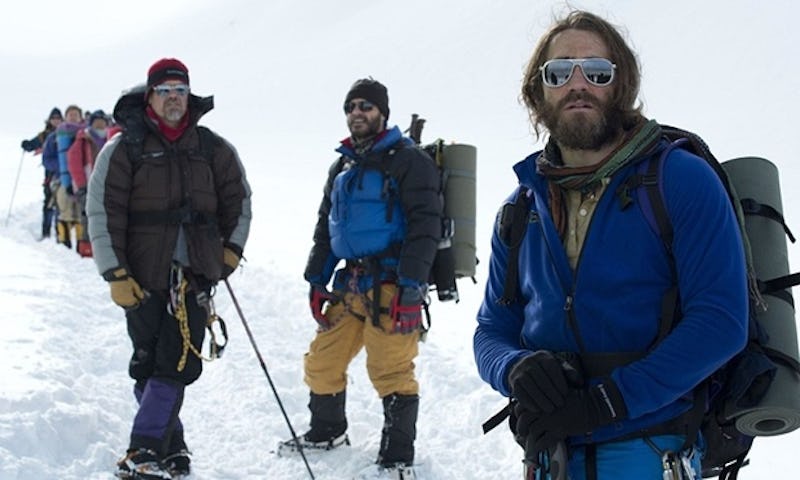 The simply-named Everest recounts one of the biggest tragedies in the history of the infamous mountain. On May 10, 1996, a blizzard took the lives of eight people who were part of expeditions to reach the summit, including Robert Hall, played in the film by Jason Clarke. In the time since his death, Rob Hall's legacy has become one of bravery and heroism. The climber was a well-known mountaineer from New Zealand who had climbed Everest multiple times before, including expeditions alongside his wife, Jan Arnold. He was serving as a guide for his company Adventure Consultants when the fateful storm hit, and he got stranded on the summit while trying to help a client who had run out of oxygen. Hall was unable to descend but could reach his camp and Jan via radio, and when it became clear that death was imminent, the climber told his wife goodbye.
Hall's last words of "Sleep well, sweetheart" were immortalized by Jon Krakauer's book Into Thin Air , in which Krakauer published the transcript of Hall's last radio transmission to his wife. And now, of course, he's memorialized in Everest, a hit of a movie that's being seen by millions. But the climber is remembered in many other ways, too. Here are just a few instance of how Hall's memory is living on.
In Film
Krakauer's book Into Thin Air was adapted into a made-for-TV movie called Into Thin Air: Death on Everest. It was released in 1997 and starred Nathaniel Parker as Hall.
In Music
Neil Finn, a singer/songwriter from Hall's home of New Zealand, wrote a song called "The Climber" about Rob's death.
In Business
Adventure Consultants is still an active business today, continuing Hall's dream of guiding clients on challenging climbs. The company has also been incredibly supportive of the new movie with tweets like the one above.
In Life
The most important part of Hall's legacy is arguably his daughter Sarah. Arnold was pregnant when Hall died, and in her husband's last message to her, he asked her to name the baby Sarah. Sarah herself has scaled several peaks with her mother, including Mount Kilimanjaro. She doesn't share her father's intense passion for climbing, but has many of her own ambitions— and many years to achieve them.
Hall's death was undeniably tragic, but his legacy lives on in so many ways. The movie Everest celebrates Hall and ensures that he even though he is gone, he will not be soon forgotten.
Images: Columbia TriStar