How To Nail Witch Makeup This Halloween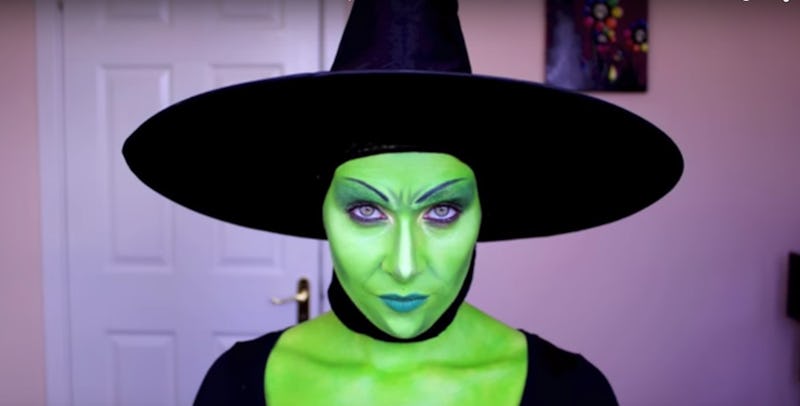 When it comes to Halloween costumes, sometimes it's good to just stick with what you know. Instead of racking your brain for some super creative costume idea, why not just pull off a classic really well? Luckily, you can learn how to do witch makeup from a variety of online tutorials and really take your costume to the next level. Sometimes you just can't beat being a witchy woman for Halloween. It's a classic for a reason, you know?
The good thing about recreating a this wicked kind of look is that there's a wide spectrum of different witch makeup looks that you can try out. You can have spooky yet wearable makeup, you can go for a black lip '90s grunge kind of look, or you can go full-on witch mode. I'm talking green face, pointy nose, long chin, all of that. Simply decide what fits your Halloween vibe the best, and then pick the tutorial that works best from the following list.
These four tutorials will show you how to pull off each of the looks that I mentioned. They're super easy to follow, and the great part is, unless you're going the green face paint route, you probably already own most of the products you'll need. And if not, shop some of the products featured below and you'll have your costume party makeup completely sorted.
1. Wearable Witch
Extended eyebrows and bold eyes and lips make pulling off a witchy vibe almost as easy as your everyday look.
2. '90s Grunge Witch
A black lip is really all you need to take this look to the next level.
3. Green Witch
Go all Wicked Witch Of The West with this green face paint.
4. Traditional Witch
Prosthetics make these extremely supernatural features possible.
Stock up on a few of these products to make your witch transition easy as pie.
Black Up Angled Brush, $29.50, Sephora
No matter which tutorial you choose, bold brows seem to be a common theme.
Urban Decay Sheer Revolution Lipstick, $22, Ulta
Purple lips will allow you to pull off a modern witch kind of feel.
No7 Stay Perfect Eye Shadow, $7.99, Target
Layering green eyeshadow will add just the right touch.
Monaco Lashes, $29.99, Lilly Lashes
Of course, you've got to have amazing lashes to complete your look.
Make Up Forever Flash Color Stick, $24, Make Up Forever
Just in case you choose to go full-on green, this color stick will make the application process super easy.
Now, go out there and get your witch on this Halloween!
Images: Screengrab/Youtube (1); Courtesy Brands (5)