Where To Shop Wide Fit Boots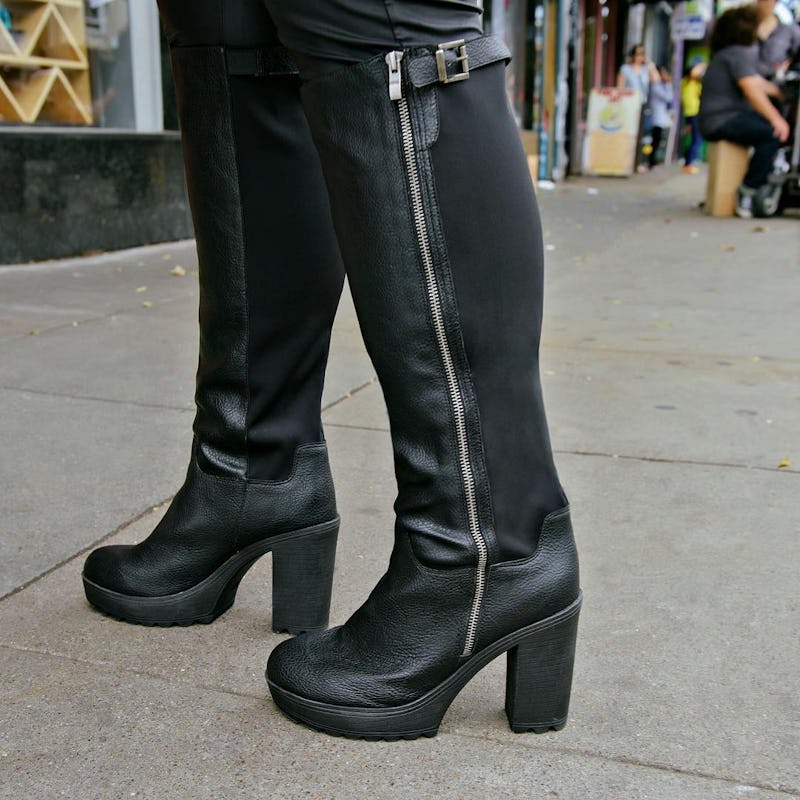 A good pair of boots can make or break your snow day. If you have wider feet than the sizes most readily available, you're probably wondering where to get wide fitting boots so you can frolic in the wintry bliss while still feeling your feet! The amount of boot options out there is overwhelming if you take the time to look — I promise.
We all come in wonderfully unique shapes and sizes, and should totally celebrate that truth with body positive pride. Whether you live in a state where winter means the temperature barely drops into the fifties (I'm looking at you, Los Angeles) or you're going to need full-on snow gear boots, there are tons of great wide-fit boot choices out there.
Beyond wide fits boots, Bustle writers have taken the time to scout out essential seasonal wardrobe needs in a variety of sizes. Don't miss the best winter hats for big heads, adorable ugly Christmas sweaters for plus-size babes, and a whole epic slew of trendy and functional plus-size pieces for your winter wardrobe.
Scroll and learn where to find your perfect pair of wide fitting boots (and don't forget to add a pair of warm socks)!
1. Charlotte Russe
(WIDE FIT Flat Riding Boots, $25, Charlotte Russe)
Charlotte Russe has a huge selection of wide fit boots no matter what weather you're braving.
2. ASOS+
(Wide Fit Black Heel Over Knee, $72, ASOS+)
Great prices meets the trendiest boots around.
3. Nordstrom+
(BZees 'Luscious' Boot, $79.99, Nordstrom)
High end, chic, sturdy boots!
4. Target
(WF Merona Kasia, $89.99, Target)
Good ol' Target has tons of wide fit option online.
5. Bloomingdales+
(Huntress Extended, $150, Hunter)
This department store staple knows exactly what's up when it comes to wide fit boots.
6. Addition Elle
(Irina Flat Ruched, $100, Addition Elle)
Addition Elle's selection of plus+ accessories and boots is beyond amazing. Prepare to get happily lost over there for hours.
7. Torrid
(Strappy Chain Link Boots, $42.98, Torrid)
A chain on the back of your boots? Tres chic.
Image Credit: Torridfashion/Instagram; MTPSBloggers ; ASOS+, PlanetShoes, plussizenow, Bloomingdales, Addition Elle, Torrid