Why Cookie Lyon Wears So Much Fur & Animal Print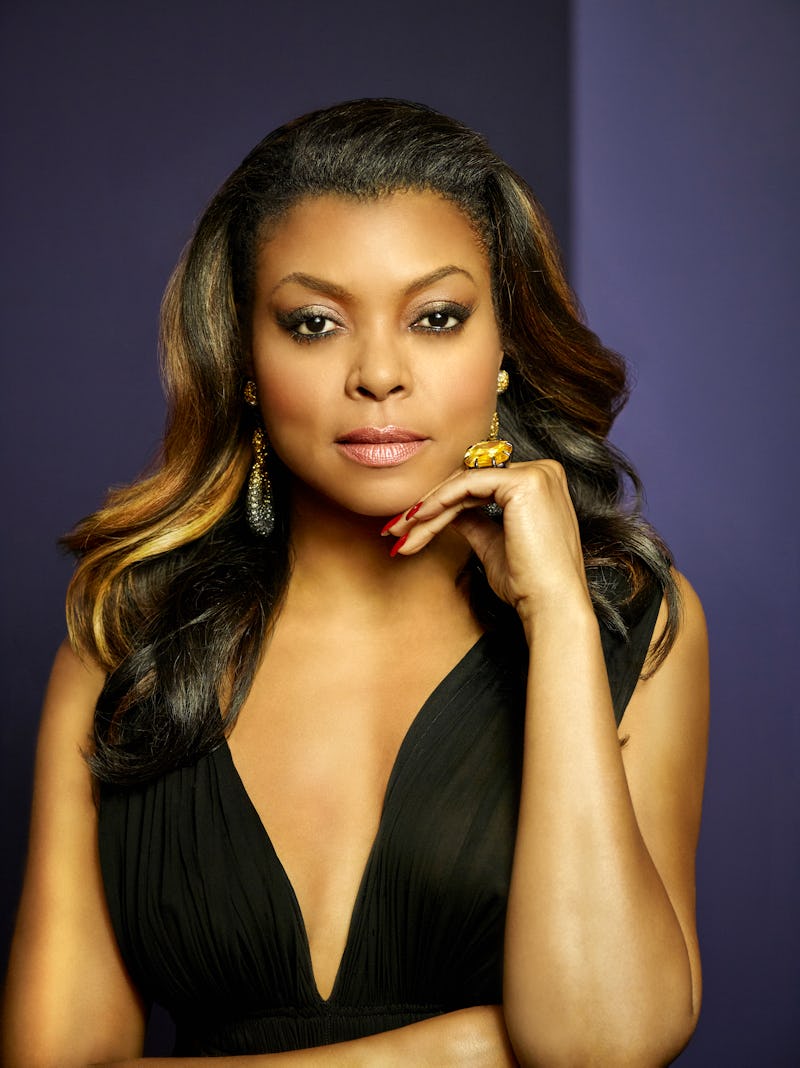 Cookie Lyon is, without a doubt, one of the most well-known fictional fashion risk-takers on television. The success of Empire has led to widespread obsession with the show and its characters whose super stylish, sleek looks are totally unique. According to Footwear News, the reason Cookie Lyon wears fur and animal prints is because she's got queen of the jungle style, says Empire's costume designer Rita McGhee. Cookie Lyon's look is nothing short of perfect for the fiery boss lady. While actress Taraji P. Henson switches up her style and always looks stunning at events, Cookie takes daring furs and animal prints to a whole new level. Basically, there has never been a better moniker than "Lyon" for the badass fictional music mogul.
McGhee sat down with Footwear News to discuss the way fashion plays a role in the uber successful Fox series and how she preps the insane ensembles for the episodes. McGhee also spoke on how styling and fashion reflect the personalities of the characters. When asked about how she imagined Cookie's style, McGhee said, "Cookie wears bold prints — a lot of animal prints — and lots of jewelry and fur. She's not scared to wear those outfits. Cookie wearing the animal prints shows she is a bit like a king of the jungle. These animals sit silently until they're ready to strike." Henson also echoed that sentiment during a panel, calling Cookie "an animal."
If you're a fan of Empire, you know how appropriate and integral Cookie's wardrobe is to her persona, and I love that McGhee purposefully chooses animal print and fur to express that. While Cookie's last name is Lyon, it's her character — not her name — that inspires her clothing.
McGhee went on to discuss how she preps for each episode. She says, "I have inspiration boards for each character and their color story and spend a lot of time on color theory. I like dressing each of them because they all dress differently and play off each other." Each Empire character has their own unique style, but cool, slick vibe stays consistent throughout the entire show, and while it's hard to deny the style of the rest of the cast, there is something special about Cookie that's hard to deny. So when has Cookie channeled the queen of the jungle?
In Head to Toe Leopard
She's killing it. I can barely stand it.
In Ultra Stylish Zebra
She probably killed the zebra herself, let's be honest.
In Multi-Print Madness
The multiple prints work perfect on the queen of the jungle.
In Brilliant Bright Fur
Bright purple fur is appropriate for royalty.
In a Matching Cheetah Hat and Dress
Cheetah everything!
In A Super Chic Leopard Print Skirt
Love this gorgeous leopard print skirt, and I'm digging the killer bag with bright colors.
In A Peacock Inspired Frock
This sheer, peacock inspired frock is everything on her.
Images: Chuck Hodes/Fox (7); Matt Dinnerstein/Fox (1)