Disney Princesses As Hot Dogs Look Oddly Delicious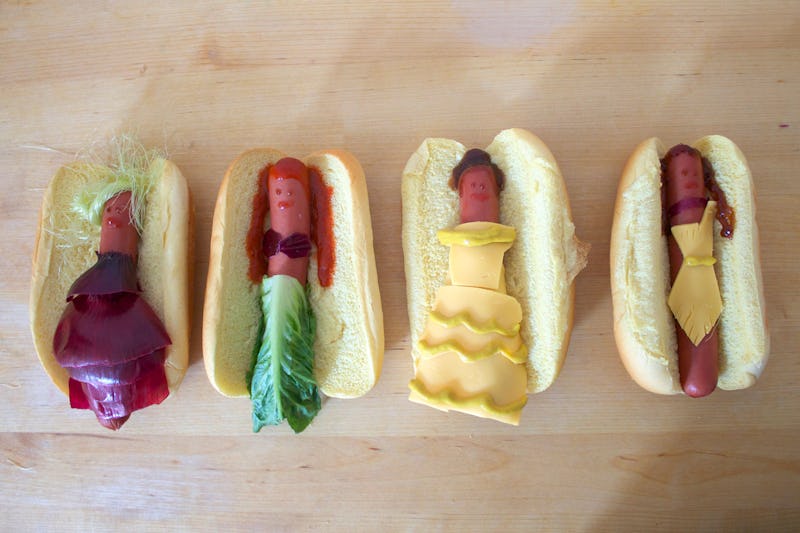 This week has been rough for me, which is why seeing Disney princesses as hot dogs has given me life. Seriously. I'm pretty sure my computer has permanent damage from having had sangria spilled all over it, but nothing can take away my smile after seeing those Disney inspired buns. #Bless Anna Hezel and Gabriella Paiella, the beautiful humans who posted this to the food and writing website Lucky Peach.
What I love about this article is that they not only show you the result (which is spectacular), but they also include a step-by-step guide that you can follow at home. That means you can make these little beauties for yourself and cheer up any day that feels a little crummy. All you really need is some commonly found vegetables, condiments and the usual ingredient that go into a hotdog. You can obviously play around with tofu dogs or even jumbo dogs. I'm making a trip to the local grocery store as soon as possible!
It seems like Disney Princesses have inspires hundreds of people online these days, young or old. I was always The Great Mouse Detective kind of kid myself, but that was only because Disney films were not as readily available in Russia. Once I came to America I noticed that birthday parties were not complete without Disney Princess themed plate settings and cakes. Now that the internet is catching on, I finally feel like I belong. Here are the hotdogs in all their glory:
Below are some of my feelings about these hotdogs expressed in Disney GIFs:
The Initial Reaction
YASSSSSSSSSSS QUEEN, YASSSSSS.
The Thing I'm Going To Do
There is no part of me that won't make these later at home and eat all of them in one sitting. Facts are facts.
The Happiness And Joy
This will be the reenactment of my accomplished emotions. Fireworks, explosions. I am happy with what I have to offer and this is the manifestation of that happiness.
For Everyone Else
If someone in your life doesn't like these Disney hotdogs, real life Princess Cate Blanchette has a few choice words to help you out. For more pictures and a DIY on making these hot dogs yourself, visit Lucky Peach here.
Images: Courtesy of Anna Hazel, Gabriella Paiella, Ryan Healey & Brette Warshaw/LuckyPeach.com; Giphy (4)