Celebrate 'Mean Girls' With This Playlist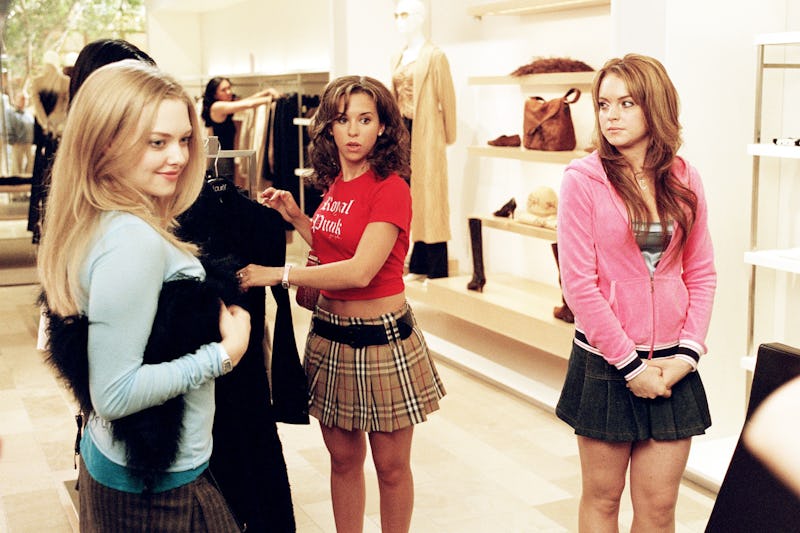 If you're anything like me, then you know that Oct. 3 is no normal fall day. It just so happens to be the anniversary of the teen movie of our generation, meaning you should drop everything now, and celebrate National Mean Girls Day. And, with the Internet blowing up with tweets and ways to celebrate Mean Girls, I am here to provide you with yet another way to celebrate this totally fetch day: the ultimate Mean Girls Day playlist.
What would Regina George do? What would Regina George listen to today? More importantly, what song would Regina, Karen, and Gretchen have to remind Cady Heron isn't The Spice Girls? Also, every HBIC has a killer playlist — how else would she be ahead of all of the music trends, and know artists before they even hit the Top 20? Today, I asked myself what songs Regina George would accompany with this cult-like national holiday, and found myself spinning in circles trying to rack up a list that would ensure that my name would never end up in the Burn Book.
Let's take a step back for a minute. When we think Mean Girls, we think the infamous talent show performance, Kevin G.'s rap, "you go Glen Coco," Karen predicting the weather, Janice's plotting, Damien's witty dialogue, Aaron Samuel's 1,000-watt smile, Regina getting hit by a bus, and most importantly, quotes on quotes on quotes. So here's a playlist that does it best to encompass all of these traits in a way that I hope Regina George would approve of. Happy listening.
1. Gwen Stefani Ft. Eve, "Rich Girl"
Duh. If this song did not come to your mind when I said "ultimate Mean Girls playlist," then are you even a real fan?
2. Britney Spears, "Lucky"
There's two sides to every story: This song is the perfect depiction of Cady Heron's life after she overtook Regina George as lead mean girl in charge. It wasn't exactly all it was cut out to be, was it?
3. Rihanna, " B*tch Better Have My Money"
Bad girls, unite! This song would have been The Plastics' anthem if it had been around back in the day, there's no doubt about it. Just like it would have probably been Regina George's reminder of who was in charge, it can be yours for the day too.
4. Fifth Harmony, "BO$$"
Every girl, and Mean Girls fan, needs their own girl power jam. As usual, Fifth Harmony is able to deliver this October 3.
5. Kelis, "Milkshake"
This movie was my first experience hearing the magic that is Kelis' "Milkshake," so the Mean Girls Day Ultimate Playlist would not be complete without it.
6. Lil' Mama, "Lip Gloss"
Lip gloss was the one thing that a Plastic couldn't leave home without.
7. Missy Elliott, "Work It"
Something about this song just reminds me of Kevin G. Tell me I'm not the only one?
8. Fergie, "Fergalicious"
Everyone knows that The Plastics knew how to make the boys go loco.
9. Gwen Stefani, "Hollaback Girl"
This song provides the playlist with the sass it needs, as well as step-by-step on how to spell "bananas" for the Karen types.
Hope that you find some time to jam to these sassy tracks in the midst of your holiday celebrations. Oct. 3 comes around only once a year, so live it up to it's most full potential by celebrating in style with this playlist. Until next year, stay fetch.
Image: Paramount Pictures (1)