Hillary Clinton Proves She's a Good Sport On 'SNL'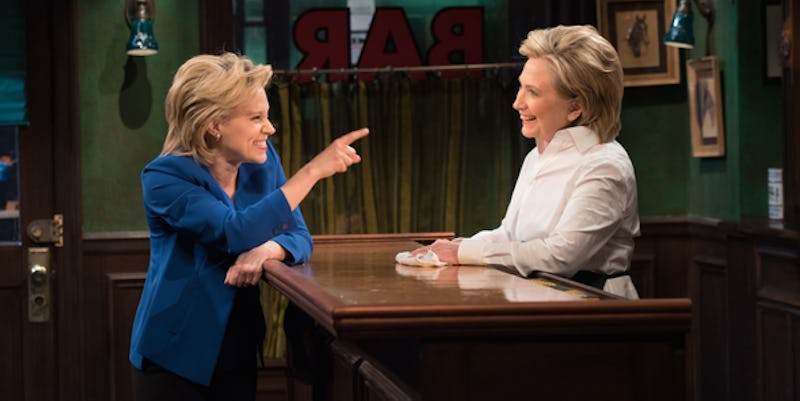 In case you were worried you had gotten your hopes up, rest easy, because the rumors were true: Hillary Clinton appeared on the Saturday Night Live season premiere. Did she play herself, like she did with Amy Poehler the last time around? No. This time, Kate McKinnon played Hillary Clinton who was drinking in the bar, and the real Clinton played "Val," the bartender, which might have been an even better decision. "I'm just regular citizen who believes that the keystone pipeline will destroy the environment," she quipped as she introduced herself.
All in all, Clinton was a good sport about being on the show, just as she was with Poehler. She let McKinnon go over-the-top with her impression. (Then again, it's probably impossible for McKinnon to do a dialed-down version.) "I have a one-year-old granddaughter," McKinnon-as-Clinton said. "She calls me Madam President."
Clinton even got to do a teeny bit of an impression herself — of Trump, whom Taran Killam played in the cold open. When someone mentioned Trump, Hillary said, "Isn't he the one that's like, 'Ugh, you're all losers.'" She did the last bit in kind of a Trump voice. You can watch her impression below, and we'll see if the real Trump has anything to say about that tomorrow.
Bill Clinton even got a little bit of the spotlight, too. Not the real Bill, sadly. Instead, Darrell Hammond popped up and did his Clinton impression. He only contributed a line, which was kind of a shame since his Clinton is amazing. And you know what? I totally called that he'd show up as Clinton on this season, too!
Just minutes after the sketch aired, Hillary Clinton tweeted her reaction, and simultaneously gave voters a pretty good reason to choose her.
I'm glad she brought that humor again on Saturday night, because the sketch did get weaker at the end. It seemed like simply they had a hard time figuring out how to end it. It just kind of dissolved into a "Lean on Me" sing-along. Watch part of it below.
It wasn't necessarily funny, but it was kind of cute. Clinton showed off a softer side, even if it didn't bring as many laughs as her earlier back-and-forth with McKinnon about her own platforms. Watch the whole sketch below.
Image: NBC