Easy Halloween Ideas For Blonde Haired Babes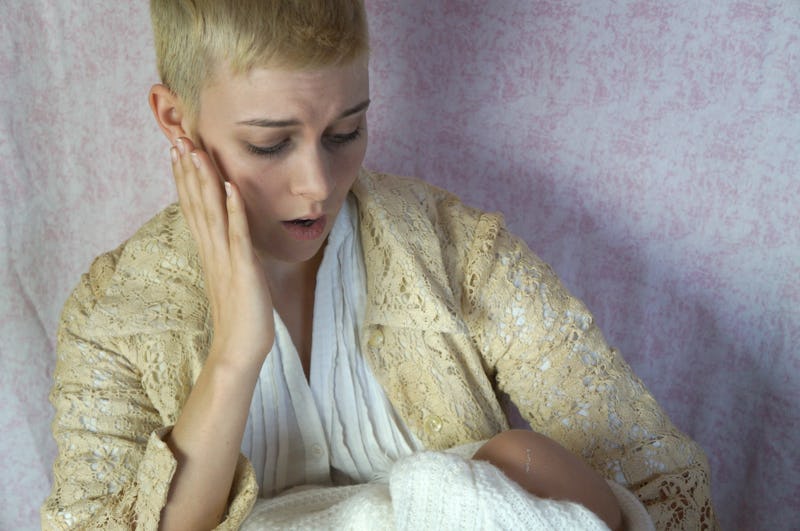 Sometimes the best Halloween costumes are the ones that you choose because you already pretty much have the requisite look. In this case, the most important element is the hair. This year, I'm on the hunt for Halloween costumes for blondes with a pixie cut, as I just bleached my own super-short strands.
After all buying an expensive wig for one night can feel silly, and nobody has time for elaborate hair changes that will be a major pain to fix the next morning (such as temporary blue dye or a massively teased Bride of Frankenstein beehive). No, you have to find a costume that utilizes the hairstyle you already have. At least, that's what I always try to do. You might think that because I've had a pixie cut for the past five years or so that my options are more limited, but that's actually not the case at all. There's tons of great Halloween costumes for girls with short hair (and twice as many if you're willing to be a little androgynous and go as a male character).
My naturally brunette pixie cut is now a pale blonde, and I'm excited about all of the Halloween costume possibilities that this opens up. If you're rocking a blonde pixie too, then congrats: You're probably going to the most stylish person at all of your costume parties this year. A blonde pixie lends itself so well to very classic, chic Halloween costumes since so many old Hollywood stars had the short, blonde crop. Of course, you can dress up as Miley if you need to show your wild side, but I personally like to wear something that will keep me somewhat warm on Halloween night (no shade intended, Miley).
Here are three classic Halloween costumes that you can quickly put together with things you probably already own, not the least of which is your cute blonde pixie cut.
1. Jean Seberg in Breathless
You'll need:
Tarte Precision Longwear Eyeliner, $20, Sephora | A striped dress or shirt | Optional: a Herald Tribune sweater and newspaper, cat-eye sunglasses, a fedora, and a fake cigarette
This costume couldn't be simpler, although you need to be pretty good at doing a cat-eye. Simply use a liquid eyeliner pen to draw on a fairly thick cat-eye and a small mole on your cheekbone. I used Tarte Precision Longwear Liner, which is easy to use and has amazing staying power.
Then wear something similar to one of Seberg's outfits in the film. I chose a striped dress with a Peter Pan collar, but you could also wear a striped top or a sweater that says "New York Herald Tribune" (easy enough to DIY, or buy one here) with black leggings and loafers.
Don't forget to use a black and white filter for all the photos you post of your costume; Breathless is a black and white film.
2. Mia Farrow in Rosemary's Baby
You'll need:
Gray eyeshadow and a brush | Covergirl Lashblast Volume Mascara, $6, Target | An old-fashioned nightgown | A baby and a knife (both fake, preferably!)
This costume is really easy as well. By the end of the movie, Rosemary is exhausted and pretty stressed out (giving birth to the devil's child will do that to you), so you need to give yourself some serious under-eye circles.
I used a matte gray eye shadow from my Tarte Energy Noir Palette (the middle shade on the far left above) and blended it under my eyes with my Doll 10 Precision Foundation Brush, which is perfect for this sort of thing. I also blended some along the hollows of my cheeks to lend a slightly sunken appearance. Finally I added Covergirl LashBlast Volume Mascara with a heavy hand to both top and bottom lashes, since that was the style of the time.
Then I added an old lace house coat over a white dress and swaddled up a baby doll. I definitely suggest making your baby doll look as devilish as possible; have fun with it. A fake knife is a good prop to have too. And don't forget to make this face every time you check on your little one:
3. Twiggy
You'll need:
Tarte Precision Longwear Eyeliner, $20, Sephora | e.l.f. Makeup Remover Pen, $3, Target | Covergirl Lashblast Volume Mascara, $6, Target | Wet N Wild Lipstick in Bare It All, $2, Target | A mod outfit (such as a striped dress)
The best part of this costume is that it also works as an Edie Sedgwick costume if your pixie cut is longer; just add a mole on your cheek and some chandelier earrings, and convince a friend to go with you as Andy Warhol. The key for going as either Edie or Twiggy (besides the blonde pixie, of course) is the mod eye makeup.
I used two kinds of eyeliner for the mod eye makeup. First I used my Tarte Longwear Liner to line right above my upper lashes. Then I used an angled brush to draw another line just above my crease (you can dip the brush in a gel eyeliner or even moistened black eyeshadow in a pinch). Then, using my Tarte liner again, I carefully drew fake bottom eyelashes.
I strongly suggest using primer to make sure the liner lasts; I used Urban Decay Original Primer Potion. You'll also probably want to keep this e.l.f. Makeup Remover Pen on hand; it's cheap but so handy for fixing any little mistakes.
The last step is to wet your hair slightly, add some gel, and comb it to the side. I also suggest adding a nude lipstick (mine is Wet 'n' Wild Bare It All, which came out looking oddly orange below but is actually a pinky-brown nude).
And, of course, wear something mod such as a striped dress.
Wear any of these outfits if you need a quick and stylish costume without spending boatloads of money. Your friends will be impressed by your pop culture knowledge, you'll get tons of Instagram likes, and maybe you'll even strike up a conversation about French New Wave or '60s mod culture with someone cute.
Want more fun beauty tips year-round? Check out and subscribe to Bustle's YouTube channel!
Images: Kelly Dougher