Sam Smith's Music Video Has New 'Spectre' Footage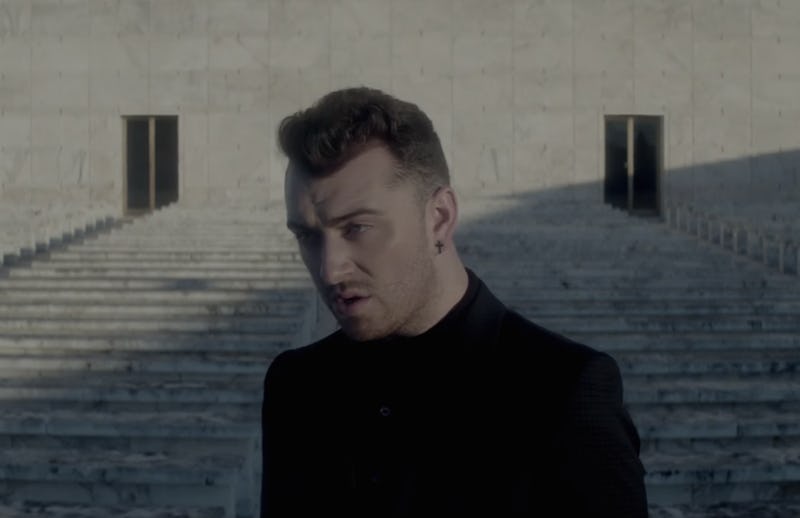 After some pretty heavy anticipation — and Internet arguments about how it compares to the rest of the Bond themes — Sam Smith's "Writing's On The Wall" music video has been released, and it is just as dark and sultry as the theme song itself. Featuring Smith himself singing in lightly shadowed locations largely taken directly from SPECTRE, intercut with scenes from the film itself, it might just be enough to convince a few lingering doubters that this song is an admirable entry into the Bond mythos, and that it certainly fits in with the theme of the film. In fact, it delivers on everything that the "Writing's On The Wall" teaser promised fans, and then gives us even more.
Honestly, it's hard to pick out the best moments of the music video because there's just so much to love about it. Fans of Bond and Smith, either individually or together, will be satisfied by the music video. I mean, it's basically another half-trailer for SPECTRE, and certainly gives us some great shots of Bond, Dr. Madeleine Swann (Léa Seydoux), and Lucia Sciarra (Monica Bellucci), the latter of whom has a rather intimate moment with Bond during the video. There are also the usual things we've come to expect from a Bond film, such as gorgeous scenery, and Bond on the precipice of taking full advantage of that license to kill.
Check out the nine best moments below.
1. When Smith Reminded Us How Very British This All Is
Nothing like a English man singing about a English man in front of the Union Jack to really drive home the sheer Britishness of it all.
2. When Daniel Craig Smoldered At The Camera
Smolder away, Craig, smolder away. I'm already filling out my application to be the next Bond girl, just from this smolder.
3. All The Gorgeous Scenery
These pictures make the inside of my room look even more boring than usual.
4. This Epic Kiss
Get it, Monica Bellucci. Instead of being about James Bond, can we get a series of spinoff movies about Bond Girls and how easy it is for them to distract Bond with kissing? And he claimed he'd be more focused in this film...
5. Léa Seydoux Steals The Show By Showing Up
Or maybe I just love the fact that Seydoux is in this movie. Either/or.
6. This Great Group Shot
He's got a gun, but where is her gun? Is she hiding it? Who are they looking at? What is happening? I need to know.
7. Sam Smith Watches The Movie
He's even more into this film than we are. Look at that laser-like focus.
8. The Writing's Actually On The Wall
Get it, guys? Get it?!
9. Sam Smith Cries Because This Movie Is So Good
He's upset by how long we have to wait to get a look at this gorgeous film, beyond a trailer or a music video picture. I know, Smith, I know. I'm upset about it, too.
Check out the video below.
Image: SamSmithWorldVEVO/YouTube