'Salute Your Shorts' Is Coming Back To Nickelodeon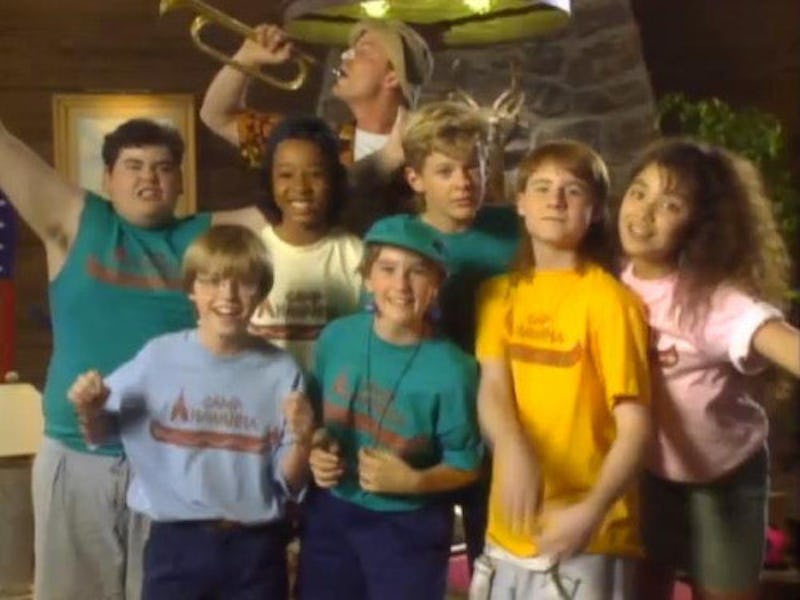 The new Monday night lineup known as Nickelodeon's The Splat means that we will be getting our weekly dose of '90s goodness all fall long. But the show I am definitely the most excited to watch again on the weekly is Salute Your Shorts. Mainly because I can't wait to hear that opening bugle call coming from my television, but also because there is nothing that I love more than watching something from my childhood as an adult. But will Salute Your Shorts be on Nickelodeon's The Splat?
Big news for fans of Nickelodeon, '90s television, and all things summer camp: Salute Your Shorts is coming back to Nickelodeon. You heard me right. The beloved '90s show Salute Your Shorts is coming back to the silver screen in Nickelodeon's nostalgic Splat lineup. So get your sleeping bags and flashlights ready, because the whole crew from Camp Anawana is coming back for Splat, a throwback to all of your '90s television favorites that will begin airing on Oct. 5. The nostalgic episodes will air Monday nights at 10 o'clock — which, by the way, was way past my bedtime when these shows originally aired — and it's the perfect time to tune in to all of your childhood favorites.
It's always such a trippy experience, isn't it? Being flooded with things you didn't know you remembered while at the same time watching with a whole new level of understanding. Because, for a show about a bunch of prank-addled kids who ran mostly amuck at their summer camp, I am anticipating identifying with their bossy camp counselors who were always trying to reign them in. You know you're old when the kids you used to think were hilarious all seem like a bunch of jerks now.
Oh man, I can't wait! These weekly throwbacks will be the best thing to happen to Mondays since Labor Day. Now you'll be able to bask in all of that '90s glory right along the high-waisted, tucked in t-shirts of the Salute Your Shorts gang. Everyone will be there: Z.Z., Donkeylips, Telly, Sponge, Ronnie, and that ever elusive Dr. Kahn.
So get your marshmallows ready. Slide those hot dogs onto a spit. One big camp-style throwback is coming to a television near you, and I for one can't wait to tune in.
Image: Nickelodeon (2)