'HTGAWM' Costumes Are Perfect For Squad Halloween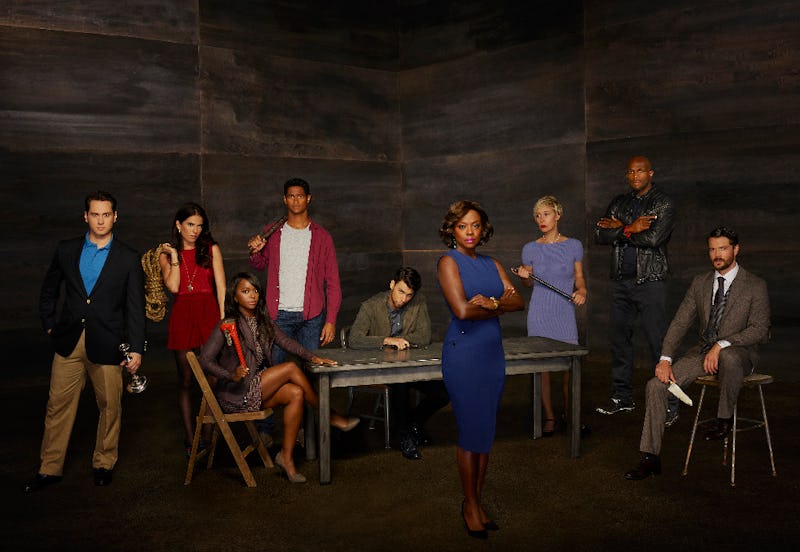 Group Halloween costumes are sometimes difficult to pull off, but I have a suggestion that's easier than a trip to the mall. Why not dress up as How To Get Away With Murder characters for Halloween? It satisfies almost all of your Halloween needs — these characters are good looking, recognizable, and fraught with murder mystery spookiness. Plus, since one of the most eventful nights of How To Get Away With Murder's first season takes place on a cold autumn night, anything you may need to buy from your costume can be incorporated into your season wardrobe.
Another perk about How To Get Away With Murder as a group costume is that if you have more than six or seven people, there are plenty of other characters who can add on to the group. Get a piece of chalk and a sick red leather jacket or a peplum dress and chunky necklace, and you're Annalise Keating. Make sure your "students" know that you're the cool professor who wouldn't turn down a night out dancing. Does someone in your group have a suit and vest? Tell them to start growing out their scruff or draw on a beard with a cheap Sephora eye pencil, because they are now the murderous, mysterious Frank. Are two of your friends fighting over who gets to be Michaela? Tell one of them to add a bright lipstick and voilà — they can be Bonnie. Do you have an old cheerleader costume? You're that one flashback shot from Bonfire Night.
That said, if you and your squad want to dress as the Keating Five and friends, here are some basic tips and ideas.
Wes
Plaid Shirt, $18, H&M | Messenger Bag, $24, Amazon | Khakis, $60, Gap
Wes wears a lot of plaid, which you can get at H&M. While it may not suit your group to ride around on a bike all night, your Wes will need to carry a messenger bag (though there's no need to fill it with law books. You can get a snazzy one from Amazon. He's not quite as sharp-dressed as the other boys, so a pair of dark brown or olive khakis like these from the Gap might do the trick. Throw on your own favorite scarf, maybe a hoodie, and you're the puppy.
Michaela
Shirt, $7, H&M | Skirt, $40, H&M | Fake Engagement Ring , $2, Claire's
Michaela Pratt, according to a Fashionista interview with the HTGAWM costume designer, wears "whatever Princess Kate would wear," but I've also noticed that she's fond of a black and white stripe. You can get a simple shirt like this one at H&M. You'll want to make sure that's tucked in and pristine. She usually wears flared skirts, like this one that's also from H&M. For the final touch, you'll need a flashy fake engagement ring like this one that costs $2. Remember — you are not a shooting star!
Connor
V-Neck, $13, H&M | Skinny Blazer, $40, H&M | Dark Skinny Jeans, $70, Gap
Connor should be wearing a dark blue, grey or green v-neck and a skinny blazer, which you can get at H&M for $12.99 and $69.99, respectively. To differentiate Connor from the other Keating boys, I would also wear dark skinny jeans like this Gap pair. If you wanted to complete the look with boxer briefs like this scene, that's your choice, but long pants are acceptable. Now, just mess up your hair so that it hangs in your face, sing lots of Christmas carols and change the words so that they're about murder, and you're set.
Laurel
Sweater, $20, H&M | Skinny Jeans, $56, Gap | Pendant, $15, Charming Charlie
Laurel likes layers and long necklaces, but her most iconic look is that chunky turtleneck from Bonfire Night. You can get a similar looking sweater from H&M and add these Gap red skinny jeans as a nod to one of her signature colors. Finally, a pendant like this one from Charming Charlie will complete her bohemian style.
Asher
Khaki Pants, $60, Gap | Teeshirt, $10, H&M | Fa ce Paint, $7, Amazon
Are you ready to body roll? Asher is usually found in preppy suits. Nobody would blink if he showed up to Annalise's office in either madras or seersucker. However, if you subscribe to the world of sexy Halloween, then your group's Asher is going to want to recreate that iconic dance scene. All you need is whatever khaki pants you already own — this pair from Gap is a good example. Then, add a grey teeshirt like this stretch one from H&M as well as green and yellow face paint that you can order on Amazon.
Rebecca
Jeans, $20, H&M | Graphic Tee, $17, Hot Topic | Biker Jacket, $25, H&M
No Season 1 HTGAWM group is complete without their goth groupie. First, you'll need Rebecca's signature "fake side shave" hairdo. There are several Youtube tutorials for braids or twists that will do the trick. She also need a smokey eye. The rest of the costume is easy and can probably be assembled from your own wardrobe. Just throw on a pair of jeans, the more distressed the better, like this pair from H&M. Then, you'll need a graphic (preferably a band) tee shirt that you could totally order from Hot Topic and a biker jacket if you don't already have one.
The Final Touch
Justice Trophy, $40, Amazon
Obviously, no How To Get Away With Murder group costume is complete without a trophy. Your group may need to pool their cash to buy one, like this one that I found on Amazon for $40, but it's worth it. To really sell your group costume, make sure the trophy passes between you (make up a game if you want) and be careful who swings it. Finally, print and pass out Lila Stangard posters if you're taking it to the street. Your How To Get Away With Murder group is ready to roll! Just please, try not to kill anyone this Halloween.
Images: Bob D'Amico/ABC; H&M (9); Target; Amazon (2); Hot Topic; Charming Charlie; Claire's Accessories; Gap (4)