What Happens When You Watch 8 Hours Of The Splat?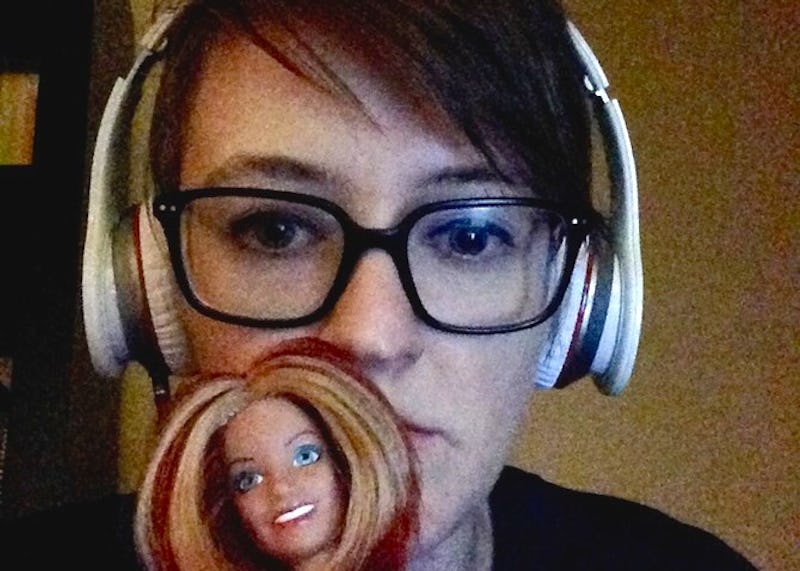 Monday evening, the nostalgia fest that is The Splat hoisted its Slime-coated sails and hit the television seas for the first time. The new programming block dedicated to '90s Nickelodeon TV shows kicked things off with a brief excerpt from the cult classic series The Adventures of Pete & Pete: Big Pete maps out a staring contest how-to guide. At the end of the segment, Little Pete breaks the fourth wall. It's time for Little Pete and I to lock eyes and battle it out. After 29 seconds of staring and not laughing, Little Pete cracks. He loses. I win. Big Pete lets me know I am ready to take on the world. I am ready to stare at classic Nick shows for the next eight hours. Bring it on, The Splat.
From 7 p.m. PST to 3 a.m. PST, I watched The Splat. Fortunately, I had plenty of provisions to keep me going while I watched The Adventures of Pete & Pete, You Can't Do That On Television, Kenan & Kel, The Ren & Stimpy Show, and Doug. (And by "provisions," I definitely mean I bought an obscene amount of tried-and-true '90s snack time grub.)
I would not embark on this journey alone. I asked my boyfriend if he was up for the challenge, but no amount of Fruit by the Foot or Capri Sun could persuade him to get on board. Something about wanting to go to sleep at a reasonable hour, it's a weeknight, etcetera. So I went with option number two: my Geri "Ginger Spice" Halliwell doll. (Don't mind me as I commit to the theme!) Ginger Spice was down to be my sidekick until The Splat's first night ended. And yes, I documented the Gak-tacular evening.
The Splat Prep
It's the attack of the '90s snacks! I purchased a Gushers / Fruit by the Foot / Fruit Roll-Up variety pack, a bag of Goldfish crackers, a box of Capri Suns, some Teddy Grahams, two Lunchables, and one bottled frappuccino for when my energy inevitably started to plummet.
Ginger Spice was ready to party.
I was ready to party.
Ginger Spice and I took our seats and got to work.
Hour One
While watching You Can't Do That On Television, I opened up a pack of Gushers and saw that all of them were stuck together. According to Ancient Fruit Snack Lore, a Gushers cluster is good luck. I celebrated by wolfing it down in one fell swoop. About ten minutes later, I inhaled a Fruit by the Foot while a kid told the YCDTOT tween-on-the-street interviewer a weird joke about a frog in a blender. Things were off to a great start.
Hour Two
I decided I needed to take a break from the gummy snacks during Kenan & Kel. I couldn't let myself get burned out on 'em right away, you know? It was a marathon, not a sprint. It was time to switch over to chocolate chip Teddy Grahams.
During the car thief sting operation episode of Kenan & Kel, I accidentally yanked my headphones out of my computer. When I tried to plug them back in, I accidentally jammed the plug into my computer's USB port. I laughed at this for at least two minutes.
It happened: The sugar got to me.
Hour Three
It was time for Capri Sun number two and a Lunchable. I couldn't decide which Lunchable to eat while I watched a second episode of Doug. So, I asked Ginger Spice to decide.
Ham and cheese it is!
Ginger Spice was really into the school dance episode of Doug.
Hour Four
Thanks to The Ren & Stimpy Show's cartoon gore, I lost my appetite. I did not finish my Lunchable. I put the uneaten Oreo cookies in a reusable sandwich container and tossed the last piece of ham. Seemingly unfazed by the sight of Ren's infected eyeballs, Ginger Spice was in as good a mood as ever.
Hour Five
The The Adventures of Pete & Pete stare how-to guide played again. The block was starting over. The episodes I just watched? I'd be watching 'em again right that second. I was afraid this would happen, I thought. I was afraid the second half of the block would just be a repeat of the first. I'm basically living a Nickelodeon version of Edge of Tomorrow.
I knew what I needed to do: crack open that bottled frap.
Hour Six
As I revisited the episodes of You Can't Do That On Television just four hours after I watched them for the first time, I dug into the pizza-flavored Goldfish crackers. They didn't exactly go well with the bottled caramel frap I was still working on, but whatever. I was too busy having a blast enjoying the delicacy that is the pizza-flavored Goldfish cracker to care.
Hour Seven
My sinuses had been acting up all night, and I turned into a mucus monster around 1:15 or so. I considered making myself some green tea, but I didn't want to deviate from the plan. (The plan was to eat junk food and watch rubbish until someone came out and stopped me. What can I say? I'm a regular ol' Kevin McCallister.) So I doubled down and grabbed a Fruit Roll-Up. While I watched Porkchop pretend to be a Neematoad for a second time, I held the Roll-Up in front of the screen. I was curious to find out if I could see the show through it.
I could not see the show through the Roll-Up.
Hour Eight
Around 2:30 a.m., I hit a wall. I was done with the snacks. I laid down and finished rewatching the Ren & Stimpy block. A cat yowled below my living room window. I imagined the cat looked like Stimpy. I pictured it removing its eyes from its face like Hollywood Stimpy. As if they're attached by magnets or something.
When I realized I'd all but convinced myself there was a cartoon cat with magnetic eyeballs hanging out outside of my apartment, I knew it was time to call it a night. Fortunately for me, the Ren & Stimpy credits were just about to roll.
I did it. I made it to the finish line. I survived A Long Night's Journey Into Splat. I couldn't have done it without Ginger Spice, the Gusher cluster, or the yowling cat.
Images: Kristie Rohwedder/Bustle (15)