'Twilight' Author Swaps Bella & Edward's Genders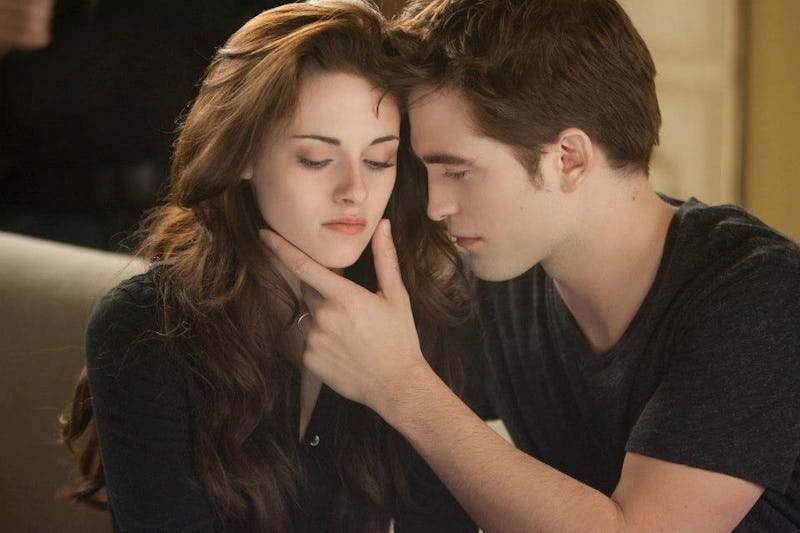 The Twilight Saga has often been criticized as being anti-feminist, but Stephenie Meyer is tackling those critiques head-on for the monumental vampire novel's 10th anniversary. In honor of its birthday, Meyer's Life and Death , a gender-swapped Twilight , will make Bella Swan a boy named Beau and sparkly vampire Edward Cullen Edythe. In the foreword to the 10th anniversary edition, Meyer says that her decision to swap the character's genders underscores her belief that Bella was never a "damsel in distress." Life and Death: Twilight Reimagined comes out Tuesday as an oversized "flip-book" pairing of the two stories.
Feminist concerns about the Twilight Saga tend to focus on Bella's harmful relationship with vampire Edward, and how it can teach young readers to value abusive relationships. According to Psychology Today, Edward displays "warning signs" of an abuser:
One of [Edward's] hallmark characteristics is his control over Bella and his attempts to isolate her from others. Abusers often use this tactic as a way of ensuring that their victims have no way to escape should they attempt to do so. After he decides that he wants her, he's quick to get her alone, and for the rest of the series he constantly shields her from any other interactions, including from her father and friends. Edward consistently forbids her from seeing Jacob (a potential rival), and he even sabotages her car so that she has no avenue of escape.
The 442-page Life and Death: Twilight Reimagined attempts to confront these critiques, Meyer says, calling Bella a "human in distress," a character that is not defined by her gender. Rather, she says in the foreword, according to The Guardian, Bella is "a normal human being surrounded on all sides by people who are basically superheroes and supervillians."
Meyers also calls out the critique that Bella is "too consumed with her love interest," saying that the criticism is actually anti-feminist itself, "as if that's somehow just a girl thing." By changing Bella to Beau, Meyers seems to hope to convey her story is more about the universality of the confusing young love experience, not the story of a girl who is in an abusive relationship.
Moreover, Meyer says she used the opportunity to "correct some errors that always bothered her" and make the mythology more consistent. It should certainly be an interesting read.
Image: Summit Entertainment; coopik/Instagram