A DIY Your Own Leslie Knope Halloween Costume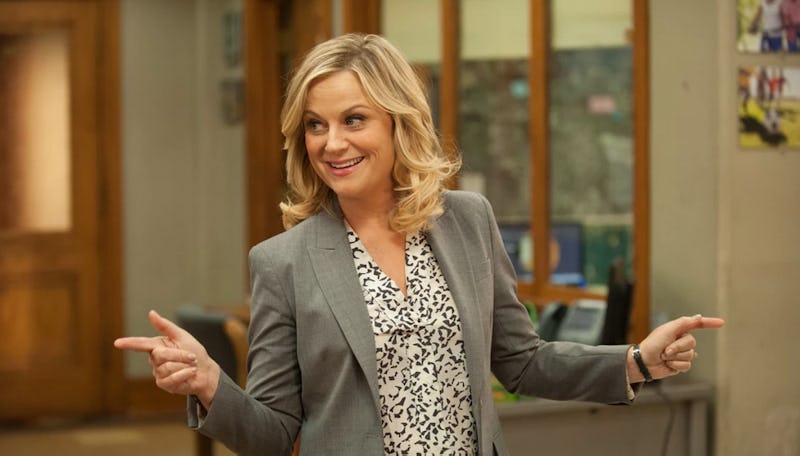 With the Parks and Recreation series finale behind us, we're all jonesing for the old Pawnee gang to get back together again. We miss April and Andy, and Leslie and Ben, and Tom and Donna, and Ann and Chris, and Jerry, (Gerry?). Whatever, who cares about Larry, anyway? And, what better way is there to honor Parks and Rec than a Leslie Knope Halloween costume?
While some may shy away from the Leslie Knope costume because it is mostly made up of everyday clothes, have no fear, we can help you DIY the perfect Leslie Knope costume that people will notice! Though, you'll need to find your own Ann Perkins and/or Ben Wyatt — who coincidentally would probably be into our DIY Jon Snow Halloween costume.
With just a few items from your closet and some online shopping, we can help you be the best Leslie Knope you can be. You'll be ready to run for office, filibuster in roller skates, perform gay penguin weddings, watch Friday Night Lights with Ann (and remind her that Tim Riggins is garbage), eat waffles at JJ's diner, and stare at Ben's butt in no time! Here's a guide to making your very own Leslie Knope inspired DIY Halloween costume.
Let's Start With The Hair
Before you search "Yellow haired female ... likes waffles and news," let's try blonde, wavy, mid-length wig. There are a few great options on Amazon.
50's Magic Wig, $25, Amazon; Bang Curly Wig, $25, Amazon
You could always go as Leslie with a half perm, too.
Get the look, if your blonde, by straightening/curling the two halves of your head. Straighten a curly blonde wig on one side (with this tutorial). Or put half of your wig in cheap pink curlers.
The Patriotic Pants Suit
Leslie is most known for her grey pantsuits, though she didn't shy away from a patriotic red or blue suit or blazer and slacks combo when campaigning. Get the look at a more affordable price by opting for the blazer/slacks combo.
You'll need a blue blazer (Forever 21 has a couple of good options) or a red blazer.
Try this red blazer from Forever 21 ...
Or this red blazer on Amazon ...
You'll also need a pair of black or grey slacks. Express has a wide selection of women's pants, but you could also find a more affordable pair of trousers at Kmart.
Top It Off
To complete the look, you'll need a shirt or shell for your suit. While a basic button up top is always a good choice for Leslie, this chick also was never one to shy away from polka dots or blue patterns.
No Iron Shirt, $60, Kohl's
Try a blue gingham button up from Forever 21 ...
Or a polka dot blouse from Forever 21!
This top + a red blazer, could totally work for a stars and stripes, Knope-worthy costume!
You could also go with this "I met Li'l Sebastian" tee under a blazer, too.
Sensible Shoes
Politicians wear sensible offices shoes in nude or black — think Val's shoe from last week's SNL sketch with Hillary Clinton. See this sensible DSW pump.
Accessorize
There are just so many good props you can use when dressing up like Leslie Knope, including, but not limited to: waffles, gay penguin stuffed animals and treat yo self cupcakes. You can also find Leslie Knope campaign buttons on Etsy.
And, of course, you'll need a copy of Leslie's book, Pawnee: The Greatest Town in America.
Enjoy getting your Knope on, and remember ... Ovaries before Brovaries.
Images: NBC; Giphy (8), Amazon (3), Forever 21 (3), Etsy (2), Kmart.com, DSW.com