This Jon Snow 'GoT' Costume Is Great For Halloween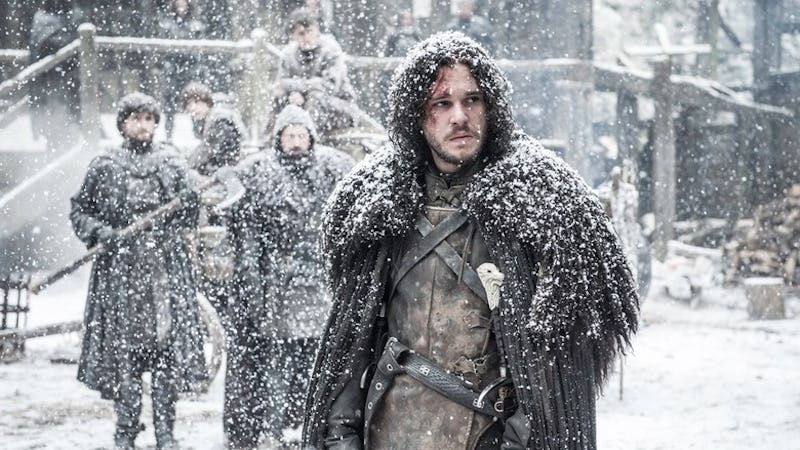 With people still talking about the suspenseful Game of Thrones cliffhanger (guys, it's October... JK I'm right there with you), one thing is certain: There are going to be a lot of Jon Snow Halloween costumes this year. So, if you want to join in on the fun, I'm going to teach you how to dress up like Jon Snow from Game of Thrones to celebrate the character that should definitely not be dead, OK?
In the months following the Season 5 finale episode, all of Jon Snow's features have been taken into consideration with theories supporting whether the character will be dead, alive, or an odd combination next season. People have speculated that actor Kit Harington's long hair means that he is still filming as Jon Snow, his features could contribute to his lineage (aka who is Jon Snow's mom?), and maybe he has a lookalike twin sister? With so much talk surrounding Jon Snow's winter warrior look, what does Harington have to say about his GoT wardrobe? Apparently, it smells bad.
In an interview with HuffPost Live, Harington revealed that for authenticity, Snow's signature black cloak is never washed, and, as a result, doesn't smell very good. "It hasn't been washed in five years," he revealed. "None of the clothes have properly been washed in five years, which is authentic."
While dressing up like Jon Snow sounds like an amazing Halloween idea, I won't endorse the whole unwashed garments thing. Unless you want to. But, I'd be happy to help you complete the look in other ways. Here's how to put together an amazing Jon Snow Halloween costume.
Check out the entire 'What's Up, Boo?' series and other videos on Facebook and the Bustle app across Apple TV, Roku, and Amazon Fire TV.
Let's Start With The Fur Cloak
My advice is to layer a cheap black Halloween costume cloak (you can find them at every party store and even Halloween sections of neighborhood pharmacies and grocery stores) with a faux fur stole.
You can use fur fabric and DIY a stole.
Or you can get one online for as cheap as $5!
The Signature Black Locks
People online who have done the Jon Snow costume thing before recommend buying a Dr. Frank-N-Furter (Yes, from Rocky Horror ) wig. It's a pretty genius hack.
Frank and Furter Wig, $12, Amazon
To Get Jon Snow's Armored Winter Look...
I recommend layering again. This time, I suggest a pleather top (like the two from Forever 21 below) or vest over a black or dark sweater.
I love how the embellishment on the above one looks like one of Jon Snow's straps.
Black Bottoms
Black pants would probably be the most authentic. Or black sweat pants if you want to be comfortable. But, I think some pleather leggings would look awesome with this ensemble.
Mind Your Accessories
You are going to need black boots and a sword. The boots (or black boot covers) are pretty easy to come by and can be found at costume shops and neighborhood stores like Walgreens. But, these black furry boot covers really tie the costume together.
While a Longclaw (Valyrian steel sword) replica can cost you a pretty penny, like $250.00 kind of pretty, there are cheaper sword of Jon Snow options.
Instead of this:
You can use this letter opener:
Or you could seriously DIY it with this craft recipe: plastic sword + plastic toy wolf head + spray paint + red rhinestones for the wolf eyes + a glue gun to put it all together. Here is the look we are going for in the end (this Longclaw replica on valyriansteel.com costs $240.00):
Plastic Toy Wolf Head, $6, Amazon
A stuffed animal dog or real dog escort is optional. Enjoy not being dead!
Images: Helen Sloan/HBO (2), Giphy (5), Amazon (6), Macy's, Fabric.com, Forever 21 (2), V alyriansteel.com