How To Moaning Myrtle-ify Your Halloween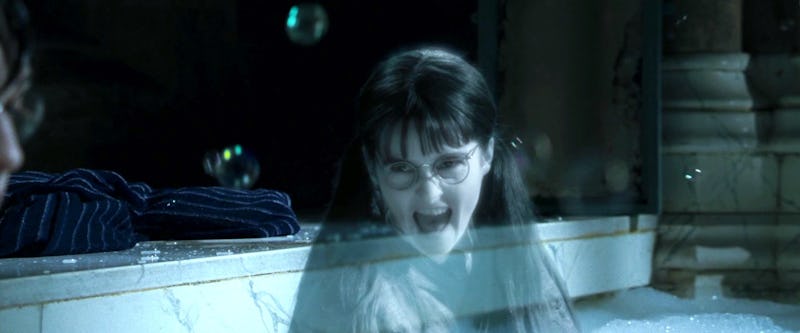 The year was 2011. I was a freshman in college, and planning my Halloween debut as queen of DIY (a title I still hold). But you can't dress up as a queen of DIY — you have to earn it. So in preparation for the Crew House's annual Harry Potter bash, I turned to the Goblet of Fire — as I often do, in times of need — and found my inspiration. I was going to be Moaning Myrtle, Harry's ghostly admirer and Hogwarts's foremost bathroom denizen. I was accompanied by a crew of supernatural companions: Three-in-one as Fluffy the three-headed dog, one Rumbleroar from A Very Potter Musical, and a couple patronuses of various forms, including Harry's own silver stag guardian. A Moaning Myrtle Halloween costume is a head-turner and not for the faint of heart, but armed with a toilet seat and a pair of knee-high socks, you're an instant spectral success.
The basic costume looks like any other Harry Potter uniform, and I cannibalized my high school uniform (white button-down, navy skirt, navy tie) for the cause. But gone were the days when I thought a "robe" could be substituted for a simple bathrobe — Moaning Myrtle is not a costume to be taken lightly. It requires intense investment in one's eye makeup (thick, black, and undead) and a commitment to tote around Myrtle's beloved U-bend through the wee hours. If you're up to the challenge, I'll walk you through step-by-step how to get the look for this Halloweekend.
1. Getting The Dress Code Right
Like many upper-crust British prep schools, Hogwarts has a pretty rigid uniform, and Moaning Myrtle adheres to it even in death. (What might a ghost's wardrobe even look like?) This means blazer, tie, conservative shoes, knee-length skirt (though anyone who's suffered a school uniform knows skirt length is really just a suggestion). And the look would not be complete without Myrtle's slightly dorky horn-rimmed glasses.
2. A Look I Like To Call "Moaning Myrtle, But Not Horribly Unattractive"
What You'll Need
Cover Girl Eye Enhancers in Snow Blossom, $3, Target; Maybelline Expert Wear Single in Night Sky, $4, Target
Because I'm a world-class pack rat, I still have all the products I originally bought for this costume and then re-used for subsequent Halloween experiments as Wednesday Addams and a Rorschach ink blot. These were all the cheapest available at my local Duane Reade in 2011, but comparable (and comparably frugal) products are definitely still available. I used a white shimmery powder, darker silver and black sparkly shadow.
How-To
I started with a generous coat of the white powder to give the area around my eyes a sunken, pasty look, applying from my brow all the way around my eye, top and bottom. They say that a daub of white makes your eyes look bigger, and if that's true, so much the better. Plus, T Magazine has reported that white shadow is all the rage right now — a trendy ghost for Halloween.
Over that, I layered a contour line of the darker grey shadow and blended the two, so my upper lid looked more like the foundation for a smokey eye at this point. I then covered my upper lid with an opaque layer of the black shadow, using a stiff shadow brush to rim my lower lash line as well for a bolder line. Finishing the look with a thin line of black pencil or liquid on the upper lid and a swipe of mascara gives it a little more polish. A look that's simultaneously ghostly and not quite grotesquely undead.
3. Topping It Off With A Toilet Seat
This costume does not work without it: A toilet seat is a critical element of Moaning Myrtle's Halloween. Luckily, Target has you covered — toilet seats are nowhere near as expensive as one might think, and this one comes in at just over $10.
Go forth and be free, my ghostly friends. Halloween awaits, and you're equipped with the best of pop culture and Halloween lore in one simple costume.
Images: Warner Bros.; Katherine Cusumano (4); Giphy (2)