11 Women From History You Can Be For Halloween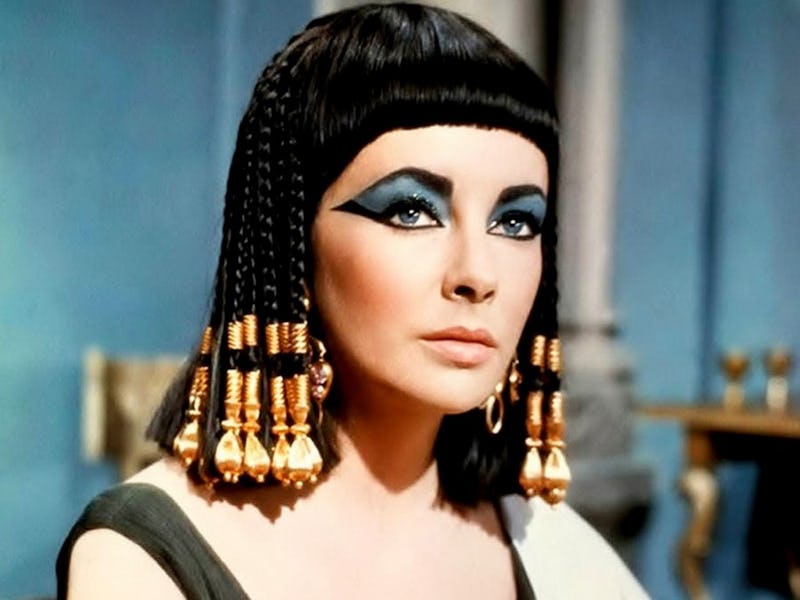 Halloween is the only time it's deemed acceptable for everyone to become someone or something else entirely. And who better to imitate than an inspirational woman from history? While it's perfectly acceptable to dress up as your favorite food or create a cute couples costume with your significant other, Halloween is also the perfect opportunity to commemorate a historic role model and broadcast your feminist beliefs to the world. Long before the term "feminist" even existed, women were breaking gender barriers, proving they could handle men's responsibilities, and fighting for equal treatment. There are tons of inspirational women from history to be for Halloween.
Of course, there are lots of modern women who deserve recognition on Halloween. But a historic costume will show that you appreciate the generations of women who got us to where we are today (not to mention that there are bound to be countless Hillary Clintons and Elizabeth Warrens this year). Since a historic costume will likely confuse many people, you might find yourself explaining who you are to all your friends, which will just create an opportunity to talk about your oldest girl crush.
Here are 11 awesome women from history to be for Halloween, and step-by-step instructions on how to create each look.
Check out the entire 'What's Up, Boo?' series and other videos on Facebook and the Bustle app across Apple TV, Roku, and Amazon Fire TV.
Amelia Earhart
Step 1: The main things an Amelia Earhart costume needs are a brown aviator hat and goggles. This combo looks very Earhart-esque:
Aviator Hat And Goggles, $17, Party City
Step 2: For your clothes, wear a leather jacket (preferably brown), light brown or khaki pants, brown leather boots, and a white scarf. If you don't have an appropriate jacket, you can invest in this brown faux-leather bomber jacket that you can transition into your real fall wardrobe after Halloween.
Brown Faux-Leather Jacket, $50, Macy's
Ella Baker
Step 1: To dress like Ella Baker, you need a '60s-inspired outfit — a mini skirt and cardigan or an A-line dress would work perfectly. If you don't have anything that looks '60s enough, you can wear a buttoned-up pea coat. The eyewear is key, though, and these cat-eye sunglasses look just like Baker's.
Cat-Eye Sunglasses, $10, Amazon
Step 2: Tease your hair around the crown of your head and create a big poof. Pull the rest of your hair back into a low bun and add a pair of big earrings.
Susan B. Anthony Costume, $23, Amazon
Step 1: For the clothes, you can buy a complete Susan B. Anthony costume, or you can easily create your own. You'll need a black skirt, a black button-down shirt or cardigan, and black shoes. All you need to add to the full-black outfit is a vintage lace collar.
Vintage Lace Collar, $4, Etsy
Step 2: Part your hair down the middle, and pull it back into a low bun.
Step 3: Cut a long piece of cloth into a sash and paint or write "Votes for Women" across it.
Harriet Tubman
Step 1: The clothing portion is similar to the Susan B. Anthony costume — you can wear a black skirt, a black button-down shirt or cardigan, and black shoes. Tie a small white scarf into a bow collar.
Harriet Tubman Costume, $35, Ebay
Step 2: Pull your hair back into a low bun or ponytail and tie a bandana around your head.
Step 3: Carry a fake oil lantern to complete the look.
Fake Oil Lantern, $13, Amazon
Cleopatra
Step 1: Unless you already have straight black hair and bangs, you'll need a wig to pull off the Cleopatra look. This wig comes with gold accessories, which leaves less items for you to buy.
Goddess Cleopatra Wig, $23, Ebay
Step 2: Eye makeup is key for this costume — you'll want to apply thick black eyeliner, with wings extending really far out, and blue eye shadow.
Step 3: If you want to go all out and buy a full costume, this one is perfect, but if you want to save money, any long white maxi dress will work. A snake armband is the final cherry on top of a Cleopatra Halloween look.
Snake Armband, $6, Amazon
Full Cleopatra Costume, $32, Amazon
Coco Chanel
Step 1: To be Coco Chanel, you basically need to wear the fanciest outfit you own, but a black dress or skirt suit will work best.
Step 2: Because the outfit can vary, accessories are essential — you need multiple pearl necklaces, big earrings, and a cigarette (you can just hold it — smoking is not required for this costume).
Faux Pearl Necklace, $3, Party City
Step 3: Now comes the hair and makeup. Curl your hair and slick it back slightly, with it parted on one side. Pencil in your eyebrows, extending them a little further out than normal, and apply dark red lipstick.
Step 1: For the clothes, you can either wear a nice black dress or a skirt and blazer since the accessories are the most important part. Wrap a bright scarf around your head, tying up all your hair with it. Add big '80s-style earrings and a pearl necklace.
Step 2: Carry a book of Angelou's poems.
Gertrude Stein
Step 1: To dress like Gertrude Stein, you'll need a button-down shirt (any one you already have will work), a patterned vest, and a vintage brooch to place just under the collar.
Step 2: If you don't have a pixie cut like Stein did in her older days, you can pull your hair into a high bun and pin it down so that it's flat and not a modern topknot.
Step 3: Grab a book to carry around all night.
Frieda Kahlo
Step 1: Wear a brightly-colored dress or skirt, with a shawl draped around your shoulders. Add gold dangling earrings, or these with Frieda Kahlo's face on them.
Step 2: Fix your hair into a braided crown and add a bright flower crown (like this one).
Step 3: Use an eyebrow pencil or eyeliner to pencil in a unibrow and wear bright red lipstick.
Eleanor Roosevelt
Step 1: Eleanor Roosevelt wore a lot of hats in her day, and since her hairstyle is pretty difficult to mimic, a vintage hat (like this one) is the easiest way to look like the former First Lady.
Step 2: You'll also need a faux-fur collar, like this one from Etsy. Wear the collar on top of your buttoned-up coat to create a simple Roosevelt-inspired look. As a bonus, this Halloween costume will definitely keep you warm.
Ada Lovelace
Step 1: If you don't want to spend a lot of money on a Victorian gown, you can wear a long black or white dress and shawl.
Step 2: Ada Lovelace's hair is her main identifier, so you'll want to recreate it by pulling your hair into two large buns by your cheeks (this will require lots of teasing and bobby pins). You can make your own Lovelace-esque headband by gluing a yellow flower to two pieces of yellow ribbon, and then tying the ribbon around your head.
Any of these historically feminist costumes will make you feel empowered and inspired, and they're definitely better than some of the outrageously offensive costumes out there.
Images: lovelyoutfits4e/Ebay (1); Costume Express (2); Party City (2); Macy's (1); Vickiscabs/Etsy (1); ThousandVests/Etsy (1); TheRaggedyBouquet/Etsy (1); theblackcatcloset /Etsy (1); Halloween Costumes (2); Amazon (2); WhimsyLovelies/Etsy (1); LoveCaroilneO/Etsy (1)