What To Wear To A Wedding Brunch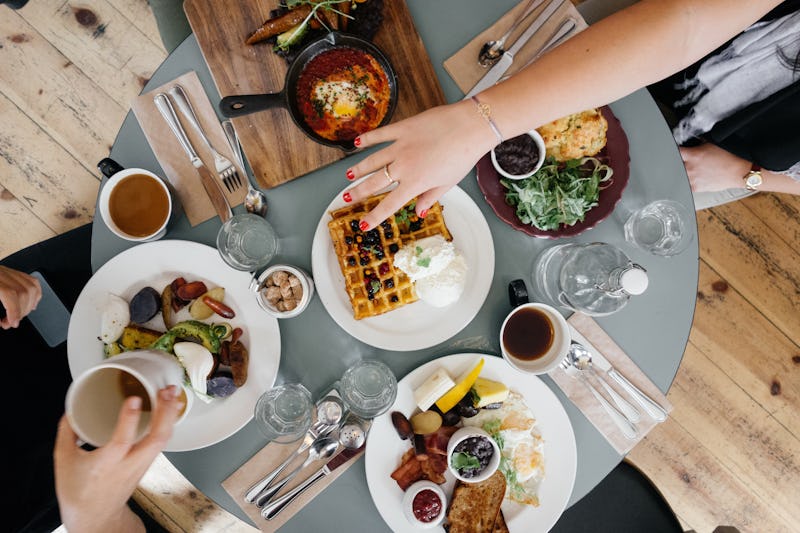 Wedding brunches are easily one of the chicest — and most delicious — celebrations during wedding season. Their increase in popularity means that you'll have to start thinking about what to wear to a wedding brunch. Whether you're attending a shower in brunch form or your best friend is having a brunch reception, the atmosphere is typically less formal and can feature more brightly colored decor. Often times, rustic elements are incorporated into these laid back celebrations, and all the multiple ways to style the brunch means multiple ways to style yourself.
Wedding wear has become increasingly less rigid. While there are still rules you should follow — don't wear white and don't try to rock a dress that looks like it could belong in the bridal party — there are tons of rules that you can break at a more casual brunch celebration. Whether you're the type who hates wearing dresses or you're a frock-loving fiend, options exist everywhere for wedding brunch fashion. There are tons of clues as to whether or not this affair is going to be casual. If you're looking at a morning affair, odds are everyone will be fairly dressed down. However, if the only semblance of brunch comes in the form of food and the celebration occurs around dinner time, then you may want to see more traditional wedding fashion.
Since the seasons are slowly beginning to change, it's probably best to break this style piece down for climate. A West Coast fall affair is not equivalent to those of you over on the East Coast, so let's take a look at your best options.
West Coast
Since October West Coast temps still hit the ninety degrees, these recommendations allows you to embrace less layers and a bit more fun.
Flowing Dress
Chelsea28 Floral Print Shift Dress, $78, Nordstrom
This gorgeous flowy shift dress is perfect for a West Coast brunch. The colors give a little hint of fall, but its material and shorter length ensure you'll be cool in the still warm weather.
Romper + Blazer
Tiger Mist Sweetheart Playsuit, $80, Forever 21
Knit Blazer with Striped Cuffs, $49, Maurices
Dress up a perfect romper with a blazer. In case there is a cold snap or the venue is chilly, you'll have a bit of cover for the event.
Florals
I Rest My Grace Dress, $60, Modcloth
Florals are still totally an option despite the seasons changing. This deeper emerald green color is a bit more muted, which makes it fun but still great for fall.
East Coast
While the West Coast may have a lock on rompers and short dress, cooler temps let you incorporate even more items into your wardrobe through layers.
Perfect Skirt
Floral Scuba Mesh Inset Skater Skirt, $23, Torrid
This skirt is ideal for a brunch wedding. The floral pattern is perfect for a wedding brunch, and to stay warm, you can definitely pair it with a great sweater.
Cardigan
Women's Favorite Cardigan, $23, Target
Cardigans are the perfect piece for every occasion. I will admit that I have an obsession with these sweaters, but their versatility make them ideal.
Printed Pants
Striped Trousers, $70, Zara
These super chic striped trousers are perfect for a more casual soiree. Plus, pants will keep you much warmer than that dress you thought you had to wear.
Images: Unsplash; Courtesy of brands