What To Wear To A Wedding If You Hate Dresses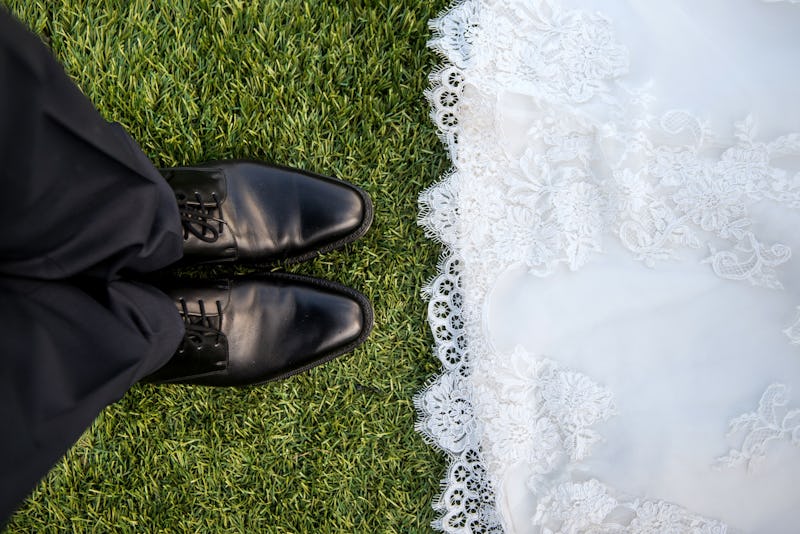 If you're one of many who don't want to rock a frock to your BFF's wedding, finding what to wear to a wedding if you hate dresses is super important. There are a ton of misconceptions about what you have to wear to a wedding, but the truth is that only a couple of those rules are hard and fast. You definitely shouldn't wear white, and if you can tell from the invite what the color scheme is, looking like a bridesmaid is also probably not a good call. But that old fashioned idea you must wear a dress is outdated, especially since there are tons of incredible options for you.
Need proof that dresses are no longer a required element of wedding attendance? Check out Debby Ryan rocking a tux at her brother's wedding. While Debby was the best (wo)man — and thus on the groom's side with the rest of the party — she still chose to wear a killer grey suit and looked gorgeous! Not to mention that tons of brides are choosing to even forgo the uber traditional wedding dress in favor of suits. The point is that whatever makes you the most comfortable is what's going to ensure you have the best time.
So what should you wear to a wedding if you hate dresses?
Jumpsuit
Pleated Wide Leg Jumpsuit, $129.00, Bebe
How gorgeous and elegant is this beautiful jumpsuit?
Cigarette Pants
ASOS Tailored High Waisted Pant with Turn Up Detail, $40.00, ASOS
Cigarette pants are amazing because they can be dressed up or down depending on the tone of the wedding.
Wide Leg Trouser
Pleated Wide Leg Trousers, $24.90, Forever21
These gorgeous rust colored trousers could be so chic, and they look comfy to boot!
Leggings
Studded Side Full Length Leggings, $38.50, Torrid
I know tons of people are probably screaming, "NOOOO!" right now, but hear me out. A great pair of booties, a fitted top, and a blazer would totally make leggings wedding appropriate.
Khakis
Perfect Khaki Pants, $54.95, GAP
Khakis are definitely going to come down to how formal the wedding you're attending is. If you know you're headed to a more casual affair, definitely rock khakis.
A Suit
Women's Micro Dot Faux Double Breasted Blazer + Textured Dot Wide Waistband Flared Editor Pant, $128.00 + $79.90, Express
A suit is a great option. It's classy and effortlessly chic.
A Long Skirt
Ankle Length Skirt, $69.90, Zara
So maybe dresses aren't your thing, but a long skirt could be a the perfect fit. They're super comfy, and if it's a winter wedding, totally warm.
Images: Unsplash; Images courtesy of brands