It's Not A Facebook "Dislike" Button, But...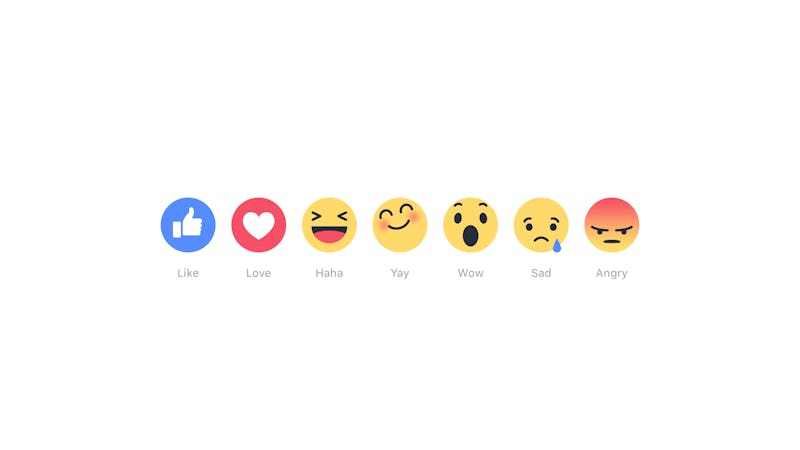 Facebook, like much of the social media landscape, has become a place to share everything. Scrolling through your news feed, you're liable to find everything from beautiful wedding photos to hilarious links to sad news about Bubbles the goldfish. Often, we want to show our support, but a "Like" doesn't exactly cover what we're trying to express. So in order to give us more options, Facebook is rolling out something entirely new: the Reactions button.
Rather than just choosing between a like or a dislike, you will now be able to choose from a range of seven emotions: "Like," "Love," "Haha," "Yay," "Wow," "Sad," and "Angry." True, it may not be the "dislike" button many have been clamoring for, but it will definitely allow us to express a larger range of reactions than just a simple thumbs up. The reactions will be tested in Ireland and Spain starting this Friday. Once the feature is available globally, you will be able to share your feelings on both the desktop and mobile versions of Facebook.
Facebook CPO Chris Cox posted a video of Facebook's Reactions in action today, noting, "As you can see, it's not a 'dislike' button, though we hope it addresses the spirit of this request more broadly." Check it out here:
Despite the overwhelming push for a dislike button, Mark Zuckerberg has previously stated he is hesitant to include the feature out of fear that Facebook will develop an "upvote, downvote" culture similar to the one found on Reddit. Reactions looks like a compromise of sorts. But does this mean we should all stop holding our breath for a "dislike" button? Bustle reached out to Facebook to see if we could determine whether or not Reactions was an idea executed in the place of a flat-out "dislike" button. The site remained coy, but a spokesperson told Bustle the following via email:
People come to Facebook to share all kinds of things — whether that's updates that are happy, sad, funny or thought-provoking. And we've heard you'd like more ways to celebrate, commiserate or laugh together. That's why we are testing Reactions, an extension of the Like button, to give you more ways to share your reaction to a Facebook post in a quick and easy way.
So it's not a "yes" to the dislike button ... but it's not a "no," either. So do with that what you will. In the meantime, here are a few ways Facebook reactions might come in handy.
1. Sad News
When someone shares a sad story — be it about a beloved pet or family member — a like (even if it's meant to express "moral support") just feels so wrong in so many ways. Now, you can better express your condolences, and not feel like a total jerk.
2. Viral Videos
If your sides are splitting, you'll definitely want to choose the adorable laughing reaction.
3. Travel Photos
We all have that one friend who seems to be on a backpacking trip in the Himalayas every weekend. For this, you'll want to use the "Wow" reaction to express your wonderment, while inside you're overflowing with FOMO.
4. Trump Updates
Did your annoying uncle share yet another story about how much he loves Donald Trump? Don't feel like engaging in a heated debate in the comments section? Problem solved! Just choose the "Angry" reaction to let him know you're officially a red-hot ball of rage.
Images: Courtesy of Facebook