Tom Hanks Loves A Good 'Ol True Story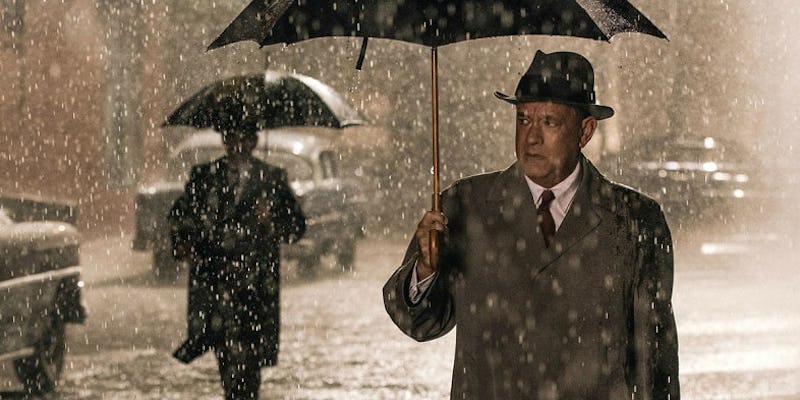 Audiences love historical drama films, whether or not the actual stories in these movies are true. The new release Bridge of Spies is one such period piece, revolving around an American lawyer named James B. Donovan who is given the difficult task of negotiating the release of a captured U.S. pilot during the Cold War. Tom Hanks plays Donovan, and his portrayal makes the man seem as real as anyone you'd meet on the street. But the story is so cinematic that it's hard to believe that Bridge of Spies is based on a true story, even though it involves actual historical events.
Shockingly, the movie is in fact based on real-life events and people. Donovan was a Brooklyn-based lawyer who was involved in several important political trials— the most famous of which was the 1960 U-2 incident. Several books were written about this event, including Donovan's own account titled Strangers on a Bridge, and Giles Whittell's 2010 nonfiction work Bridge of Spies: A True Cold War Story. But while the new movie is based on the same events as these books, it utilizes a screenplay written by Matt Charman and the Coen brothers. The script brings the story to life, as does Hanks' impressive performance as Donovan. No surprise there, though; the actor is skilled at playing roles involving real-life events. If you need proof of this, check out his performances in the films below.
Captain Phillips
This movie received an Oscar nomination for its heart-pounding portrayal of the Maersk Alabama hijacking. Hanks garnered substantial acclaim for his performance as Captain Richard Phillips but didn't receive an Oscar nod— an occurrence which many labeled as a snub.
Saving Private Ryan
Hanks played a different kind of captain in this war film — Captain John H. Miller, commander of a US battalion in World War Two. The movie is about the invasion of Normandy, and it's also inspired by the true stories of a few families who lost multiple sons in the war.
Extremely Loud And Incredibly Close
Though Hanks' character in this movie is fictional, the events that set the stage for this film were devastatingly true. Based on the novel by Jonathan Safran Foer, this movie takes place in the time surrounding 9/11. Hanks plays a New Yorker whose young son has to learn to cope in the aftermath of the attacks. Yes, you will cry. A lot. It's okay.
Saving Mr. Banks
In a much lighter but nonetheless fantastic performance, Hanks plays the iconic Walt Disney in this 2013 film. The movie shows Disney's pursuit of the rights to Mary Poppins and his (often tumultuous) relationship with author P.L. Travers.
Tom Hanks is obviously no rookie when it comes to historical films, so he is a natural choice for the lead character in Bridge of Spies. You can see Hanks bring Donovan's story to life when the film comes to theaters across North America on October 16th.
Images: Touchstone