Tom Hanks' 'Bridge Of Spies' Trailer Is Intense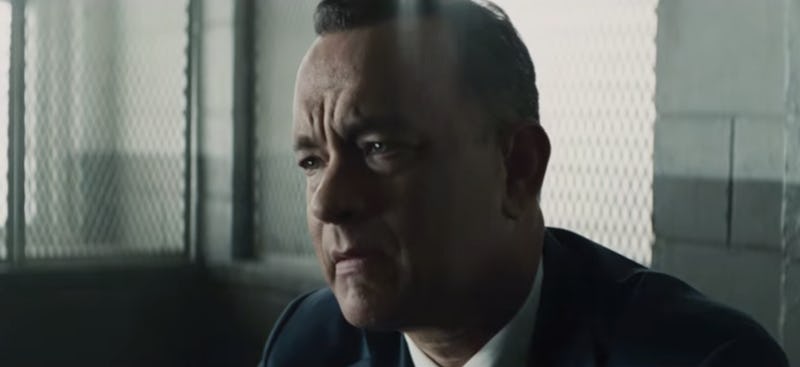 Any movie is guaranteed to be great when it's a Tom Hanks movie, but, when he teams up with Steven Spielberg, Ethan Coen, and Joel Coen, things get even better. Case-in-point: Hanks teamed up with the trio for Bridge of Spies , a Cold War thriller which looks just as intense as you can imagine. Even though we still have months to go until the movie opens on Nov. 6, based off the trailer, this movie is going to take audiences' breaths away — in the best way possible, of course.
According to the preview's description, Hanks plays...
James Donovan, a Brooklyn lawyer who finds himself thrust into the centre of the Cold War when the CIA sends him on the near-impossible task to negotiate the release of a captured American U-2 pilot. Screenwriters Matt Charman and Ethan Coen & Joel Coen have woven this remarkable experience in Donovan's life into a story inspired by true events that captures the essence of a man who risked everything and vividly brings his personal journey to life.
See? Told you it looks intense! The trailer brings a ton of action to life, in addition to emphasizing the political tensions of the time and reminding us what a strong actor Hanks is. Before hitting play on the trailer, check out some of the most intense moments in the GIFs below:
When Hanks Is Asked To Defend A Russian Spy
Obviously it's going to be a challenging job.
When He Faces Public Backlash
Understandable, given the political climate of the time.
When The U-2 Pilot Is Shot Down
Now things are getting real.
When Hanks Heads To East Berlin
He's advised to avoid contact with people altogether.
When He Sees What Happens To Those Who Approach The Berlin Wall
Hint: It doesn't end well.
When His Family Is At Risk
Things are scarier when they hit home.
When We're Left Hanging
Because this is one seriously intense movie.
Have chills yet? I know, me too. For more, check out the trailer below:
Images: 20th Century Fox/YouTube (8)