Pssst: Did You Know There's A Secret PSL Society?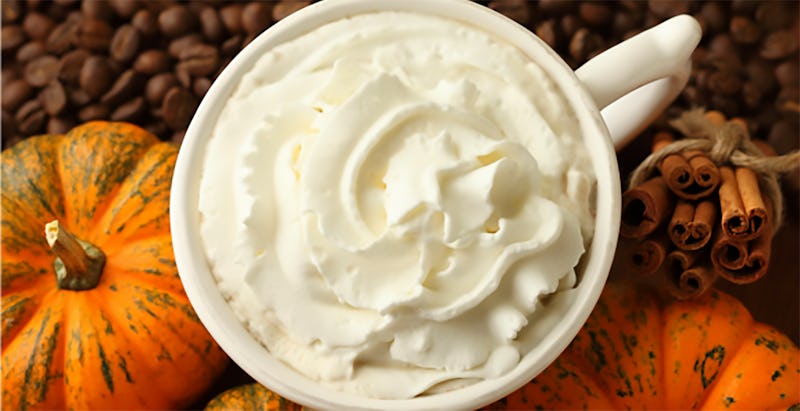 The Starbucks Pumpkin Spice Latte has become so synonymous with the very concept of fall itself that it seems almost like a scientifically-engineered complement to warm sweaters and crunchy leaves. Now, though, Starbucks is taking the whole thing even further than we ever thought possible by creating a secret society devoted to the Pumpkin Spice Latte. It's taking over social media with the hashtag #OrangeSleeveSociety. And although it sounds a little wacky at first, my thoughts very quickly turned to, "Wait, how do I sign up?"
The mark of a PSL secret society inductee? A bright orange knitted coffee sleeve with white text which reads "Team PSL" wrapped around it — hence, Orange Sleeve Society. While the rest of us must accept our fates as users of the plain old cardboard sleeve, the Orange Sleeve Society is rolling in style and comfort.
But how exactly one gains entry into the Orange Sleeve Society is still shrouded in mystery. According to what little we know, it seems to have started with the PSL Twitter account, @TheRealPSL. The sentient latte, whose feed reveals a love of long hikes in the woods, Scream Queens, and stylish eyewear, began tweeting invitations to the Chosen People back in September. Bustle's very own Emma Lord was contacted by PSL, initiating her into the society:
PSL also instructed Lord to pass an invitation on to a person of her choosing, which is how Bustle's Kathryn Kattalia wound up joining the ranks of the Orange Sleeves:
Now the claimed sleeves are rolling in, and people are making us all majorly jealous with the hashtags #OrangeSleeveSociety and #OfficialOrangeSleeveSociety. The future of the Society, however, is unclear. Will there be deals? Snacks? Secret meetings in beautiful autumn groves? Only time will tell.
Only one thing is for sure: If you see one of these in the wild, know you are in the presence of a Chosen One.
Images: Starbucks; Kathryn Kattalia/Bustle (2)