The Story Behind 'The Lobster' Is Fascinating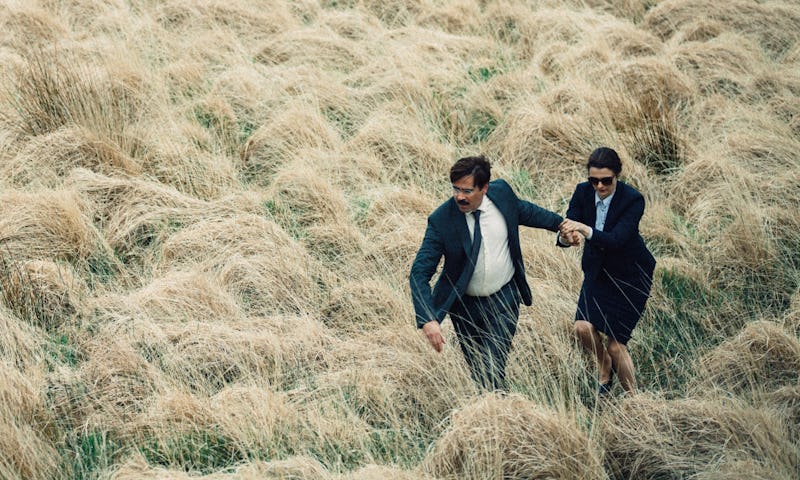 Being single in the regular world comes with its fair share of problems, as many of us know. But being single in a world where it's illegal and you're forced to stay in a hotel and find love in 44 days or else you'll turn into an animal of your choosing? That's a whole other story. Fortunately, society hasn't gone this far to pressure men and women to get married (yet), but Greek filmmaker Yorgos Lanthimos made The Lobster, a movie that shows us what would happen if this was our reality. The premise is so bizarre — humans mutating into animals?! — that you might wonder if The Lobster is based on a book, but although there are a lot of wacky romantic sci-fi novels out there, this one is an original story conceived by Lanthimos — and it's one I have never heard before.
The unconventional romance premiered at Cannes earlier this year to high praise, and it has quite a star-studded cast. Colin Farrell plays the lead, David, who goes to the aforementioned hotel with his brother, who has been turned into a dog after not completing the program. He admits that he wants to change into a lobster (hence the title of the movie) if he doesn't find love — but then later, after some twists and turns, he meets a potential lady friend played by Rachel Weisz. The movie also stars Ben Whishaw, John C. Reilly, Léa Seydoux, Jessica Barden, Ashley Jensen, Olivia Coleman and Angeliki Papoulia. That's quite an impressive cast for any film, let alone one with such an odd story.
The Lobster is Lanthimos's first English-language film and is unlike his other movies, Alps and Dogtooth. In an interview with Indiewire, the director spoke about how this is probably the "warmest" of all his feature works — but he didn't intend for it to go in that direction.
"I think I did want to make a romantic film," he told Indiewire. "I'm not sure if it was intentional from the very beginning, but I'm sure somewhere while writing the script it became intentional. I wanted it to have a real love story... I would never make a film that was only one thing. Even if it's my warmest, most romantic film, I still want it to have the more cynical view of things, showing the irony and absurdity of things that we consider normal."
A quirky, romantic sci-fi movie? That's the cinematic equivalent to a unicorn. When one comes along, I am in such awe that I have no choice but to admire it. Here are some other movies cut from the same cloth at The Lobster.
Her (2013)
The Academy Award-winning film by Spike Jonze gave a very fascinating commentary about our relationship with technology and how you can love your computer but not love your computer.
Safety Not Guaranteed (2012)
Before he directed the summer blockbuster, Jurassic World, Colin Trevorrow gave us this modest indie about a Aubrey Plaza falling for a strange guy in a jean jacket who built a time machine.
Scott Pilgrim Vs. The World (2010)
When it comes down to it, Edgar Wright's 8-bit, comic book-infused movie is a romantic comedy suited for fan boys/girls and sci-fi geeks. After all, the title character did everything he did for love.
Never Let Me Go (2010)
Not exactly a sci-fi romantic comedy, per se, but there is sci-fi and romance in this adaptation of Kazuo Ishiguro's novel about a society where people live beyond 100 years old and children are raised to become organ donors or just live on and die. Not exactly an uplifting story.
Eternal Sunshine Of The Spotless Mind (2004)
Michel Gondry's trippy movie starring Jim Carrey and Kate Winslet about relationships and memories is the touchstone for the sci-fi romance genre.
It's too soon to tell if The Lobster will become as iconic as some of these films, but it definitely earns a place amongst the most interesting movie concepts, that's for sure.
Image: Alchemy