When Will Facebook Reactions Come Out?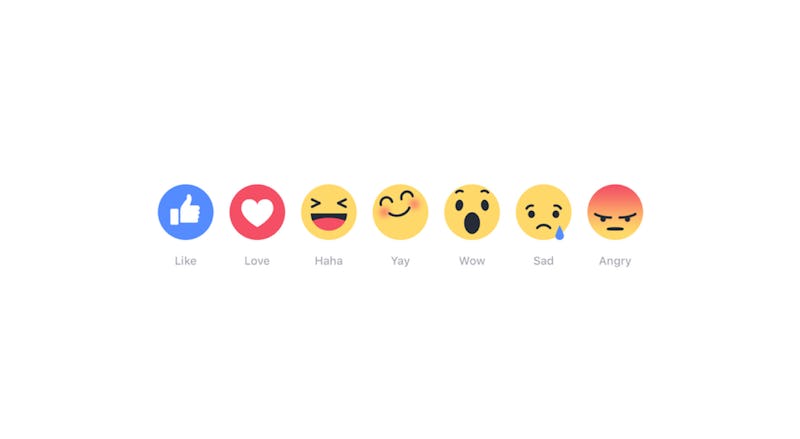 Facebook is making it easier than ever to show support of your friends or even just break away from the ubiquitous thumbs up of a "like" by testing out their new Reactions feature. Rather than simply unveiling a dislike button, the social media giant has added six extra emoji icons ranging from "angry" to "yay." Reactions are currently being tested in the small, more insular markets of Ireland and Spain. When will Facebook Reactions come out for the rest of the world to enjoy?
Facebook has yet to release a firm date or set a timeline regarding a massive roll-out of Reactions. Their presumed reasoning for only allowing Spanish and Irish users the opportunity to try them out has to do with where the two country's users and their friends are coming from. Facebook director of product Adam Mosseri explained to TechCrunch that a majority of users in Spain and Ireland have far more friends living in the same country than internationally, making it far easier to test Reactions without running the risk of mass groups of friends being able to see the Reactions themselves but being unable to post any in response. The company will now have the advantage of gauging user interest in both English and Spanish-speaking markets.
Though there are still users vying for a dislike button instead, Facebook has said that all six Reactions — angry, haha, love, sad, wow, and yay — were based off user input directly. In a write-up about the feature on The Verge, journalist Casey Newton noted that somewhat erroneous bug reports had been filed regarding the lack of being able to adequately express more emotions outside of "like." Where bug reports typically are sent for issues like links not showing up or images not appearing, many Facebook users instead took the feedback tool as a way to urge Facebook to add to their arsenal of features.
Likewise, the Reactions themselves came after Facebook employees had compiled data on the most frequent one word responses to posts and statuses. Had the Internet not moved away from "lol," "haha" may never have made it. Already, comparisons have been drawn between similar reactions on fellow social media site Path and Internet giant BuzzFeed. Given the fact that users are familiar with these types of features as well as the fact that Facebook was listening closely to its user base, it's safe to say that testing in Spain and Ireland will very likely be a success. We could see Reactions unveiled quite soon and that's definitely something to "yay" about.