Denis O'Hare's 'AHS' Character Might Be Real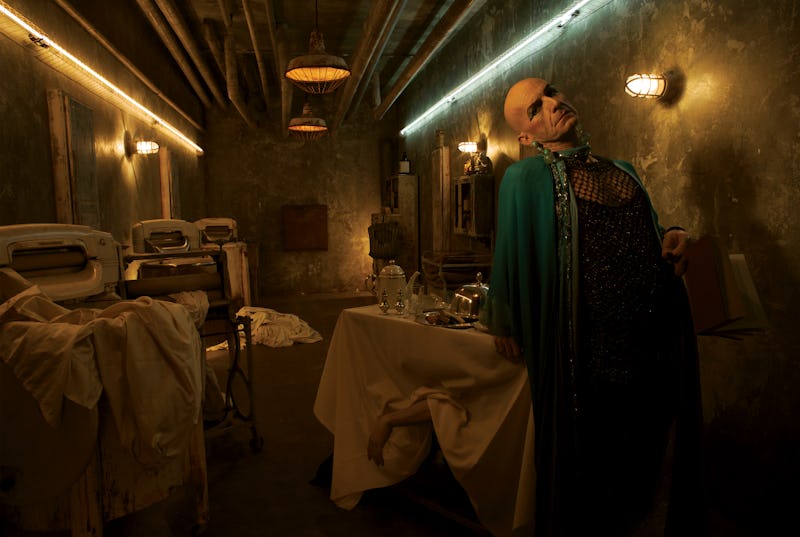 If there's one person who has proven himself a chameleon on American Horror Story , it's show veteran Denis O'Hare. The actor appeared on the first, third, and fourth installments of the FX horror anthology, and his roles have all been vastly different from one another in every way. Though O'Hare has disappeared into all of his American Horror Story roles, the fifth season might be his biggest departure from himself yet: O'Hare is playing Liz Taylor on American Horror Story: Hotel, and is a far cry from his previous work as Larry, Spalding, and Stanley. So what inspired O'Hare's character, and was it a real person? The answer is yes — sort of.
Liz is a receptionist at Hotel Cortez, though it's unclear if Liz is a living one. (We haven't seen O'Hare's character die, but we haven't gotten much proof that Liz is among the living, either.) Liz may be dead, but certainly dresses lively: The character's style is pure glamour, and the go-to look is a full face of makeup and a gown in a lush fabric. O'Hare's Liz is certainly a unique character, but if the overall look seems familiar, there's a very good reason for that. While O'Hare's Liz may not be based on a real person, Liz is attempting to emulate someone who is very much real: Elizabeth Taylor herself.
O'Hare isn't actually playing the iconic movie star Elizabeth Taylor: He's simply playing someone who also happens to share her moniker. That fact is no accident: As the new season is set in Los Angeles, Hollywood superstars have a very deep connection to the show. As reported by Entertainment Weekly, O'Hare took the stage at the Television Critics' Association press tour to explain a little bit about his version of Liz Taylor, and his response clarifies a lot about his character.
I'm playing Liz Taylor, movie icon. I'm not actually playing Elizabeth Taylor, but I'm playing a person who is inspired by the awesomeness of things like Butterfield 8 and Cleopatra and eye makeup like that. And, I shaved my head for the part and other body parts.
Though the character is clearly idolizes the real Elizabeth Taylor, there is another person that the show may have been inspired by, both in looks and in career. The infamous Los Angeles hotel the Chateau Marmont (which is just as legendary as the Hotel Cortez is on American Horror Story) has a certain employee that seems to bear a striking resemblance to O'Hare's character. Though it has not been confirmed, drag queen and Bar Marmont bartender Robert Sherman (or Constance Cooper, in drag) looks an awful lot like Liz Taylor, shaved head and all:
Could this be the real inspiration behind O'Hare's character? It's certainly a possibility: The creators of American Horror Story do live in Los Angeles, and it would be difficult to write a TV show about a haunted hotel in L.A. without being inspired at all by the Chateau Marmont, which, legend has it, has a few ghosts of its own, including John Belushi. Could O'Hare's character be a reference to the Marmont? The photo similarity is quite hard to argue with, but for now, it's simple speculation.
Images: Frank Ockenfels/FX; Giphy