Obama's Aide Says We Can "Have It All," But...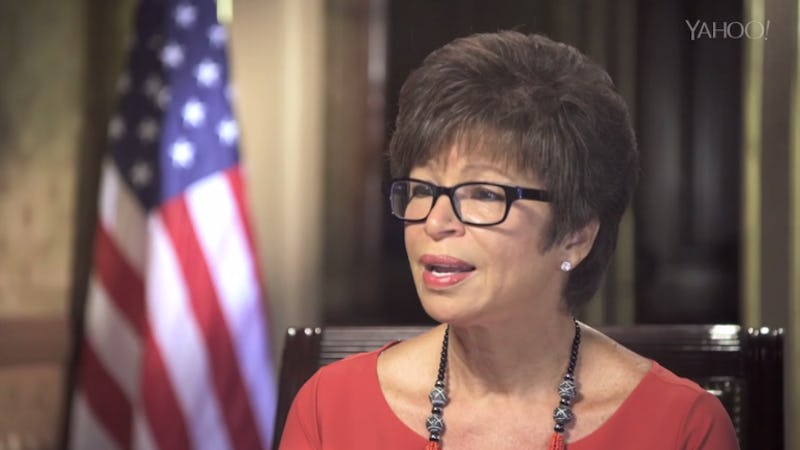 What does it really mean to "have it all?" It seems like we've been debating this one forever. For some, the phrase is a real trigger point; for others a total joke. And yet for some, "having it all" is still a personal goal they hope to achieve, to create that "happy" balance between work and family life. In an interview released Friday with Yahoo Parenting's Editorial Director Lindsay Powers, Obama aide Valerie Jarrett shared what "having it all" means to her, and let me just say, she got pretty real.
The topic itself has been discussed ad nauseam over the years — from Helen Gurley Brown's seminal 1982 book Having It All to Anne-Marie Slaughter's 2012 Atlantic essay, in which she suggested the government give a bit more help to working parents in order for "having it all" to be an attainable reality. And yet, it's still a hot-button issue; a debate we can't seem to shake. In Jarrett's words, "having it all" is possible — as long as we get that there's a catch. As Jarrett told Yahoo Parenting:
Life is full of tradeoffs. And I think at different phases in your life, you're able to do certain things that you can't do at other phases, and you make choices. You can have it all, but not all at once. For example, I had my daughter when I was pretty young, 28, and I had to sacrifice not going out with my friends, and I had to figure out how to juggle both raising her and also a very demanding job. And part of the reason why I decided I couldn't continue to work in a law firm is that I just didn't feel like I was thriving in that environment and able to spend enough time with her. And I had done one of those gut checks where I said, is this really the kind of person I want to be? Or do I want to have a job where I have more flexibility?
Although I have to say, the president also believes in working families and gives us a lot of flexibility here at the White House — if you want to work from home, we can do that.
The mother of one certainly makes a powerful, if simple, point there — that raising a family and being a total badass in your career is not an all or nothing deal. It won't be seamless, and it won't be easy, and it may not come all at once. In the timeline of life, one may trump the other a little more at times, but it's all part of the process.
In the spirit of all that, here are six other awesome feminists who have weighed in on the whole "having it all" debate, and made us all stop and think.
Hillary Clinton
In 1995, while speaking at the UN World Conference on Women in China, Clinton had this to say on the matter: "There is no formula for how women should lead their lives. That is why we must respect the choices that each woman makes for herself and her family." #TRUTH.
Sarah Jessica Parker
While being interviewed for Cosmo's July cover story, the former Sex and the City actress and mother of three shared: "The question is not only how you do it, but why? If you don't have to juggle career, children, and husband for financial reasons, why choose to? The beauty of the times we live in is that we do have choices. For me, it has been hard to say no. I wanted a family and I was a career person. I tried to marry those two things; sometimes it's successful and sometimes it's not."
Michelle Obama
"The truth is, women can do anything they want," the First Lady and mother of two said during a 2012 interview with Essence. "There is absolutely no limit on what we can achieve, and I hope that every young woman approaches life that way. We can become even more successful if we support each other."
Nora Ephron
In 1996, while standing before Wellesly's graduating female class, Ephron gave a commencement speech for the books. In it, she covered a lot of things. But her thoughts about "having it all" might be all anyone remembers from it. In that incomparable way of hers that always got straight to the point, Ephron said: "Maybe young women don't wonder whether they can have it all any longer, but in case any of you are wondering, of course you can have it all. What are you going to do? Everything, is my guess. It will be a little messy, but embrace the mess."
Sheryl Sandberg
Sandberg may have penned Lean In to encourage women not to take a backseat in the boardroom (or their own lives, for that matter), but she doesn't sugarcoat the reality of how hard — nay, impossible — it is to take on everything. As Sandberg told Oprah in a 2013 interview, "Having it all is the worst ... No one has it all."
Gloria Steinem
Sure, Steinem may not actually have any children herself, but I'd argue she's a mother to many. And she has lots to say on the whole "having it all" convo. After filming the 2013 PBS documentary MAKERS: Women Who Make America , the longtime women's rights activist sat down with Judy Woodruff for a one-on-one interview. In it, she dropped this little nugget of wisdom: "Women can't have it all as long as we have to do it all, until — I mean, we have realized — and the majority of Americans fully agree — that women can do what men can do. But we haven't yet realized that men can do what women do."
In other words, we can't "have it all" until there's equality. Sing it, sister.
Images: Yahoo Parenting; Marnie Joyce, Keith Kissel, Rubenstein, DFID, David Shankbone, Fortune Live Media/Flickr; Giphy