Cozy Halloween Costumes That Involve Sweatpants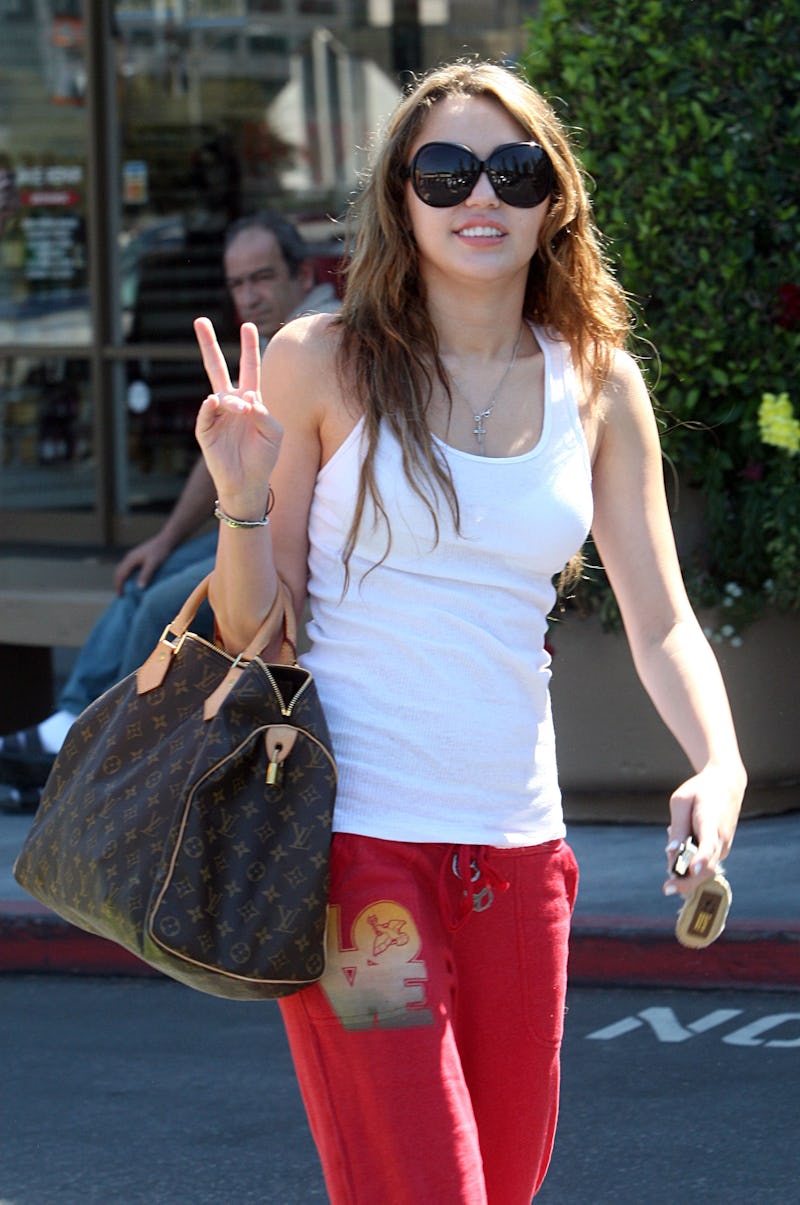 Let's face it: At least half of us would rather be wearing sweatpants on Halloween than dressing up in a Halloween costume. I have not dressed up for the occasion since my dad put my sister and I in homemade toothpaste and toothbrush costumes. It was so unbearable that I vowed to put comfort over holiday spirit for the rest of my life. For many, Halloween represents the start of cold weather and the last night we're willing to shiver our butts off in a scantily clad nurse outfit or an elaborate contest-winning costume. Have you ever wondered, "Why can't I just wear sweatpants and call it a day?" Well, fortunately, you can.
Each year, I wear my normal clothes on Halloween, even if I'm lured to a theme party under the pretense of open bar and deviled eggs. Without fail, everyone assumes I've dressed up as a witch, which further proves my theory that you can dress comfortably and still pull off a creative costume that will keep people guessing. As it turns out, these seven Halloween costumes will keep you in sweats without looking like a major buzz-kill on Oct. 31. Bonus: If your job permits Halloween costumes, you finally get to wear sweatpants to work.
1. A College Student Circa 2000
Sorority Tank Top, $19, Etsy | Neppy Joggers, $48, Top Shop | Von Dutch Hat available on Fashion Indie | UGG boots $319 My Theresa | Tiffany Necklace $2,995 Gilt
Flashback to your college days with a pair of UGG boots, sweats, and a sorority T-shirt. You can find sorority gear on Etsy — or maybe in your roommate's closet for free. Get creative and find yourself a Big or a Little to have a partner in crime for the night.
2. Zombie
Sweatpants, $15, H&M | Zombie Makeup Kit ,$8, Amazon | Chuck Taylors, $55, Converse | Zombie sweatshirt, $19, Shein
You can be bitten by a zombie at any point, which means you could be wearing literally anything when you become infected. This Halloween costume means all-night comfort — perfect for terrorizing all your friends well past midnight. To keep the look from being too lazy, go all-out with your zombie makeup.
3. A 16 & Pregnant Cast Member
Sweatpants, $59, Ultra Rag | New Balance Sneakers, $75, Infinity Shoes | Mama Sweatshirt, $31, H&M
In this case, you can wear just about anything with your sweats, but the key is comfy shoes, a messy bun, and that baby bump (I recommend a pillow over a pumpkin). Channel your fave star from 16 & Pregnant by memorizing their back story to tell at parties. Sadly, you'll need to have your cocktails on the DL because you are supposed to be pregnant (and 16) after all.
4. Gym Coach
Penn State Sweatshirt, $70, Victorias Secret | Wildfox Sweatpants, $170, Jades24 | Mark Jacobs Whistle, $78, Style Bop | Nike Grey Air Max, $135, Harpers Bazaar
Obviously, this costume is a Halloween-loving lazy person's wet dream. You can wear a sweatshirt from your high school or college days, a pair of sweatpants, and running shoes for a true gym coach vibe. Be sure to bring a whistle and keep a stern expression, because gym class is no place for fun and games.
5. Lisa "Left Eye" Lopes
Dope Baseball Hat, $4, Amazon | Ray Ban Metal Rim Glasses, $131, Pretavoir | Saint Laurent Evening Suspenders, $375, YSL | Halter, $24, Abercrombie | Ovo Sweatpants, $138, Octobers Very Own
Yes, yes, y'all, you can preserve the memory of TLC's fallen angel with a sweet Left Eye costume. Baggy sweat pants will channel early '90s Left Eye and a halter crop top will channel "Waterfalls" Left Eye. Key details: Put a condom over your left eye and say no to scrubs.
6. The Constant Jogger
Jogging pants, $780, Stella McCartney | Classic Running shoes, $70, Zappos | Stopwatch, $15, JC Penney | Running tank top, $24, and Vintage Walkman (Similar), $80, Etsy
A pair of jogging sweat pants, sweet running shoes, and an old-school Walkman will allow you to jog lightly throughout your time as the constant jogger on Halloween. This is an obvious choice for anyone wanting to wear sweatpants on Halloween, but it's all about limiting accessories. Keep your hair in a braid and be sure to lightly jog to your destinations.
7. Undercover Miley
Stay High Beanie, $26, Coco Chic | Nirvana T-shirt, $23, New Look | White Kiss Me Leather Trainers, $530, Liberty | Jogging pants, $28, Nordstrom | Y-3 sweatshirt, $163, Yoox
The incognito celebrity is a great sweatpants-based costume. Choose your celeb of choice and mirror their best incognito sweatpants look. For this costume, I chose Miley Cyrus, which involved some funky sneakers, a stylish pair of sweatpants, and a clever hat. Don't forget to hide your face from the inevitable paparazzi that will be following you all night.
Images: Jason Mitchell/BuzzFoto/FilmMagic; Polyvore