'Agent Carter' Season 2 Adds More Badass Ladies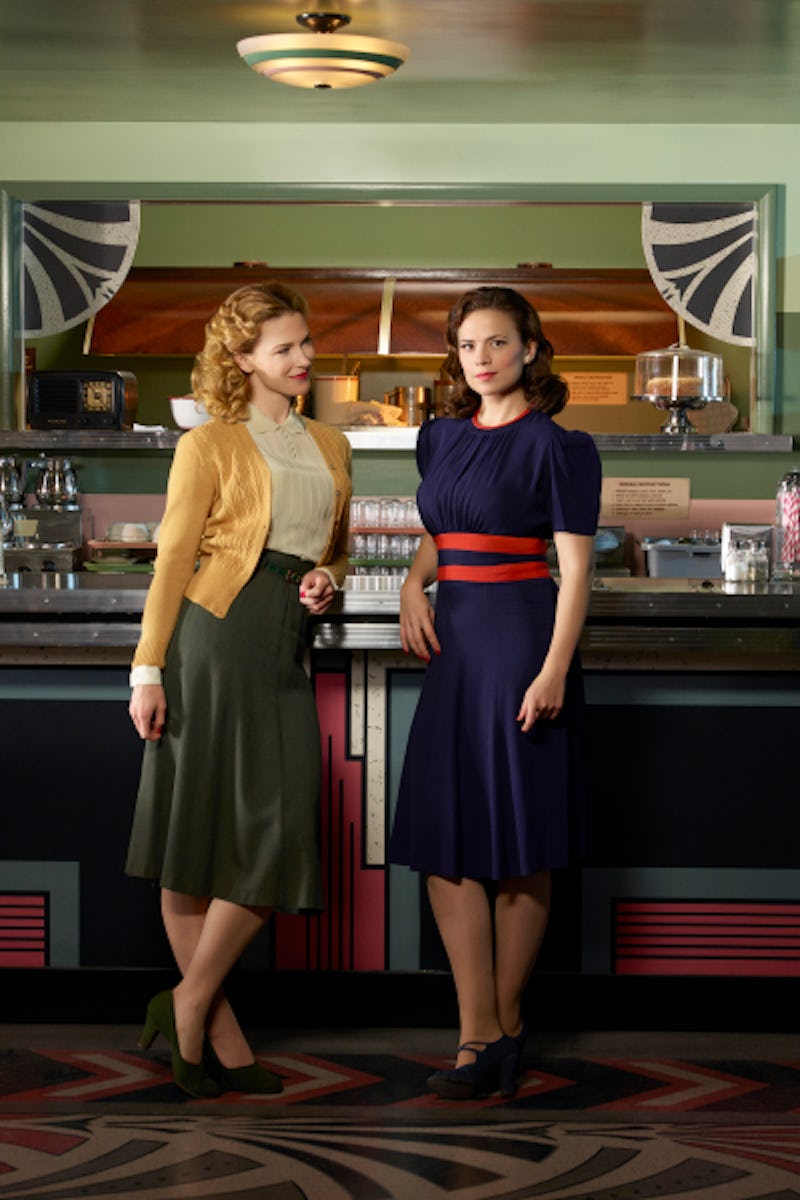 While everyone at Marvel and ABC are keeping tight-lipped about a specific premiere date for Agent Carter Season 2, at Marvel's Agents of Primetime New York Comic-Con panel, a few exciting details about Peggy's next adventure were revealed. There was a slight clue about when the series would return, as Marvel's head of television Jeph Loeb said it will return "this year," and later confirmed that it will again air during Agents of S.H.I.E.L.D.'s winter hiatus. That makes sometime in December 2015 the most likely return date, which isn't too far away. Luckily, the NYCC panel also revealed new characters joining Agent Carter in Season 2, so you can obsess over them for the next two(ish) months. Update: TVLine reported that Agent Carter Season 2 will premiere on Jan. 5. Update 3: According to TV.com, Agent Carter Season 2's premiere date was delayed until Jan. 19, due to a State of the Union address being scheduled for Jan. 12.
But first, a few pieces of information to quell any fears about certain NYC coworkers not following Peggy to her new mission in Los Angeles. Loeb confirmed that in addition to the obvious (Hayley Atwell as Peggy and James D'Arcy as Edwin Jarvis), most of the Agent Carter cast will return for Season 2. That includes Dominic Cooper as Howard Stark, Enver Gjokaj as Daniel Sousa, Chad Michael Murray as Jack Thompson, and most importantly, Bridget Regan as Dottie Underwood, who totally stole the first season with her performance and that midseason twist. Here's who will join them when Agent Carter returns.
Wynn Everett
The Newsroom alum will star in Season 2 as Whitney Frost, a name Marvel Comics fans may recognize. In the comics, Whitney not only has connections to Stark Industries (though to Tony rather than Howard), but in some comics is also known as Madame Masque, and has served as both a hero and a villain.
Reggie Austin
Austin has appeared on many TV series, including Pretty Little Liars, Devious Maids, Chasing Life, Life Unexpected, and more. On Agent Carter, he'll play Dr. Jason Wilkes, who according to Deadline is "a quirky yet charismatic scientist who instantly charms Peggy." Could he be the mysterious guy who will go on to become Peggy's husband? Maybe we shouldn't be so committed to those Sousa theories...
Currie Graham
Familiar from House of Lies, Murder in the First, and the Dallas reboot, Graham will play Calvin Chadwick next season. Chadwick isn't a pre-existing Marvel character — though that doesn't mean he can't adopt an alter ego — and currently Deadline only describes him as a "high-powered businessman." Maybe he'll serve as an associate or rival to Howard, who doesn't seem to have a shortage of enemies.
Lotte Verbeek
This is easily the most exciting casting news to come out of NYCC. The Outlander and The Borgias star is playing Ana Jarvis, the oft mentioned but never seen wife of Edwin. We got to know Ana's husband quite well in Season 1, and I hope that in Season 2, we can see Ana join Peggy and Mr. Jarvis on a few adventures.
Between Peggy, Dottie, and Angie, Agent Carter did a great job of developing female characters who managed to find agency even as outside forces tries their hardest to take it away. With the addition of Ana Jarvis and potentially Madame Masque, it seems Season 2 will carry on the tradition that made this series so great.
Image: Bob D'Amico/ABC