8 Quick & Easy Halloween Makeup Tutorials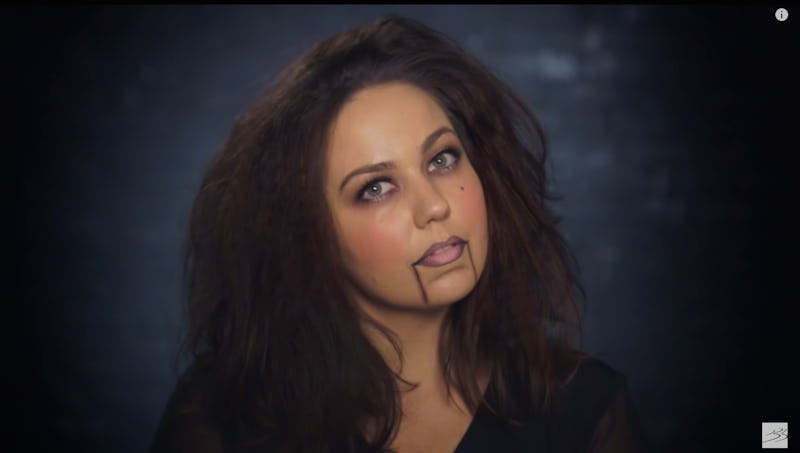 Somehow, Halloween is only three weeks away, and it's time to start thinking about your costume. Whether you're going sexy, scary or sweet this year, every Halloween costume needs a perfect makeup look to match. That's where these quick and easy Halloween makeup tutorials come in handy. Not everyone has time to sit through a 12-minute tutorial when they need to be out the door in 30 minutes. That's why this roundup of videos is going to help.
I love an elaborate beauty look as much as the next girl. As my roommates can attest, I spend a ridiculous amount of time in front of the mirror doing my makeup. Beauty tutorials can be some of the best ways to learn new makeup techniques, but I have a major bone to pick with most beauty tutorials. They're way too long. I'm sorry, I just don't have the patience to sit and watch someone explain EVERY product they'll be using before they even start applying makeup.
My issues with beauty tutorials aside, they're a perfect way to search for creative Halloween costume ideas, and may even give you an idea you hadn't thought of before. These eight Halloween makeup tutorials are four minutes or less, perfect for all you impatient gals like me.
1. The Glam Zombie
The purple-rimmed eyes and blood red lips totally make this look. At a minute and 30 seconds, this tutorial is super quick and to-the-point.
2. The Leopard
This adorable tutorial from PopSugar is super quick and adorable. A leopard is a little bit of an unexpected Halloween costume, but I love it.
3. The Princess
If you want to go sweet with this year's costume, this Princess Aurora tutorial is for you. Nothing scary about this one, and the tutorial is a quick three minutes and 30 seconds.
4. The Pop Art Icon
Makeup star Promise Phan put out this pop art-inspired tutorial last year, but I think it's still amazing. It's a totally unexpected costume, but paired with a mod white dress and go-go boots, this could be great.
5. The Skeleton
This quick tutorial is less than three minutes and uses only three products, and the end result is amazing. You'll obviously need some black and white face makeup, but from there, it looks easy.
6. The Vampire
Michelle Phan is a legend when it comes to beauty tutorials, and she collaborated with US Weekly on a series of Halloween looks. This vampire tutorial is relatively quick and easy.
7. The Haunted Doll
At a little over three minutes, this tutorial is just short enough to make watching it easy. Pair your haunted doll makeup with a lacy dress and your costume is done.
8. The Stitched Mouth
This is definitely the creepiest look on my list, but if you're into scary costumes, it's perfect. Promise Phan went viral in 2013 when she released this scarily realistic stitched mouth tutorial. It's not for the fainthearted, but if you're fine with not eating, drinking or, um, talking, all Halloween, this is perfect.
There you go, lazy girls. Now go forward and rock your Halloween costumes this year.
Image: YouTube