Barneys Is Calling Attention To Women's Issues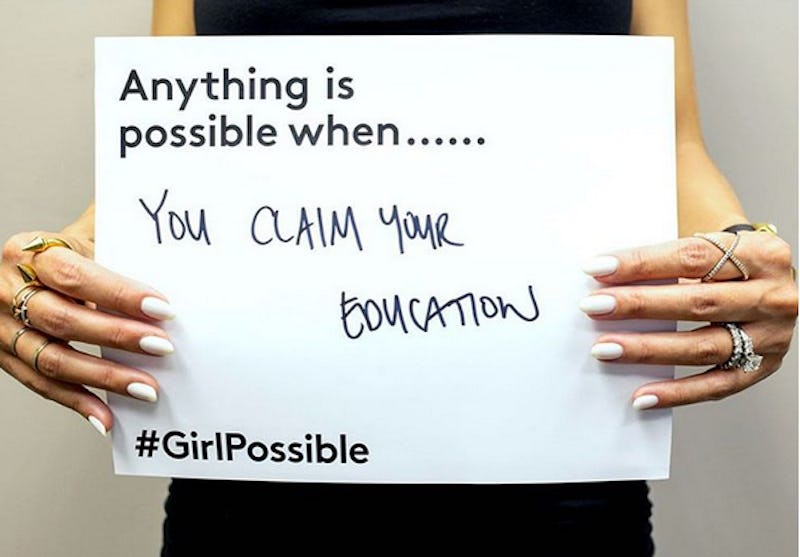 Sunday Oct. 11 marks the United Nation's International Day Of The Girl, and Barneys New York wants to use social media to help call attention to the myriad of issues that plague young women today. Barneys partnered with The Girls' Lounge — an organization that unites women by providing a place for them to gather at otherwise male-dominated industry conferences — to encourage women to highlight gender equality issues by finishing the sentence "anything is possible when..." and sharing a snap on social media using the #GirlPossible hashtag.
"International Day Of The Girl is all about raising awareness for girls' rights on a global level," Charlotte Blechman, Executive Vice President of Marketing and Communications at Barneys, said on Barneys The Window. "Social media plays such an important role in today's world, and it can be incredibly powerful when used for good."
Celebrities like Kelly Osbourne and Ashley Graham and influencers like style blogger Danielle Bernstein of We Wore What and Hannah Bronfman are amongst those supporting the cause, sharing their own photos on social media and nominating friends to participate in the challenge. This movement will hopefully spark a larger conversation about empowerment, education, and gender equality on an international scale. Barneys even updated its window displays in 15 stores across the country to highlight the campaign and grab the attention of passerby.
"With this partnership, we hope to start conversations," said Shelley Zalis, founder of The Girls' Lounge, on The Window. "We're bringing visibility to women making a difference around the world, helping to ensure that girls get an education and feel empowered. We also want to transform the gender equality conversation from a female issue to a social and economic issue that we all have to solve together."
You can help the cause by sharing your own "anything is possible when..." message on social, hashtagging it with #GirlPossible. And if you're feeling ambitious, you can even nominate a few friends or heroes to share their own.
Images: Barneys/Instagram